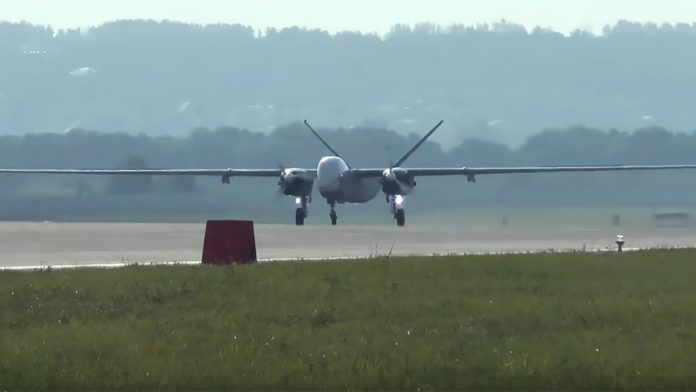 Russia is trying to catch up on drone technology after years lagging. It has revealed several drones under development In the recent past – from attack to reconnaissance.
In a new development, the Russian Ministry of Defense has unveiled new footage of a 6-ton unmanned aerial vehicle (UAV), known as the Altius-U drone, capable of flying 24-hour long missions.
On its Youtube channel, the Defense Ministry posted a one minute video, shot with multiple land-based cameras and aerial cameras mounted on the drone and other aircrafts.
The video begins with the Altius-U taking off at an unknown airport. When it was airborne, the drone performed several flight maneuvers, which were recorded on the v-shape tail and wing and belly of the drone by a separate aircraft and cameras. Approximately halfway through the short video, the drone approached the airport and landed successfully. The 32-minutes flight was carried out fully automatically from the test airfield at an altitude of up to 800 m.
The Defense Ministry said that all systems, including optical sensors, communication systems, and radar equipment functioned properly during the test flight. The drone can conduct a wide variety of reconnaissance missions for 24-hours at a time.
The ministry also said that the Altius-U was the result of the development and testing of several prototypes. It is designed to conduct the entire range of intelligence missions with an optical, radio, and radar payload. The UAV has an endurance of over a day and can be controlled via satellite, giving it practically unlimited range.
It's interesting to note that Altius-U is a second drone tested in less than a month, after the Su-70 Okhotnik-B (Hunter-B) that flew for the first time on August 3.