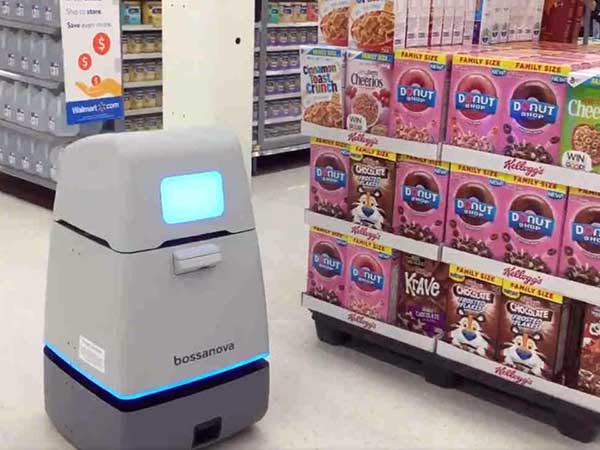 One of the bigggest challenges of a large retailer like Walmart is that it's hard to keep track of every item in the store, especially when customers keep moving around the store all the time. So, it's natural that products sometimes fall through cracks, even when using supply-chain logistics. Most retail stores cannot account for what merchandise is actually in a store and where it is, in an efficient way.
But a Pittsburgh-based startup Bossa Nova Robotics, founded in 2005, has developed a solution to this problem. It has built an autonomous shelf-scanning robot that roams up and down store aisles, checking for pricing issues, out-of-stocks, and shelf irregularities.
Bossa Nova's system can track boxes and ensure things are where they should be. It can do this far more efficiently and regularly than a hand – taking human can, providing valuable real-time data to retailers.
Notably, Walmart started testing this technology in 2017 and added a small number of 50 robots to some stores in 2018. Walmart announced earlier this month that it is expanding the number of the robots by 300.
"Our robot doesn't have arms right now, so it's not replacing the manual labor of restocking a shelf. It's displacing the tedious task of looking for problems, which is really mind-numbing," said Sarjoun Skaff, co-founder and chief technology officer of Bossa Nova Robotics. It took the company one-and-a-half to two years to find a solution that could scale, he added.
Bossa Nova works closely with Carnegie Mellon University, and it is even funding a biometrics lab affiliated with the school. It turns out that the technology is the same at its core. The way you recognize faces with deep learning algorithms is fundamentally the same way you recognize product, Skaff explained.
The next job was making sure the robots were accurate enough for practical use. Working with the biometrics lab, the robots are now able to decipher what is on a shelf with "exquisite" accuracy, Skaff said.