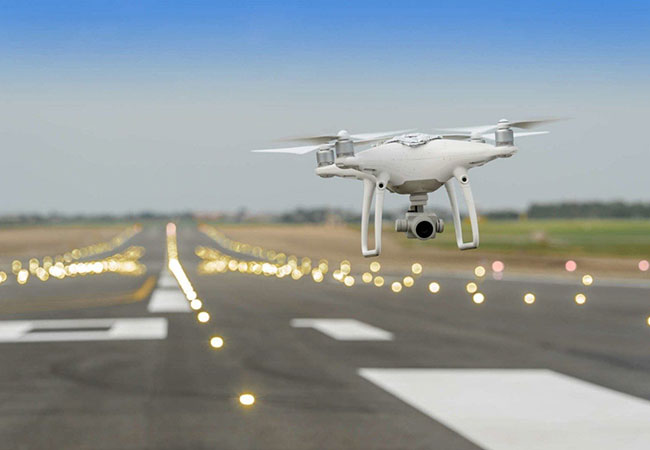 Drones are considered aircraft under federal law and are regulated by the FAA, which has required drones weighing over 250 grams (about 9 ounces) to be registered since 2015.
In January 2018, FAA registered over 1 million recreational drones. Aviation agency estimates there will be over 2 million registered drones by the end of 2019. Registration is easy and cheap by filling out an online form and paying $5 for a three-year drone registration weighing up to 55 pounds. Drone technology makes them easier to operate and therefore attracts more potential buyers who will fly in more areas.
With the increasing number of small unmanned aircraft, the Federal Aviation Administration (FAA) faces challenges in keeping with changes in drone technology. A bigger issue could arise if a drone strayed or was deliberately guided into an airport's airspace.
Aircraft are most vulnerable to a mishap during takeoff and landing, the period of flight when the aircraft and a drone are most likely to share altitude-based airspace, said Robert Spohrer, president of Spohrer Dodd law firm and board certified in aviation law.
Can a drone take an airliner down? Nobody knows, but it could happen. A study was conducted at Embry-Riddle Aeronautical University on how drones can interfere with commercial aviation and published in the 2018 International Journal of Aviation, Aeronautics and Aerospace.
Researchers installed a drone detection device on a building near Daytona Beach International Airport and recorded nearby recreational drone activity for 13 days. Locations, altitudes, and routes of 192 drone flights were detected.
The study found that 21.5% of total flights exceeded the altitude limit prescribed by the FAA within warning or restricted zones, and those drone flights posed an unmitigated risk to nearby manned air operations. Moreover, two flights recorded during the study indicated uncomfortably closing operations that could ultimately result in collision.
A total of 117 near-miss reports were filed, data shown up late last year, although none involved fatalities.
James Dunthorne, director at the trade association for remotely piloted aircraft, believes that one way to avoid potentially deadly collisions is to properly integrate drones into the mapping systems of traditional aviation. A digital world map could be created so pilots could see where other crafts are, said James Dunthorne, while addressing a drone conference at the Innovation Factory in West Belfast.
Before Christmas in 2018, Gatwick airport stopped after drone sighting reports. The runway at UK's second busiest airport was closed for 33 hours, causing about 1,000 flights to cancel or delay.
"What we saw happening at Gatwick was a huge amount of confusion, a lack of preparedness, and the right technology was not installed to fight these machines. We have a good regulatory framework, we just need aerodromes now to be able to effectively integrate drones into airspace areas," Dunthorne said.
"I'm concerned about aviation safety in general. This adds another dimension to the risks involved. It's just a matter of time until an accident occurs," said Spohrer. "It took the FAA several years to develop some basic rules for recreational and commercial drone operations. By the time they came out with the rules, many rules were obsolete because the technology had greatly improved."
The safety rules published by the FAA include drones no more than 400 feet above ground and must remain in the operator's visual sight while in flight. Drones may not fly over groups of people, stadiums or sporting events, near emergency response events like fires or near other aircraft. "You're responsible for what your drone does just as your dog does," Spohrer said.