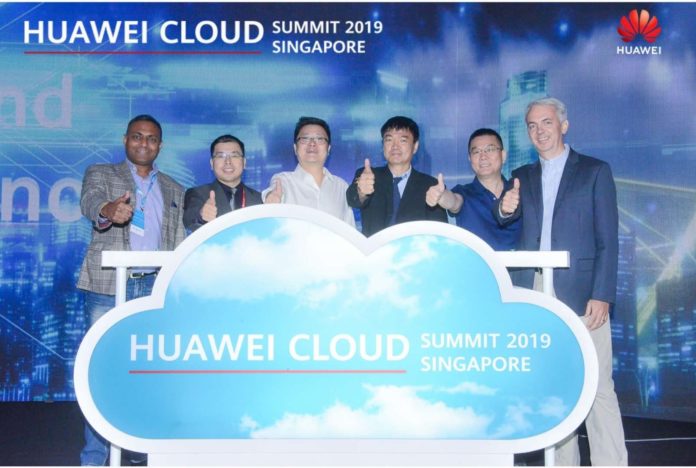 Chinese tech giant Huawei announced the launch of a cloud and artificial intelligence (AI) innovation lab in Singapore to compete against rivals in global cloud computing markets.
Speaking at the Huawei Cloud Summit in Singapore, Huawei Cloud president Edward Deng said the company would commit "hundreds of millions" to investments in the Republic and the Asia-Pacific market in the coming years. It offers a full cloud stack powered by its own Kunpeng processors and Ascends AI chips, along with pre-integrated cloud services for various industries.
The lab will cultivate local AI talent, bridge Singapore with state-of-the-art AI technologies globally, and accelerate innovations in cloud & AI. All these missions are aligned with Singapore's Smart Nation initiatives. Backed by HUAWEI CLOUD's computing power and a wide range of AI solutions, the laboratory will provide robust AI services and resources, including AI R&D robots, Traffic Intelligent Twins, and AI development kits. The lab opening will intensify research collaboration with local universities and businesses.
HUAWEI CLOUD will also cover key areas in Europe, Africa, China, and Latin America. It provides unified account management for efficient O&M and resource management, builds a stable, high-speed international network, and provides a quality experience with its global service.
AI developers and businesses in Singapore and Asia-Pacific will have the opportunity to join more research projects and innovations on AI training and learning. These R&D activities will foster top AI talent and incubate more AIs. HUAWEI CLOUD offers more than 160 cloud services and 140 solutions, operating 40 availability zones in 23 geographic regions worldwide. HUAWEI CLOUD has 59 AIs with 159 functions.
"Singapore is an international center of innovation, also a strategical hub for China-funded and overseas enterprises in the Asia-Pacific region. HUAWEI CLOUD attaches great importance to development in Singapore and the Asia Pacific. HUAWEI CLOUD provides industry-leading full-stack intelligent cloud services to bring together government, universities, enterprises, and partners to innovate, and to help accelerate their intelligent transformation," Edward Deng said.
HUAWEI CLOUD also announced the launch of its "Go-China / Go-Global" plan to help more companies develop global services. The company is committed to providing global Internet, gaming, finance, and video markets with a series of unique, advantageous services that connect users globally, adapt to different networks, and lead to new trends. This plan includes exclusive services like:
ARM cloud service for mobile phones.
High-defense IP addresses providing service traffic isolation and DDoS attack prevention.
Cloud video services with ultra-low distribution costs.
Cloud video serviceable to ensure continued clear broadcast in sub-par network conditions.
HD live broadcast for low-speed networks.
Earlier, Huawei Cloud and Infosys signed a memorandum on strategic cooperation to help business customers swiftly move to the digital cloud. As part of the agreement, Infosys will join the Huawei Cloud Partner Network (HCPN) and the two companies will develop new cloud solutions that leverage Huawei Cloud and Infosys products and services to help customers securely adopt innovative cloud-based workloads.