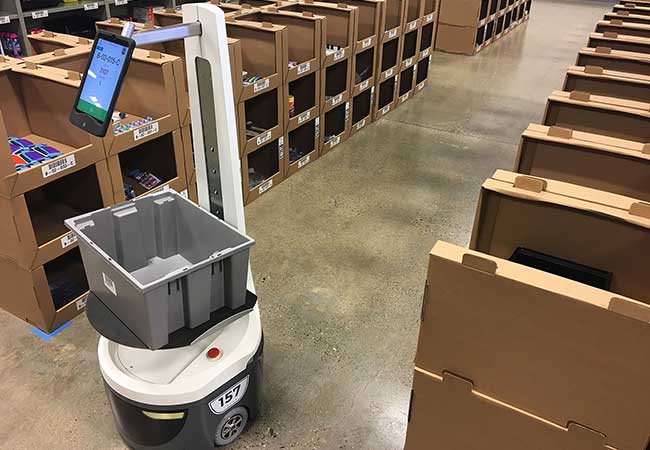 Locus Robotics, a Wilmington, MA-based startup, today announced it raised $26 million in Series C funding to continue scaling its warehouse fulfillment robotics system. The company produces autonomous mobile robots to fulfill e-commerce orders. Its "multi-bot" picking system includes LocusBots and the software LocusEmpower, which integrates with warehouse management systems.
Locus Robotics said it plans to use funding to scale output and expand its sales and marketing efforts in North America and worldwide. Since it was spun out of Quiet Logistics in 2015, the company has raised over $ 66 million.
The company said it follows a record 2018 performance in which it launched new retail / e-tail, third-party logistics (3PL), distribution, and industrial specialty space across North America.
"Continued, rapid growth in the warehouse industry and a tight labor market put tremendous pressure on warehouse operators to find a scalable, cost-effective way to meet increasing demands for productivity and efficiency," said Rick Faulk, CEO of Locus Robotics. "We've seen a massive increase in demand for flexible automation incorporated in Locus ' multi-bot solution, which is unique in addressing these challenges. Not only is our solution proven to dramatically improve productivity and drive down costs, it's also a source of scalable labor that can be adapted to meet the demands of numerous product and customer profiles. This new funding will enable us to scale to meet growing demand for our revolutionary solution worldwide."
The company's customers, which include DHL, GEODIS, Port Logistics Group, Verst Logistics, Radial, and others, have seen double or triple productivity gains in their fulfillment operations, while saving 30% or more in operating expenses, the company added.
"Locus' offering delivers powerful results, growth scales and seasonal demands, and is flexible enough for us to deploy it quickly across our network," said Eric Douglas, GEODIS Americas Executive Vice President, Technology and Engineering.
The round includes investments from Zebra Ventures, Zebra Technologies ' strategic investment arm, and Scale Venture Partners, leading the $25 million Series B round in 2017.
"Zebra Technologies has a long-standing mission to drive logistics and supply chain productivity," said Tony Palcheck, Zebra Ventures CEO. "We are investing in technologies that will help our customers increase operational efficiency and meet their on-time delivery requirements. Locus has quickly established itself as a leader in warehouse automation, and the company is a natural fit for our business intelligence vision in the warehouse market."
For example, Locus recently added an accessory power port to its autonomous mobile robot, the LocusBot, which features a Zebra printer integrated into its robotic platform and a Zebra wireless handheld scanner integrated with Locus ' new put-away feature.
Locus announced omnichannel support, multi-order and multi-tote picking as part of its spring hardware and software updates at ProMat 2019 earlier this month.