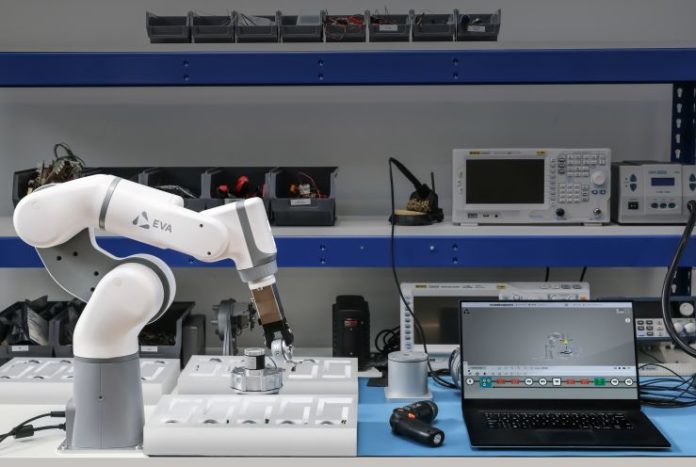 Robotics is now a significant part of many industries, with Amazon's likes leaning heavily on automated warehousing systems to cut costs and speed deliveries. Internally, Amazon uses a mobile-robotic fulfillment system – Kiva Systems, for inventory distribution centers, while U.K. grocery giant Ocado uses all kinds of next-gen picking and packing technology, including robotic arms that can handle delicate items.
Not surprisingly, a growing number of startups are building robotics for all kinds of uses, like delivering food and other goods. Building robots, however, is an expensive endeavor, which is why some firms have developed new ways to help smaller firms join.
With a vision to make robotics more accessible and market an affordable desktop-based industrial robot, London-based startup Automata developed a collaborative robot or "cobot" called Eva.
Founded in 2015 by architects Mostafa ElSayed and Suryansh Chandra, Automata aims to help industries automate repetitive physical work, freeing people to do fulfilling jobs. Eva is the company's first robotic arm that can be mounted on any flat surface— such as a table or workbench — and configured and controlled via a standard browser.
Eva could be paired with a computer-powered camera to inspect and test faulty products or use sandwiches in factories or test touchscreen phones. Companies can work multiple Eva robots for more complex tasks. Eva was actually soft-launched at the end of 2018 when it opened for preorders, but this year it was officially launched in March. The robotic arm will soon ship across Europe and any country that accepts CE certification. The company is also currently considering certification requirements to enter U.S. and Asian markets.
Automata recently raised $7.4 million in a Series A round of funding led by Belgium-based Hummingbird Ventures, involving Firstminute Capital, Hardware Club, LocalGlobe, ABB, and Entrepreneur First. Before its A-round series, Automata raised around $2million. With another $7.4 million in the bank, it is set to grow its existing team of 42, all based on the company's London headquarters, as well as increase the production of its Eva robots.
To supply all the different components for Eva, Automata works with the U.K. Tharsus robotics manufacturer. Early on, however, Automata discovered that using existing gearbox providers would make the robot too expensive— so it designed and developed its own patented gearbox from scratch to keep costs down.
The company also developed its own software system, Choreograph, which allows companies to configure all the sequences they need to complete their robotic arm. It also integrates design and 3D printing with third-party programs — this is very much about enabling manufacturers to manage their own small-scale production runs, which can be useful for customizing designs or catering to fluctuating seasonal demands.