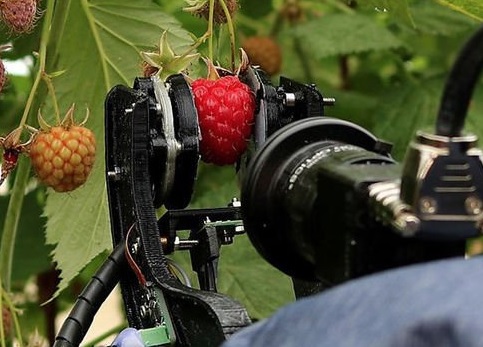 Farmers in the UK usually pay £ 1 to£2 for a kilogram of raspberries picked by human workers and manage to pick only about 15,000 raspberries in an eight-hour shift. Besides, there is a shortfall of seasonal workers in the berry industry, which currently employs 29,000 workers but requires an additional 2,000 pickers by 2020, as the demand for berries is rising. Things are going to change, though.
Fieldwork Robotics, a spin-off from the University of Plymouth, has built the world's first raspberry picker to pick more than 25.000 raspberries a day. Standing at the height of 1,8 meters, this autonomous, wheeled machine with its robotic arm began field trials in a greenhouse at the Hall Hunter farm near Chichester in West Sussex.
Developed in partnership with Hall Hunter, one of the UK's leading berry growers, which supplies Paddy, Marks & Spencer and Waitrose, the robot is powered by sensors and 3D cameras. Its fluster zooms in on ripe fruit and picks a raspberry in 10 seconds or less. Then it drops it in a tray where the fruit is sorted by maturity, before it moves into punnets, ready to be transported to supermarkets. The final robot version, expected to go into production next year, will have four grips, all of which will be picked at the same time.
The robot is the brainchild of Dr. Martin Stoelen, a robotics lecturer at Plymouth University, who moved from aerospace engineering to robotics and took inspiration from his grandparents' farm in Norway. By first tackling one of the most difficult soft fruits, he hopes to tweak the technology so that the robot can be used to pick other berries, fruit, and vegetables.
Since the UK voted to leave the EU on June 2016, seasonal pickers from Bulgaria, Romania, and Poland have declined. Labor shortages have the hardest hit Berry and apple growers, and farms have started poaching pickers from each other.