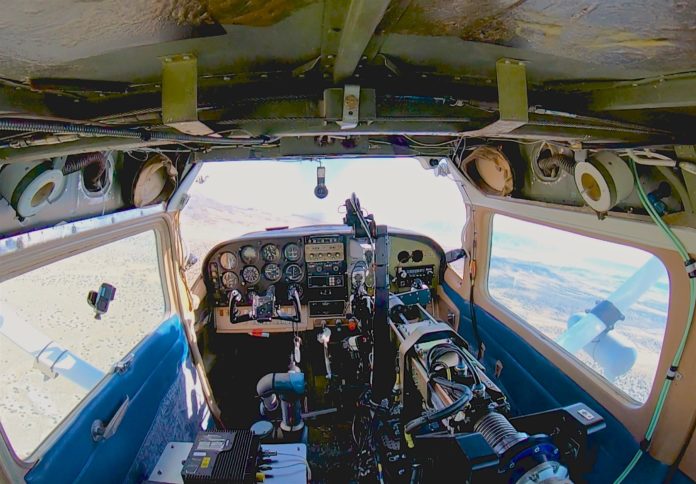 ROBOpilot, developed by the Air Force Research Laboratory (AFRL) and DZYNE Technologies as part of the Robotic Pilot Unmanned Conversion Program, has become the first robot to pass the Practical Test for light aircraft pilot of the Federal Aviation Administration (FAA). An unmanned aircraft conversion system, the robot made its first two-hour flight on August 9 in Utah after it was installed in a 1968 Cessna 206 small aircraft.
Funded by AFRL's CRI Small Business Innovative Research project, ROBOpilot is the first robot to fly a real aircraft sufficiently well to pass a flight test. Contrary to a traditional autopilot, the ROBOpilot takes controls, presses pedals and handles the yokes with its robotic arms. A computer vision system reads the dials and meters. The robot can take off, fly, and land without human intervention. ROBOpilot is a drop-in system that removes and replaces the pilot's seat with the robot.
According to the Air Force, the installation using standard commercial technologies and components is simple, non-invasive, and non-permanent. It allows aircraft to be converted to uncrewed operations without the complexity and costs of specific UAVs and, when necessary, switched back to the human control configuration.
Sadly, a few weeks after receiving a license, ROBOpilot met its first incident where the robot was damaged, although the extent of the damage is not known. Some of the previous robot pilots were Pibot, developed in South Korea, and ALIAS by the US Department of Defense. However, neither of these them has flown a full-size plane on its own like ROBOpilot.
ROBOpilot is less expensive than the usual autonomous conversion of aircraft. It takes nearly $1 million to turn an F-16 jet into an autonomous drone, which airlines take the pilot out of the old airplanes and fit into a new one. The makers propose that ROBOpilot is useful for tasks such as cargo transport, entry into hazardous environments, and intelligence, surveillance and reconnaissance missions.