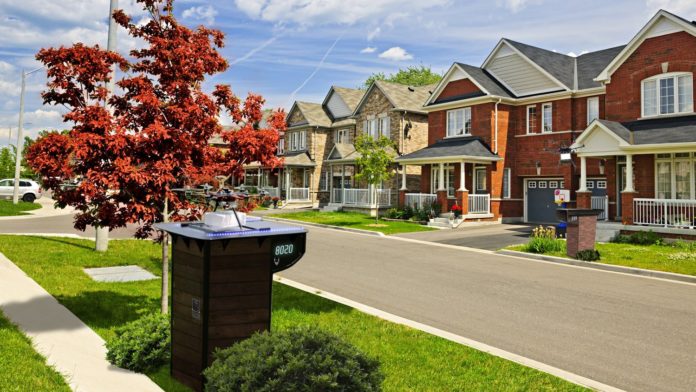 In a 2013 "60 Minutes" interview, Amazon CEO Jeff Bezos predicted drones would deliver goods to our homes by 2019, but the plan has yet to materialize! Experts say the idea of delivering drones, autonomous vehicles (often referred to as unmanned aerial vehicles, UAVs), used to transport packages, food or other goods, is progressing at a snail's pace due to lack of clarity in issues such as where drones will land and how items are received. But a Chicago startup thinks it has an answer.
Valqari has solved the "last-inch logistic problem" associated with drone delivery with its Smart Drone Delivery Mailbox, a universal drone receptacle for package delivery and pick-up.
The smart mailbox is a concept that gives Valqari the ability to revolutionize drone deliveries to industries including pharmaceuticals, meal delivery and grocery, government and residential e-commerce services. It features agnostic capabilities to ensure seamless integration and communication during a fully-automated delivery process with any drone manufacturer.
Valqari has developed a working mailbox prototype that works with various types of drones. The company was granted utility patents in 13 countries including the U.S., U.K., Germany and China. To date, it is the only drone delivery solution to be issued utility patents in 13 countries, putting Valqari ahead of major players like Google, Amazon and Uber when it comes to ending a drone delivery.
"We knew the biggest hurdle facing drone delivery was no standardized, safe, and secure landing area. From the outset, this gave us a clear vision that our mission would be to provide the missing piece to the final drone delivery process," Valqari's CEO and co-founder Ryan Walsh said in a statement.
"With our Smart Drone Delivery Mailbox, we beat major global companies in developing the winning solution. We saw nobody else developed this technology in 2013, which is why it was critical for us to put a stake in the ground by immediately applying for utility patents to make us the only smart mailbox option for commercial and residential use."
Valqari's innovation provides drone delivery providers with a safe landing area, using two-way communication technology to eliminate risks associated with total automated drone delivery. It will provide Valqari's prospective partners with a complete end-to-end delivery solution, offering future users reduced shipping costs, increased market penetration, reduced liabilities, and secure custody chain.