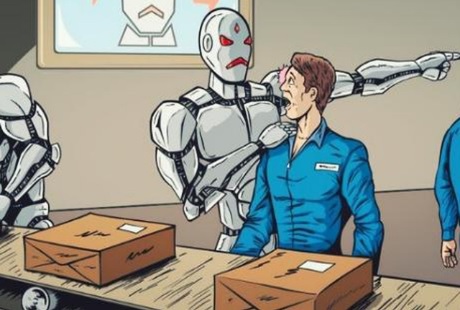 A new survey by Genesys found that U.S. workers believe that jobs in Manufacturing (43%), Retail / Checkout Clerks (40%), Telemarketers (38%) and Data Entry (37%) are the most likely to shrink due to the expansion of AI (artificial intelligence). However, two-thirds (67 percent) of respondents say they are not afraid that AI/bots will replace their jobs in the next ten years.
From the following options, the survey participants from a wide range of industries were asked to select three jobs most likely to be replaced by AI: Data Entry, Food Service, Accountant / Tax Preparer, Insurance Underwriters, Manufacturing, Paralegal, Pharmacist, Retail / Checkout Clerk, Telemarketer, Transportation / Driver, and Other.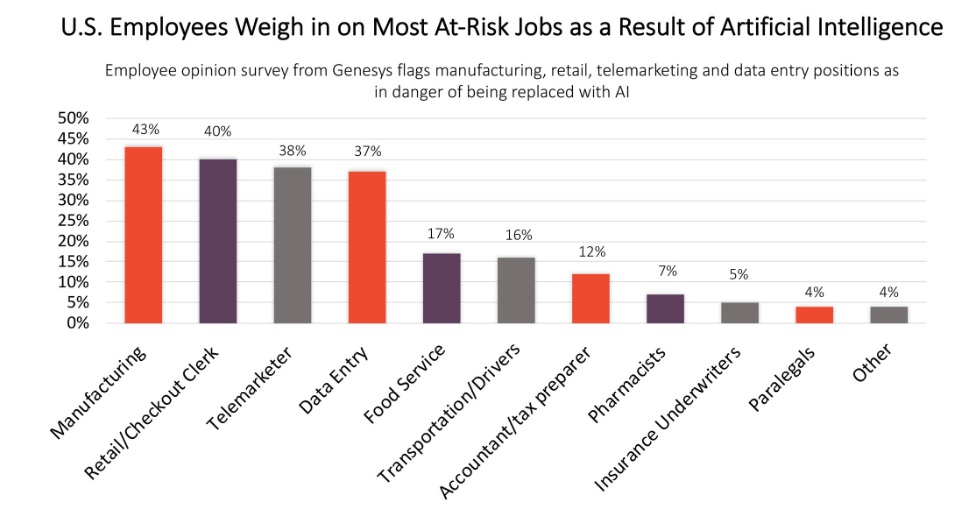 Who is afraid of AI?
The Genesys findings reveal that the U.S. employees, working in education/training and as Doctors/Nurse/Caregivers, are least afraid that AI/bots will take up their jobs in the next ten years. The most frightened? The media and assembly line/manufacturing jobs.
Employees of Human Resources, who should have the pulse on employment trends, identified Data Entry and Retail / Checkout jobs as the most likely and equally at risk to be replaced by AI. Employees working in Customer Service tend to be pessimistic, selecting Retail/Checkout Clerk and Telemarketer jobs which are most likely to suffer from AI.
Notably, transportation-related jobs, such as drivers, are considered among the most likely functions to be replaced by AI by only 16 percent of U.S. survey respondents. This response seems to indicate that participants are not paying close attention to the predicted upcoming revolution in autonomous vehicles and trucking fleets.
What is equally interesting is that despite advertising around automated restaurants and robot servers, especially in Asia, only 17 percent of U.S. respondents see Food Service jobs in danger. They ignore negative media coverage and point their finger at Retail / Checkout Clerks and Manufacturing positions as the most threatened.
About 52 percent of U.S. employees are confident in their skillset in a AI-enabled workplace. However, this can change as an equal 52 percent say they don't feel AI has affected their jobs, as of now.
"The American employees generally have a positive view of technology in their workplaces, with 86 percent affirming their benefits. However, this does not make them blind to how artificial intelligence could impact particular industries," said Merijn te Booij, Genesys Chief Marketing Officer. "The key is that people and technology must work together. AI can increase the workforce by enabling employees to be more productive, accurate, and fulfilled as they can enjoy the more complex aspects of their work when implemented strategically and balanced with the human touch."
The survey reveals many other fascinating insights:
More part-time U.S. employees (25 percent) fear AI will take up their jobs within ten years than full-time workers (18 percent), although there is no significant difference in attitudes about the specific jobs that might disappear.
Interestingly, employees from large companies with more than 20,000 people are slightly less afraid (17 percent) than the overall group (19 percent) of the effect of AI/bots on their jobs over the next 10 years, possibly because they have already experienced its adverse impact (10 percent) and see a more stable future.
U.S. employee responses are very closely aligned with the opinions held by U.S. employers surveyed separately by Genesys. They also found the four jobs most threatened by AI, such as Data Entry, Manufacturing, Retail / Checkout Clerk and Telemarketer. The only notable difference was that 52 percent of employers chose Data Entry as their top choice, compared to 37 percent of employees.