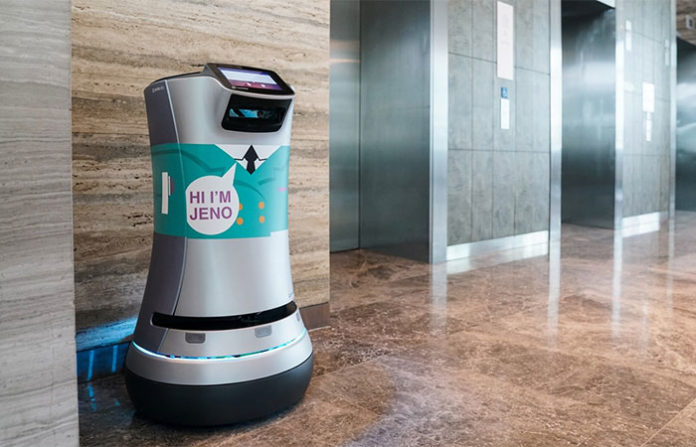 The use of robots in the hospitality industry is increasing, ranging from artificially intelligent chatbots to robot assistants designed to support the customer service process or enhance the experience of guests at the hotel.
One reason why robots have emerged as a popular technology trend in hospitality is that automation and self-service ideas play an increasingly important role. The use of robots can lead to improvements in speed, cost efficiency, and even accuracy.
For example, chatbots allow hotels or travel companies to offer assistance 24/7, even if staff are unavailable, through online chat or instant messaging services, providing fast response times. Meanwhile, during check-in, a robot can accelerate the entire process and reduce congestion.
Robots are a matter of debate, with both advantages and disadvantages. Robots are not tired, do not get bored, can work 24 hours a day, seven days a week, and need no salary. Many tasks can be handled faster than humans. Robots can also perform more accurately and consistently than people can, eliminating human error. In addition, robots can work in dangerous or hostile environments and can be programmed to carry out actions which humans can not or are unwilling to do.
On the flip side, increased automation could lead to a job crisis due to fewer reversible jobs, while initial robotic investment and maintenance costs can be high. They can not also act outside their programmed parameters, which means that they can not adapt to unforeseen situations.
In this post, we will see eight examples of robots being used in the hospitality industry.
Henn-na Hotel – World's first robot-staffed hotel
Henn-na Hotel was the world's first robot hotel in Nagasaki, Japan. Robots are deployed throughout the hotel providing information, reception, storage, check-in, and check-out services, including voice and face recognition technology.
Connie, the Hilton Robot Concierge
Connie is the robot concierge by Hilton. The robot uses the IBM artificial intelligence platform and can interact with guests with questions thanks to its speech recognition capabilities. The system also learns and adapts with each interaction to improve the answers it provides.
Travelmate – A robot suitcase
Travelmate is an example of robotics for luggage use, although it is not a hotel brand. Essentially, it is a self-sufficient case that can follow you alone. It uses collision-proof technology, has 360 ° turning capacities, and eliminates the need to transport, pull, or push a suitcase around.
Crowne Plaza's Dash
The Crowne Plaza San Jose-Silicon Valley is an early adopter of robot technology and the first to start using Savioke's Relay, called Dash. Dash is part of the Crowne Plaza front desk team, specializing in delivering items in their rooms to guests. Dash allows front desk team members to focus on value-added customer service that only people can provide. Using a unique Wi-Fi connection, Dash can call the lift if it is called up.
Yotel's Yobot
The Yotel has a robot, the Yobot, to store your bag in one of its 150 bins safely. To get back, just give the robot a pin number and your last name upon arrival.
Aloft Cupertino's robotic butler
Aloft Cupertino comes with a robotic butler to provide pool towels! The Botlr robot will also stop by with snacks and bring stuff to your room. It takes the lift, and you can call your phone to alert you when delivery takes place.
Jeno and Jena at Jen Orchardgateway
Jeno and Jena are the relay robots at the Hotel Jen Orchardgateway and Hotel Jen Tanglin in Singapore, both under the Shangri-La group. The main task of these Relay Robots is to provide hotel guests with an additional towel or in-room service in their doorstep. The delivery time is kept short, and the order can carry up to 4.5 kg within 15 minutes.