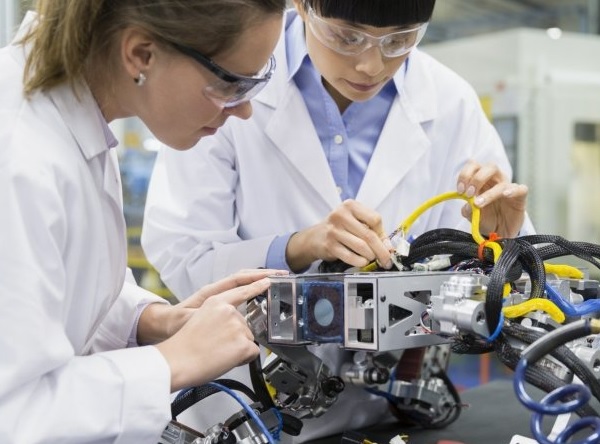 Robotics, artificial intelligence, and machine learning remain male-dominated fields. But what would look like an artificially intelligent world designed and led by women? In this post, we'll hear about 50 notable women moving the robotics field forward in so many different ways.
AJung Moon
An experimental roboticist based in Montreal, Canada, AJung Moon is a Korean-Canadian who studies human-robot interaction and robotic ethics. A Vanier scholar, she is investigating how robots and A.I. systems influence how people move, act, and make decisions and how they can design and deploy autonomous intelligent systems accordingly. She is an Open Roboethics Initiative cofounder; an international Roboethics think tank.
Andie Zhang
Andie Zhang is a Collaborative Robotics Global Product Manager at ABB Robotics, where she is responsible for the strategy and product portfolio of Collaborative Robotics. Graduated from KTH, Stockholm in Engineering, she develops a strategy for the product portfolio of the company and drives branding of the product. It focuses on collaborative robot applications and the design of user-centered interfaces.
Angelika Peer
Angelika Peer is a professor at the Free University of Bozen-Bolzano, Italy, specializing in human-robot interaction (HRI) research focusing on telepresence and teleaction systems, brain and body computer interfaces, physical / haptic HRI and human motor control. She graduated from the Munich Technical University, Germany with a degree in electrical engineering and information technology and a doctorate in engineering.
Ayorkor Korsah
Ayorkor Korsah, a Ghanaian graduate of Carnegie Mellon University in Robotics and Artificial Intelligence, is a co-founder of the African Robotics Network (AFRON). A leader in using robotics to inspire African high school students through the Ashesi Robotics Program (AR / X), she is the 2013 Tribeca Disruptive Innovation Award (TDIA) recipient. Ashesi University College teaches robotics and computer science and coordinates the Ashesi Innovation Experience, a program for summer enrichment.
Barbara Mazzolai
Barbara Mazzolai, a biologist with a Ph.D. in Microsystems Engineering and an International Master in Eco-Management, is the director of the Italian Technology Center's Institute of Micro-Biorobotics in Pontedera. Barbara Mazzolai developed planetoid technology and developed the first soft robot to mimic tendril behavior.
Cecile Huet
Cécile Huet is the Deputy Head of the European Commission's Robotics Unit. It is instrumental in the success of the new wave of robotics projects funded under the Horizon 2020 funding program for several billion dollars.
Cecilia Laschi
Cecilia Laschi is an author and co-author of over 300 scientific papers. She works as a professor at the Scuola Superiore Sant'Anna BioRobotics Institute in Pisa, Italy. Her research interests are in soft robotics, a growing research area she pioneered and helped develop various marine robotics and biomedical applications. She has been involved in humanoid robotics and neurorobotics, combining robotics and neuroscience.
Crystal Chao
Crystal Chao is Huawei's Robotics Project Chief Scientist and Global Leader. In 2012, for her Ph.D. at Georgia Tech, Chao won the Outstanding Doctoral Consortium Paper Award, ICMI, where she developed the Human-Robot Interaction Architecture (HRI) that allows robots to work fluently with people through dialog and manipulation.
Danica Kragic
Danica Kragic, a computer vision specialist and head of KTH's Computer Vision and Active Perception Lab, is studying how robots interact with each other, how they feel things, and how they see and grasp objects to build future systems that interact naturally with people and their surroundings. Kragic is also the Autonomous Systems Center's director.
Emily Cross
Cognitive neuroscientist Emily Cross is the co-director of the Social Brain in Action Lab and the P.I. of the ERC Starting Grant 'Social Robots.' She leads a team that explores experience-dependent human brain plasticity and behavior through neuroimaging, neurostimulation, and behavioral techniques. She is currently the European Research Council's Principal Investigator Starting Grant, entitled' Social Robots,' which runs from 2016-2021.
Erin Kennedy
Erin Kennedy is the founder of Robot Missions that empowers communities to undertake missions by using robots to help our planet. She developed a robot to collect debris from the shoreline that can be replicated with a 3D printer anywhere. A former fellow at the MaRS Discovery District Studio Y in Social Innovation and Systems Thinking, Kennedy studied Digital Manufacturing at the Fab Academy and was recognized as a finalist at the Visionaries Prize for Lieutenant Governor (Ontario).
Fei-Fei Li
The power behind the new Institute for Human-Centered Artificial Intelligence is Stanford professor and a former Google employee, Fei-Fei Li. Her research focuses on machine learning, depth learning, computer vision, neuroscience of cognition, and computation. In top-tier journals, nearly 200 scientific articles have been published. She is the co-founder and chair of the national non-profit AI4ALL, a national leader in promoting diversity in STEM and A.I.
Jade Le Maître
Jade Le Maitre is Hease Robotics' technical director and co-founder, bringing the robotics experience to the consumer. She co-launched Lyon-Is-AI as well and co-founded the Social Robots Community. Le Maître has found her passion for working in the field of science communication with a background in engineering and a research project on human-robot interaction.
Jessica Hodgins
Jessica Hodgins is a professor at Carnegie Mellon University's Robotics Institute and Computer Science Department and the new head of Pittsburgh's Facebook A.I. Research Lab. Her research on computer graphics, animation, and robotics focuses on human movement generation and analysis. She got her Ph.D. in Computer Science from the University of Carnegie Mellon in 1989.
Jing Xiao
Jing Xiao is the site director of the U.S. National Science Foundation Industry, University Cooperative Research Center for Robots and Sensors for Human Wellbeing. Her research focuses on robotics, haptics, and intelligent systems. She has published over 130 publications in major robotics conferences, journals, and books. A patent holder, she is an IEEE Fellow. She has been elected twice as an AdCom Member of the IEEE Robotics and Automation Society.
Hanna Kurniawati
Hanna Kurniawati is a senior lecturer at the ANU and C.S. Futures Fellowships at the Australian National University (ANU) Research School of Computer Science. She was awarded a Ph.D. in Computer Science for Robot Motion Planning from Singapore National University. Recently, she helped create an Interactive Ball (I-Ball), a robotic soccer ball to enhance the participation of visually impaired people in social ball games using motion sensors, high-efficiency speakers and a small UQ-developed controller.
Heather Justice
Heather Justice is the Jet Propulsion Laboratory's Mars Exploration Rover Driver. NASA JPL Software Engineer at Harvey Mudd College graduated with a B.S. In 2009 computing and the M.S. The 2011 Carnegie Mellon University Robotics Institute. She works in a variety of fields of research, including computer vision, mobile robot path planning, and spacecraft flight rules validation.
Kathrine Kuchenbecker
Katherine J. Kuchenbecker is the director of the Haptic Intelligence Department at Stuttgart, Germany's Max Planck Institute for Intelligent Systems. Kuchenbecker received her Ph.D. from Stanford University in 2006 in Mechanical Engineering. Kuchenbecker's research expertise is in designing and controlling robotic systems that enable users to touch virtual objects and remote environments as if they were real and within reach, creating new opportunities for their use in human, computer and machine interactions.
Kanako Harada
Kanako Harada is the program manager of the Cabinet Office, Japan's ImPACT program "Bionic Humanoids Propelling New Industrial Revolution." She is an associate professor at the Bioengineering and Mechanical Engineering Departments, the Engineering School and Tokyo University, Japan. She was given the M.Sc. Tokyo University Engineering in 2001 and Waseda University's Ph.D. in Engineering in 2007. Her research interests include surgical robots and evaluation of surgical abilities.
Kavita Krishnaswamy
Kavita Krishnaswamy is a Ford Foundation Predoctoral Fellow and a National Science Foundation Graduate Research Fellow, who was born in Tamil Nadu, India and raised in Columbia, MD. A professional researcher, Krishnaswamy is motivated by a powerful, innate force to achieve autonomy and independent daily life. It develops robotic systems to assist and enhance the independence of disabled people, support transfer, repositioning, and personal care, focusing on accessible user interfaces.
Katja Mombaur
Katja Mombaur is Head of the Computer Engineering Institute (ZITI) Robotics & Biomechanics Optimization Group (ORB) and Robotics Lab. She is the Heidelberg Motion Research Centre's coordinator. She holds a degree from Stuttgart University in Aerospace Engineering and a Ph.D. in Mathematics from Heidelberg University. Her research focuses on the interactions between humans and exoskeletons, prostheses, and external physical devices.
Kirsten H. Petersen
Kirstin H. Petersen is an Assistant Professor of Electrical and Computer Engineering. Her interests are in designing and coordinating bio-inspired robot collectives and studying their natural counterparts, especially in the construction field. Her thesis on the termite-inspired robot construction team covered science and ranked among 2014's top ten scientific breakthroughs. In 2016, as part of the Department of Electrical and Computer Engineering at Cornell University, Petersen started the Collective Embodied Intelligence Lab and had field membership in Computer Science and Mechanical Engineering.
Kristen Y. Pettersen
Kristin Ytterstad Pettersen is a professor at the Cybernetics Engineering Department and holds an NTNU Ph.D. and MSc in Cybernetics Engineering. She is a scientist at the Center of Excellence: Autonomous Marine Operations and Systems (NTNU AMOS) and a professor assistant at the Norwegian Defense Research Establishment (FFI). Her research interests include the theory of nonlinear control and movement control, especially for marine vessels, AUVs, robot manipulators, and snake robots. She is a co-founder of Eelume AS, which develops subsea inspection, maintenance, and repair technology.
Kavitha Velusamy
Kavita Velusamy is BossaNova Robotics' Senior Director of Computer Vision, where she develops applications for robot vision. She previously served as Senior Manager at NVIDA, where she managed a global team responsible for providing self-driving vehicles with computer vision and deep learning software. Previously, she was Amazon's Senior Manager, where she wrote a "far-field" white paper defining Amazon Echo's device side, vision, architecture, and price points. She holds a Ph.D. from the Indian Institute of Science in Signal Processing / Electrical Communications Engineering.
Kate Darling
Kate Darling is a Fellow at the Harvard Berkman Center. An affiliate of the Institute for Ethics and Emerging Technologies, she writes for Robohub and IEEE. She is passionate about the near-term societal impact of robotics, copyright, and patent law.
Laura Margheri
Laura Margheri develops a scientific program and manages research projects at Imperial College London's Aerial Robotics Laboratory, managing multidisciplinary and international partnerships. She had been a project manager and Postdoc Fellow at the Scuola Superiore Sant'Anna BioRobotics Institute before joining Imperial College. Margheri has an M.S. Biomedical Engineering (honored) and BioRobotics Ph.D. (honored). She has been Chair of the Robotics & Automation Society's Women In Engineering (WIE) Committee since early 2014.
Louise Poubel
Louise Poubel, who grew up in Brazil, graduated from Japan with an engineering degree and from Poland and France with a master's degree. She is now working on the Open Source Robotics Foundation's Gazebo robotics simulator, a graphical user interface (GUI), to reduce complexity and price.
Martha Wells
Martha Wells is the best-selling New York Times author of science fiction and speculative fiction— The Murderbot Diaries, the story of a self-aware security robot that hacks its "Governor Module." She's holding a B.A. In Anthropology at Texas A&M University; he has won over a dozen fiction awards and nominations, including the Hugo Award, the Nebula Award, and the Locus Award.
Nancy Amato
Nancy Amato is acclaimed for her research on the algorithmic foundations of movement planning, computational geometry, computational biology, and parallel computing, as well as her leadership in expanding industry involvement. Her 1998 paper on probabilistic methods of road mapping is one of the essential papers in this area. She was named an IEEE Fellow in 2010, among other awards. She has been a member of the Status of Women in Computing Research Committee since 2000.
Pree Walia
A winner of the 2015 Robot Launch International Startup Competition, Pree Walia is an entrepreneur and graduate of business school who has combined a political career with leading teams in early-stage hardware startups, most recently starting her venture at the crossroads of beauty and technology. Walia is the Nailbot's co-inventor— a nail decoration robot that allows you to paint your fingernails with custom designs.
Propa Ghosh
Propa Ghosh is America's first female robotic surgery medical director. She is an ambitious, forward-thinking doctor with the ability to combine surgical expertise and organizational skills to help develop and promote ground-breaking initiatives.
Rita Cucchiara
Rita Cucchiara is a full professor of computer vision at the Enzo Ferrari Department of Engineering at the University of Modena and Reggio Emilia, where since 1998 she has led the AImageLab, a computer vision and pattern recognition laboratory dedicated to A.I. and multimedia. She coordinates the human-vehicle interaction UNIMORE-Ferrari RedVision Lab. She is currently Director of the Italian CINI Lab for Artificial Intelligence and Intelligent Systems. She was the 2018 IAPR Maria Petrou Prize recipient.
Samantha Payne
Samantha Payne is a cofounder of Open Bionics, an award-winning startup that develops low-cost bionic hands for amputees or those born without a hand. Payne was shortlisted at the Women and Business awards for the 'Entrepreneur of the Year.' She focuses on building the public profile, business model, network, and elevating rounds of Open Bionics. Open Bionics has won several innovation awards, most recently the prestigious James Dyson Award and the RBA50 awards.
Sanja Fidler
Sanja Fidler is A.I. Director at the Toronto Lab of NVIDIA, leading research projects in machine learning, computer vision, graphics and language, and vision intersection. She is an assistant professor at the University of Toronto's Department of Computer Science. She is the Amazon Academic Research Award recipient (2017) and NVIDIA AI Pioneer Award recipient (2016). She completed her Ph.D. in Computer Science at the University of Ljubljana in 2010 and served as 3DV Conference Program Chair and as CVPR, EMNLP, ICCV, ICLR and NIPS Area Chair.
Sougwen Chung
Sougwen Chung, a Chinese-born, Canadian-educated artist based in New York, is a former fellow researcher at Media Lab in MIT and an inaugural member of NEW INC, the first museum-led art and technology in collaboration with The New Museum. Her work explores mark-by-hand and mark-by-machine as an approach to understanding the interaction between humans and computers. Her speculative critical practice encompasses installation, sculpture, still image, drawing, and performance. She received a BFA from Indiana University and a master's degree in interactive art from Hyper Island, Sweden.
Spring Berman
Spring M. Berman is an Associate Professor of Computer Science and Systems Design at Arizona State University (ASU) in Mechanical and Aerospace Engineering. A recipient of the 2014 DARPA Young Faculty Award and the National Science Foundation (NSF) Graduate Research Fellowship, Spring Berman is developing a system that would allow robotic machines to perform reliably in situations where the environment in which they operate is limited and unreliable and where GPS and radio communication are limited.
Stéphanie Lacour
A 2006 winner of the MIT TR35, Stéphanie Lacour is the recipient of the Royal Society's University Research Fellowship, the ERC Starting Grant from the European Research Council, the 2011 Zonta Award and the 2014 Young Scientist Award from the World Economic Forum. She pioneered the development of semiconductor devices capable of stretching and retaining their electronic properties. Her research interests lie at the intersection of engineering, the science of materials, and biotechnology. Lacour is chairman of the Bertarelli Foundation at the EPFL School of Engineering in Neuroprosthetic Technology.
Sarah Osentoski
Sarah Osentoski is the former COO of Mayfield Robotics, who produced Kuri. She is currently V.P. of Engineering at Iron-Ox. Before Mayfield Robotics, she was the manager of the Personal Robotics Group at the Bosch Research and Technology Center in Palo Alto, CA. One of the authors of Robot Web Tools, Osentoski, published the 2017 Silicon Valley Biz Journal "Women of Influence." She received her Ph.D. from the Amherst University of Massachusetts under Sridhar Mahadevan. Her research interests include robotics, shared autonomy, robotic web interfaces, enhanced learning, and machine learning.
Sue Keay
Recognized as one of the most influential people in Queensland (The Courier Mail's Power100), Sue Keay is Cyber-Physical Systems Research Director at CSIRO's Data61. Sue champions our fledgling robotics industry, one of Australia's few female robotics voices, pioneering the development of Australia's first Robotics Roadmap. A university medalist and Jaeger scholar, Sue has over 20 years of research sector experience managing and ensuring the impact of multidisciplinary research and development programs and teams. She holds an Australian National University Ph.D. in Earth Sciences and was a Queensland University, a post-doctoral fellow of the ARC.
Veronica Santos
Veronica J. Santos is an associate professor and director of the UCLA Biomechatronics Laboratory at UCLA Mechanical & Aerospace Engineering. She is one of 16 selected individuals for the Defense Science Study Group (DSSG), a two-year opportunity for emerging science leaders to engage in U.S. security challenges dialogues. At USC's Alfred E. Mann Institute for Biomedical Engineering, she developed a novel biomimetic tactile sensor for prosthetic hands. She later headed the Engineering Program of ASU Mechanical and Aerospace and the Biomechatronics Lab of ASU. Santos has received numerous research and teaching awards and honors.
Wendy Roberts
Wendy Roberts is the CEO and founder of Five Elements Robotics, established in 2012 to revolutionize the relationship of the human-robot. Two robots, the Friendly Robot Carrying Your Things, and DASH, the Retail Robotic Shopping Cart, have been developed by Roberts. Wendy Roberts is also Future Skies' founder and the owner (established in 2001), the United States. High-tech defense firm, U.S. software development. Defense Department. In Mashable's article, "Five Individuals Pioneering the Robotics Industry," Wendy Roberts was named one of the Top Five People Path to Robotics.
Yao Zhang
Yao Zhang is Roboterra's founder and CEO, making tool kits that enable students to tap their imagination and creativity to design and construct their robots. Zhang received her Ph.D. in Education Economics from Columbia University before working for McKinsey and Co. and the Soros Foundation. For more than a decade, she has worked in the fields of education and technology and won the "Best 10 Global Citizen Service Award" from the U.S. State Department in recognition of her excellent work in education innovation.
Yuki Nakagawa
RT Corp's founder and CEO, Yuki Nakagawa, has developed an entertainment robot called RIC90, which can wear an "animal suit" to make physical contact with people and change shapes. She was part of projects like ASIMO, Micromouse, ROBO-ONE, and RoboCup from Honda.