Artificial intelligence is truly a technology of the future, which is being introduced into an increasing list of various industries every year. And the FinTech industry is no exception.
According to analysts, the global AI in the FinTech market should reach $8984.9 million by 2025. This means that more and more financial companies are investing in AI-fueled solutions for their businesses.
In addition, every year, new promising AI FinTech startups appear that strive to bring unique technologies to already established processes. In this article, we will dive into this topic in more detail, consider the main benefits that artificial intelligence brings to the FinTech industry, and also walk through the most famous AI startups in 2021. Without further ado, let's get started.
Benefits of AI in FinTech
It is unlikely that the AI in the FinTech market would have achieved such success if it did not bring benefits to businesses. Artificial intelligence is an incredibly flexible technology that can be directed to automate many processes, thereby increasing their efficiency. Let's take a look at the main benefits of AI technology in FinTech.
Benefit #1. Enhanced Customer Service
Quality customer service is one of the pillars of a successful business. Clients often communicate with financial institutions through phone calls. And chat operators are not immune from some mistakes that they can make with a large influx of customers. It is in such situations that artificial intelligence comes to the aid of business.
AI-powered chatbots are the ultimate tool for providing a high level of customer support because chatbots can:
Notify users about important events and operations
Help manage and configure accounts
Deal with complaints
Provide answers to questions and problem solving
In addition to a wide range of features, chatbots have another undeniable advantage. They are available 24/7/365. Users can always get an answer to their questions wherever they are and at any time of the day. Meanwhile, live operators can only work on a certain schedule with the availability of days off. AI chatbots are an excellent tool to reduce the cost of providing customer support and improve its quality.
Benefit #2. Smart Fraud Predictions
The safety of financial transactions is always at the forefront of any FinTech business. And artificial intelligence is the only way to ensure the maximum security of personal data and transactions. All thanks to three benefits of artificial intelligence:
Artificial intelligence algorithms can analyze hundreds of thousands of operations in the shortest possible time, which is physically impossible to do with the help of human resources.
The system is always on the duty on any day of the week and at any time of the day.
Machine learning algorithms can analyze customer financial transactions, studying behavior, and identifying transactions that are out of the ordinary with their suspicion. In addition, machine learning helps predict possible fraud when user actions conflict with their overall behavior.
Artificial intelligence is always on guard for business safety. And the better this aspect, the higher the customer loyalty to the financial services you provide. That's why companies include AI algorithms during the p2p payment app development process. All for the sake of customer financial safety.
Benefit #3. Better Risk Assessment
The lending industry cannot do without accurate risk prediction. After all, if you miscalculate with this aspect, the company can suffer colossal financial losses. Artificial intelligence is an excellent solution for streaming the process of identifying possible financial risks. For example, machine learning algorithms are excellent for the visual identification of a person taking a loan. In addition, artificial intelligence can eliminate paperwork by taking over credit filing and automating the entire verification process.
Do not forget about working with Big Data. Artificial intelligence can quickly analyze large amounts of data and provide the necessary information from a huge array at the request of lending institutions. Namely, this information is important for assessing the client and the risks associated with providing a loan.
Benefit #4. Enhanced Insurance Recommendations
The capabilities of artificial intelligence are so wide that they can be used to improve the insurance process of various businesses. Generally, AI algorithms are used in the insurance of businesses that work with large amounts of data, such as real estate and vehicles. Algorithms can very quickly analyze the level of damage after a car accident or assess the condition of real estate that requires insurance.
Benefit #5. Improved Investment Analysis Process
Before you thought that artificial intelligence could improve any investment, you were a little wrong. AI is primarily intended for Hedge Funds. It is hedge funds that require in-depth analysis of data sets that will increase the quality of investments. And this is a fairly common practice since such funds as Aidiyia Holdings, Cerebellum Capital, Taaffeite Capital Management and Numerai have already fully implemented artificial intelligence in their processes.
In addition, artificial intelligence is great for forecasting. Algorithms can be entrusted with analyzing the market situation and prices in order to obtain their own projections to determine risky or potentially profitable investments.
Top AI FinTech Startups in 2021
After discussing all the benefits of artificial intelligence in the FinTech industry, it's time to talk about famous startups that use artificial intelligence to improve financial transactions and their clients' experiences.
Startup #1. Parashift
Parashift is a Swiss AI FinTech startup developing technologies for managing various accounting documents using artificial intelligence algorithms. The main achievement of this startup is the creation of a unique platform based on machine learning that can read any type of accounting documents with amazing accuracy, such as invoices, cashier's checks, credit card receipts, and many others. In addition, the platform is capable of completely autonomously retrieving accounting documents from various sources.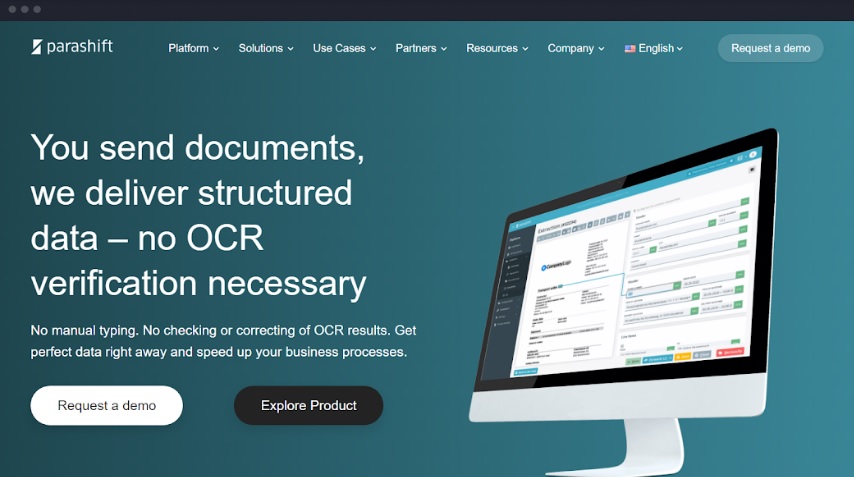 Startup #2. Sentifi
Sentifi is a FinTech startup that was founded in 2012 and whose main goal is to provide investors and other participants in the financial market with the power of machine learning algorithms. Everyone already knows how AI accurately and quickly analyzes huge amounts of information, and Sentifi uses this advantage. They have created a platform that allows phrases financial analysts, investors, journalists, and other market participants to monitor financial markets and receive various signals that are not available in classical financial information systems. In addition, the platform has powerful features for detecting risk events that affect the market situation and financial assets.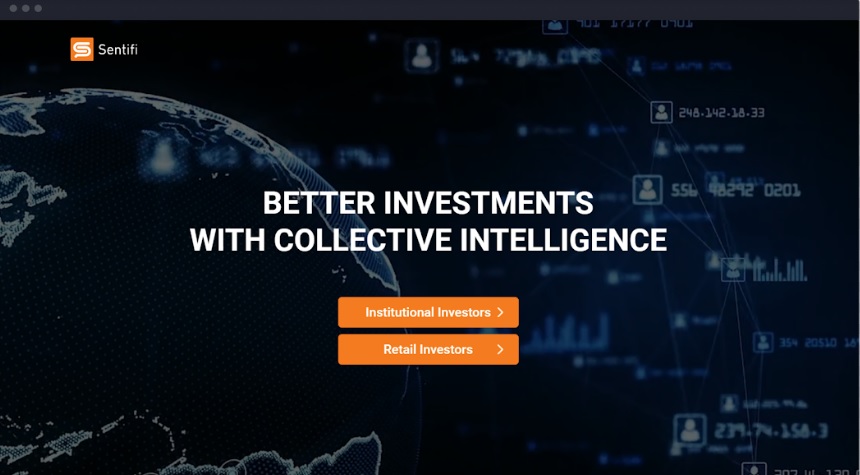 Startup #3. NetGuardians
NetGuardians is an award-winning Swiss startup that has helped more than 50 tier 1-3 banks around the world fight and anticipates various financial crimes since 2007. The main pride of NetGuardians is the developed "advanced intelligence" solution that significantly increases the security of financial transactions. This platform can be equipped with an intuitive user interface and powerful machine learning algorithms that help proactively prevent financial fraud. According to the company, banks that use NetGuardians reduce false positives by 83% and, in addition, save 93% of precious time lost in investigating financial fraud.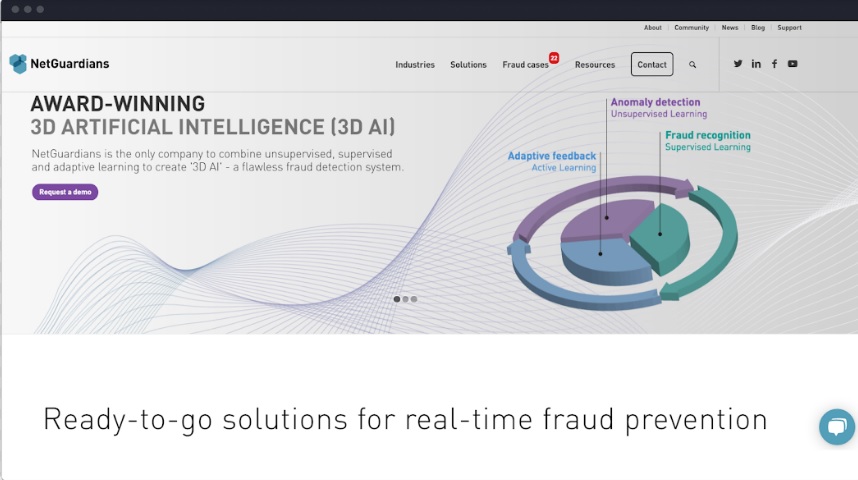 Startup #4. Fraugster
FinTech startup Fraugster was founded in 2014, and its main activity is creating software that uses artificial intelligence to prevent fraud in online stores. This startup is famous for having created and patented a unique technology that collects data from several sources, analyzes and verifies in these sources, and can determine if a transaction is fraudulent in a few seconds. Furthermore, this technology collates information from multiple sources in order to obtain a holistic picture of the reliability of an Internet store user.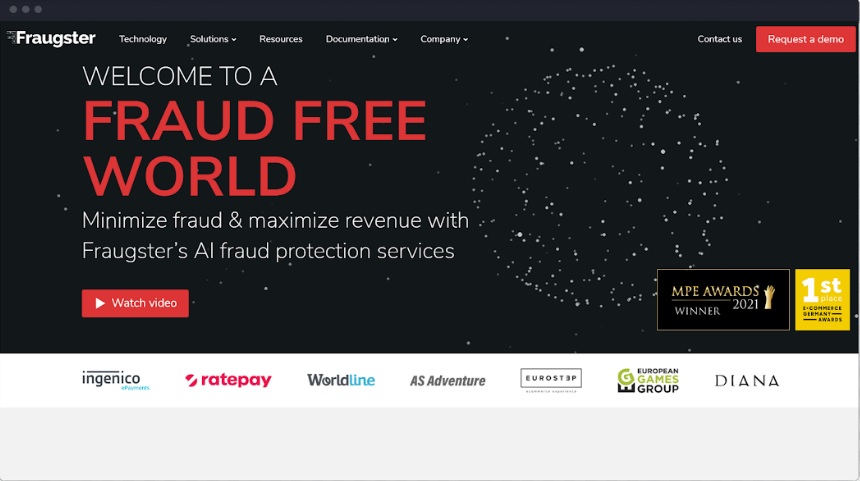 In addition, Handelsblatt says Fraugster is managing risk for payment service providers such as Ingenico ePayments and Six Payments and hedges payments with an annual volume of 35 billion euros.
Wrapping up
As you can see, the power and usefulness of artificial intelligence can hardly be overestimated. AI and machine learning algorithms enable businesses to improve their workflows, financial security, and overall user experience. The development of technologies does not stop for a minute, and who knows what benefits the FinTech industry will receive from artificial intelligence in 5 or 10 years. However, we are more than confident that the benefits will change the way things work and make life a lot easier.
About the author: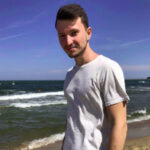 Vitaly Kuprenko is a technical writer at Cleveroad, a fintech software development company in Ukraine. He enjoys writing about tech innovations and digital ways to boost businesses.