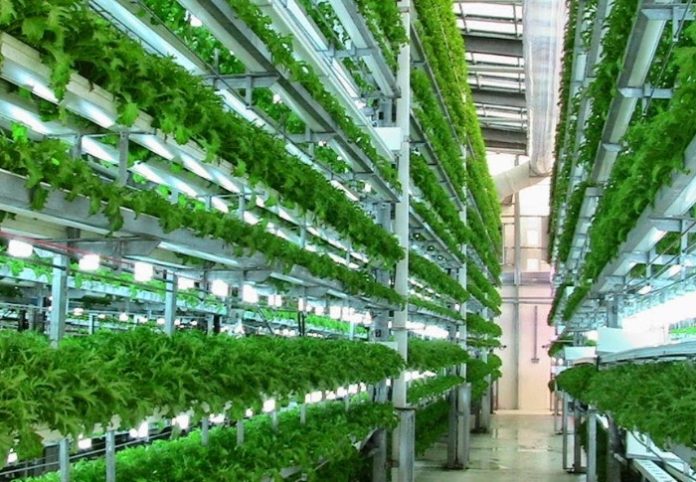 As the global population continues to grow and arable land is rapidly declining, the way we produce food is urgently needed to change. According to the estimation from the United Nations, the global population will reach 9.7 billion by 2050. The growth will be concentrated in the poorest countries in the world, where living standards are set to rise rapidly, increasing demand for resource-intensive meat and dairy products. This scenario leads to the almost ubiquitous assertion that we must double world food production by 2050. It is in this context that building-based urban agriculture or vertical farming is gaining popularity in cities.
Vertical farming is designed to proactively ensure the sustainability of our cities by addressing food safety to the ever-growing urban population of the world. There are currently three types of vertical farming. The first type refers to the construction of large structures, often fitted with artificial light and with several layers of beds. The second type of vertical farming takes place on the roofs of old and new buildings, in commercial and residential buildings and restaurants and food shops. The third vertical farm type is constructed in a multi-story building.
Advantages of automated, high-tech vertical farming
Controlled indoor environments are independent of outdoor weather conditions and to meet delivery schedules, and supply contracts would provide consistent and reliable growth cycles.
Overhead production would be reduced by 30%.
Using high-efficiency LED lighting ensures minimal use of power.
Fully automated growing systems only require manual labor to be planted, harvested, and packaged on-site.
Vertical farms use about 10% of the water needed for traditional open-field farming.
To eliminate pests and diseases, vertical farms use strict bio-security procedures.
It reduces travel times dramatically, lowering the cost of refrigeration, storage, and transport.
Vertical farms would supply a growing area nearly ten times as much as traditional farms.
Vertical farms can provide more crop rotations per year than open-field farming.
It is possible to monitor, monitor fully, and automate the vertical farm.
The temperature, CO2, and moisture levels are always optimized to ensure air quality.
All vertical farms use specially formulated, biologically active nutrients in all crop cycles to provide healthy plant growth with organic minerals and enzymes.
Before entering the vertical farm, all water contaminants are removed to ensure water quality.
Several cities have embarked on vertical farming projects. The following list offers some of these projects.
Nuvege, Kyoto, Japan
PlantLab, Den Bosch, Holland
Sky Greens, Singapore
Green Spirit Farms, New Buffalo, Michigan, USA
FarmedHere, Bedford Park, Illinois, USA
The Plant, Chicago, Illinois, USA
Green Girls Produce, Memphis, Tennessee, USA
Brooklyn Grange, Brooklyn, New York, USA
Gotham Greens, Brooklyn, New York, USA
Nuvege & PlantLab
In Kyoto, Japan, Nuvege produces a variety of lettuces in a safe environment. PlantLab is a three-story vertical underground farm in Den Bosch, Holland, which uses advanced LED technology. It calibrates light composition and intensity to satisfy precise needs and completely removes sunlight wavelengths that prevent plant growth. The farm operates a system that monitors and controls a range of variables, including humidity, carbon dioxide, light intensity, light color, airspeed, irrigation, nutritional value, and air temperature. The high-tech farm yields three times the average greenhouse level, while simultaneously reducing water consumption by 90%.
Sky Greens
Singapore Sky Greens is one of the promising vertical farms. It is three-stories tall and uses a method called "A-Go-Gro" (AGG), which uses translucent greenhouses for tropical leafy vegetables with a much higher yield throughout the year than traditional agricultural methods. The AGG system consists of high Aluminum A frames, with growing troughs containing various growing mediums— soil and hydroponics, up to 9 m (30 ft) in length and 38 levels. The A-frame system measures just 5.6 m2 (60 ft2) and is, therefore, ten times more efficient than traditional farming. The troughs slowly rotate the aluminum frame (approximately three rotations a day) to ensure uniform sunlight. The continuous exposure in certain areas of the building also reduces or even eliminates the requirement for artificial lighting. Rotation is driven by a patented hydraulic low-carbon system containing tray plants. Every other day Sky Greens can produce a ton of fresh vegetables. It offers a wide range of tropics, including Chinese cod, Lettuce, Xiao Bai Cai, Bayam, Kang Kong, Cai Xin, Gai Lan, and Nai Bai.
Green Spirit Farms
Green Spirit Farms (GSF) is a professional food firm based in New Buffalo, Michigan, openly engaged in vertical agriculture. It aims to provide local markets, at low prices, with high-quality, fresh, pesticide-free, non-genetically modified food (GMOs). GSF has advanced several vegetable growing technologies. These include the Volksgarden Rotary Garden Unit, called the Rotary Vertical Growing Station (RVGS), and the multi-level tray system of the Vertical Growing Station (VGS). GSF has sold rotary and vertical farming systems using patented techniques for the cultivation of local vegetables, herbs, and some fruit. The company produces products of high domestic demand such as latch, basil, spinach, kale, arugula, peppers, tomatoes, stevia, strawberries, and brussels sprouts.
FarmedHere
FarmedHere was founded in 2011 and expanded to three locations in Illinois — Englewood, Flanagan and Bedford Park. The company aims to deliver 6% or more of the demand for premium green and gastronomic herbs in Chicago. Bedford Park, America's largest vertical indoor farm, is located in a two-story windowless warehouse and is designed to cover the space in its entirety. The farm consists currently of two buildings with large beds illuminated by fluorescent lighting. The first structure includes the aquaponics system where water circulates between tanks of fish and feeds the plants that rest on the "floats" of styrofoam. The second structure contains the aeroponic system, which includes the underwater mysteries which spray the exposed plant roots. Workers plant seeds and cultivate seedlings on racks which they then transfer to growing systems. Crops are harvested and packed in a cooling room of the facility. After about a month, they go to the grocers.
The Plant
Located in Chicago, The Plant has a zero-energy facility that relies on an on-site combined heating and power (CHP) system, containing a large anaerobic digester. It converts food waste into biogas into building power, heat, and cold. The anaerobic digester captures and burns methane from 27 tons of food waste per day and 11,000 per year to generate electricity and heat. The plant now produces Greens, mushrooms, bread and Kombucha tea.
Green Girls
Green Girls is a Memphis-based, professional food company. Tennessee's first vertical indoor farm, it provides local restaurants with year-round fresh produce to improve Memphians ' health and fight urban blight. Green Girls estimates a $1 million annual revenue. It offers affordable micro-greens by harnessing the power of automated, recirculating hydroponic systems that require only two employees to operate. It is clean, efficient, and uses less water. Green Girls uses only LED lighting to use 90 percent less water than conventional farming and green energy.