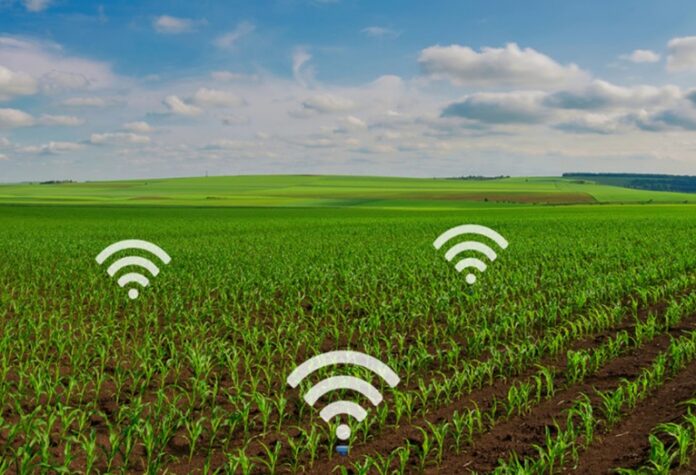 Due to enormous technological growth, farming has become more popular and significant. Different tools and techniques are available for the development of farming. The world will need to produce 70% more food in 2050 than it did in 2006 to feed the world's growing population. Farmers and agricultural companies are turning to the Internet of Things for analytics and increased production capabilities to meet the demand.
The Internet of Things (IoT) can increase productivity, gain access to a large global market, and provide insight into recent crop trends. IoT is a network of interconnected devices that can transfer data efficiently without human involvement.
Today many agricultural industries have adopted IoT technology for smart farming to enhance productivity, efficiency, global market, and other features such as minimum human intervention, time and cost, etc. The advancement in technology ensures that the sensors get smaller, sophisticated, and more economical. The networks are also easily accessible from anywhere globally, allowing for full commitment to smart farming. Smart farming, which focuses on encouraging agricultural innovation, is the solution to the industry's problems. All this can be done using smartphones and IoT devices. Farmer can get any required data or information and monitor his agricultural sector.
IoT is the most efficient and important technique for developing solutions to problems. IoT evolves from different building blocks, including lots of sensors, software, network components, and other electronic devices. Also, it makes data more effective. IoT allows the exchange of data over the network without human involvement. The IoT technology is more efficient due to the following reasons:
Global Connectivity through any device.
Minimum human efforts
Faster Access
Time Efficiency
Efficient Communication
The smart agriculture market is expected to reach $18.45 billion in 2022. According to BI, 75 million IoT devices will be shipped for agricultural purposes in 2020, representing a 20 percent CAGR. Because IoT devices can monitor soil acidity levels, temperature, and other variables, they can greatly aid in increasing agricultural production and yield. Moreover, smart agriculture will help monitor livestock productivity and health as well. IoT sensors can provide farmers with information about crop yields, rainfall, pest infestation, and soil nutrition are invaluable to production and offer precise data that can be used to improve farming techniques over time. With its real-time, accurate, and shared characteristics, the Internet of things will bring great changes to the agricultural supply chain and provide critical technology for establishing a smooth flow of agricultural logistics.
The key advantages of using IoT in farming:
Water management can be efficiently done using IoT with no water wastage using sensors.
IoT helps to continuously monitor the land so that precautions can be taken at an early stage.
It increases productivity, reduces manual work, reduces time, and makes farming more efficient.
Crop monitoring is easily done to observe the growth of the crop.
Soil management, such as PH level, Moisture content, etc., can be identified easily so that farmers can sow seeds according to the soil level.
Plant and crop diseases can be identified with the help of sensors and RFID chips. RFID tags transmit the EPC (information) to the reader and are then shared over the Internet. The farmer or scientist can access this data from a remote location and take the necessary actions; crops can automatically be protected from disease outbreaks.
Crop sales will be increased in the global market. Farmer can easily be connected to the global market without restricting any geographical area.
Agriculture is the main backbone of economic growth. The most important barrier that arises in traditional farming is climatic change. The effects of the climatic change include heavy rainfall, most intense storm and heatwaves, less rainfall, etc. Due to these, productivity decreases to a major extent. The climatic change also raises environmental consequences such as seasonal changes in the life cycle of plants. To boost productivity and minimize the barriers in the agriculture field, there is a need to use innovative technology and techniques. The Internet of Things (IoT) is now transforming the agriculture industry, allowing farmers to compete in the face of enormous challenges. IoT provides farmers with a wealth of information and knowledge about current trends and technology.
Conclusion
Farming will play a vital role in the next few years in the country. Thus there is a need for smart farming. Internet of Things will help to enhance smart farming. IoT works in different farming domains to improve time efficiency, water management, crop monitoring, soil management, control of insecticides and pesticides, etc. It also minimizes human efforts, simplifies farming techniques, and helps to gain smart farming. Along with these features, smart farming can help grow the market for farmers with a single touch and minimum effort.