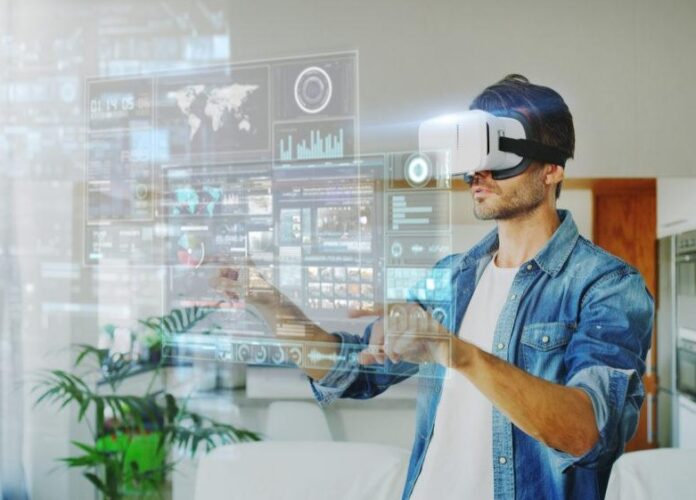 The augmented and virtual reality (AR/VR) is a technology that uses sensory devices to modify a user's environment virtually or to immerse them in a simulated environment completely. It uses specially designed headsets and glasses for visual immersion, while handhelds and wearables and body-worn cameras offer tactile immersion.
Though the adoption rate for AR/VR devices is relatively low compared to other consumer electronics, the augmented and virtual reality market is estimated to reach 18.8 billion in 2020, and drastically expand in the coming years. Thanks to 5G, AI, edge computing, and robotics for transforming the augmented and virtual reality experiences. The transformation is expected to produce new opportunities in sectors such as gaming, media, telepresence, medicine, retail, and education.
Meanwhile, the hardware market will grow tremendously by 2021, mainly due to a 10-fold increase in headset shipments. VR application in manufacturing is projected to increase by 98.9%.
Many leading tech companies see the promise of AR/VR technology and have already begun to allocate significant R&D budgets to develop it. For example, Microsoft is particularly well-invested in the technology, with the company owning over ten thousand AR/VR patents across thousands or patent families. Facebook, Intel, and Sony are among other tech giants that stand at the technological forefront of augmented and virtual reality. In this post, we will look at some of the active companies in the markets.
Hawkeye Systems
Hawkeye Systems recently announced evolutionary Changes to its Al-powered Body Cam System. In conjunction with future subsidiary Radiant Images, it has made significant upgrades and additions to its [IN-DEPTH] Camera (the Hawkeye Body Worn Camera). A considerable evolution and upgrade from previous generation cameras, the [IN-DEPTH] Body Cam System offers AIoT solutions with industry-leading computer vision applications powered by Artificial Intelligence to run cameras on the field and the edge. The app enables cameras to do far more than just capture by applying intelligence and real-time analysis of not only what is happening in the encounter, but also an insight into the subject's pre-attack indicators.
The Hawkeye [IN-DEPTH] Body Camera platform allows for interchangeable multi-camera sensors and optics which provide multi-field of view and specialty sensors such as infrared, thermal imaging, snake tube, pinhole, and camera sensor upgrade path. Besides, the system includes an evidence management platform that preserves the chain of custody and flexible options that allow for the storage of video evidence on-premise, in the cloud, or both. Utilizing mesh connectivity, the camera system is highly portable and easily deployable for situations where there is no WiFi or cellular network.
FLIR Systems
FLIR Systems is collaborating with ANSYS to deliver superior hazard detection capabilities for assisted driving and autonomous vehicles (AVs) — empowering automakers to achieve unprecedented vehicle safety. Through this collaboration, FLIR will integrate a fully physics-based thermal sensor into ANSYS' leading-edge driving simulator to model, test, and validate thermal camera designs within an ultra-realistic virtual world. The new solution will reduce original equipment manufacturers' (OEM) development time by optimizing thermal camera placement for use with tools such as automatic emergency braking (AEB), pedestrian detection, and within future AVs.
GoPro
At CES show, GoPro recently released its new Light Mod — the world's most versatile light that will keep shining, no matter what happens. Along with Light Mod, GoPro introduced exclusive first looks at the full HERO8 Black modular accessory line, including Media Mod, available for pre-order now, and Display Mod, available in March.
PLUS, there's more! As an in-show BOGO exclusive, GPRO was offering the cloud-based GoPro PLUS subscription service at a "buy one year, get the second year free" discount. It means that for $50, you'll get two years of unlimited cloud storage, VIP customer support, discounts on GoPro mounts and accessories, and, in many countries, damaged camera replacement. CES attendees can sign up for the offer during show hours at the GoPro booth.
Axon Enterprise
Axon Public Safety Australia, a subsidiary of Axon Enterprise, the global leader in connected public safety technologies, recently announced that the Australian Federal Police (AFP) Protection Operations, Aviation, will deploy 300 TASER 7 weapons, 470 Axon Body 2 cameras, 470 Axon Signal Sidearm units, and the digital evidence management system, Axon Evidence (Evidence.com). The AFP is the first agency in the Asia-Pacific region to deploy the TASER 7, the most effective TASER weapon yet, with services that are entirely integrated into Axon Evidence. This order was received in the fourth quarter of 2019 and will begin shipping in the first quarter of 2020.
Vuzix Corporation
Vuzix Corporation, a leading supplier of Smart Glasses and Augmented Reality (AR) technology and products, today announced that the Company's Vuzix M400 Smart Glasses, powered by Upskill's Skylight software for hands-free operations, is being showcased at NRF 2020 by Verizon at its booth #3237 from January 12-14. The Vuzix M400-powered AR retail solution being demonstrated at NRF delivers significant picking and packing efficiencies with reduced errors compared to other picking methods. In addition to retail picking and packing, the solution can also assist connected workers with shipping and returns, loading and unloading, receiving, cycle counting, and kitting. The hands-free digital solution being showcased by Verizon's business team at NRF is optimized today for 4G networks but will be marketed as a 5G retail solution.