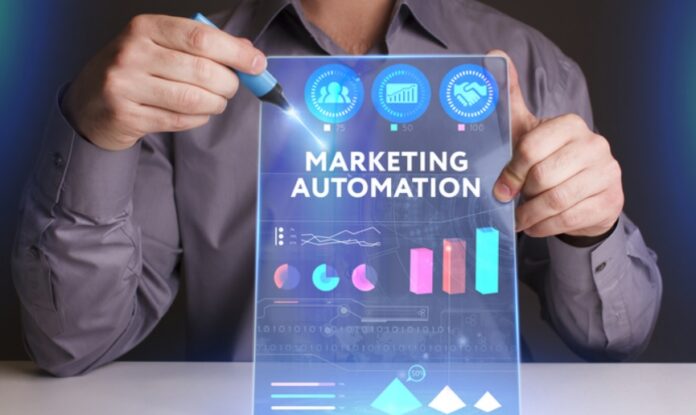 Marketing automation is the IT-assisted execution of recurring marketing tasks to improve efficiency and decision-making.
To put it another way, marketing automation is a software-based approach to automating marketing processes. User profiles are enriched with information based on their usage and customer behavior in this process. Individual communication via automated campaigns is based on this data foundation. Marketing automation aims to maximize resource efficiency by automating time and money-consuming tasks.
Marketing automation software typically combines digital analytics, email marketing, social media marketing, and retargeting to focus on lead management workflows. On the other hand, lead management entails the lead generation and a lead nurturing process that produces qualified sales leads. Marketing automation begins with receiving a lead – such as an email address – following the completion of a web form. A user profile is created from this point forward, which can be enhanced with personal information for future interactions with websites, emails, digital ads, or social media posts.
The main benefits of marketing automation are the time saved in repetitive tasks and personalized communication. Improved efficiency and a higher return on investment are also advantages (ROI). Marketing automation has been shown to increase conversion rates and generate better quality sales leads throughout the customer journey.
Marketing automation improves customer service and loyalty, and it helps marketing and sales teams collaborate more effectively in one out of every four businesses. This is a critical requirement for businesses, and it must continue to evolve as marketing and sales operations become increasingly intertwined due to digitalization.
Here we present some of the potential use cases of marketing automation tools.
Use cases of marketing automation
Automated standard emails to contact requests: Automatic responses to inquiries in contact forms based on individual templates. Reduced time delay increases the probability of conversion and purchases.
Automation of the sales process: Modelling the existing sales process in MA software to analyze which phase of the customer journey a (potential) lead is currently located.
Automated callback service: In case of missed calls, an automated email is sent to inform the caller about the callback attempts or announce the next callback attempt.
Form completion reminder: A prospective customer cannot always fill out a form completely. If the user's email address is already entered, they will automatically be reminded to fill out the form.
Free content (lead magnets) for registration: Free documents, e-books, whitepapers, studies, support, videos, configurations, or other content will be sent after email registration.
Development of a lead scoring system: A lead scoring system makes it easier to identify leads ready to buy. Leads are appropriately managed through the lead nurturing process.
Implementation of lead nurturing: Prospects receive automated and regular information and contact opportunities. The sales team can focus its time and energy on customers ready to buy.
Sending internal notifications: As soon as a prospect contacts the firm by phone or email, their sales team receives contact information with customized comments to follow up immediately.
Assignment of out-of-office emails: In a notification of absence, the deputy employee usually has an email address, which can be included in lead nurturing.
Sending sequences of welcome emails: Automated welcome emails make a good impression and ask whether the customer was satisfied with the registration or purchase.
Sending personalized newsletters: With marketing automation, profile information flows into the newsletter, and these become dynamic, individualized information mailings based on the recipient's interests.
Sending birthday greetings: If the birthday is known (after automated follow-up), an email with congratulations and a coupon or discount code in No.13 may be sent.
Sharing discount codes or vouchers: Discount codes are sent out for special occasions (e.g., an anniversary), campaigns (e.g., customer acquisition or retention), and promotions (e.g., sales, Black Friday).
Sending seasonal offers: With seasonal greetings and special discounts, e.g., Christmas, New Year, Easter, or other holidays, new customers can be won and existing customers reactivated.
Reactivation of canceled shopping carts: If an online shop user is logged in and leaves the filled shopping cart, an automated email reminds them after a certain time.
Retargeting of prospects and leads: If an online shop user has looked at a product, they can be approached again by remarketing, e.g., on search engines, social media, or online media.
Suggestions for follow-up purchases: Existing customers' automated reminder emails are suitable for post-purchase consumable products or recurring events.
Suggestions for recommendations: Customers can be encouraged (e.g., two weeks after purchase or delivery) or rewarded with discount codes to recommend the products or services to friends.
Suggestions for product reviews: Customers are automatically invited or rewarded with a discount code to rate products or write reviews in an online shop.
Measurement of customer satisfaction: When automated web forms are used for customer satisfaction surveys, companies receive valuable feedback, suggestions, and ideas for improvement.
Management of business cards: Those who enter business cards of contacts/customers into a CRM or MA system do not lose valuable data and take advantage of the opportunity to expand their network.
Clean-up of contact lists: Recipients who no longer open emails can be automatically reactivated and given the option to continue receiving the emails or unsubscribe.
Recovery of forgotten passwords: In the case of forgotten or lost passwords, an MA system saves time when customers can reset passwords themselves via an automated web form.
Gaining followers on social media: Customers are automatically directed to their social media profiles (LinkedIn, XING, Facebook, Instagram, etc.) to attract them as followers.
Promotion of events and activities: Via emails, contacts can be automatically made aware of Facebook, XING, or LinkedIn events (such as webinars) or reminded of them.
Management of event registrations: Registration forms support event registration and operations through automatic confirmations, reminders, and appreciation emails afterward.
Automation of payment management: Outstanding invoices can be managed via an automated process. An automatic reminder can be sent for all payments.
Management of appointments: Appointments can be managed automatically, confirmed, and appointment reminders sent immediately beforehand.
Organization of applications: Processes concerning applications become easier when job postings on the website are linked to an automated form and emails.
Automation of routine tasks: For new or transferring employees, workflows in marketing automation tools can organize professional onboarding and facilitate familiarization.