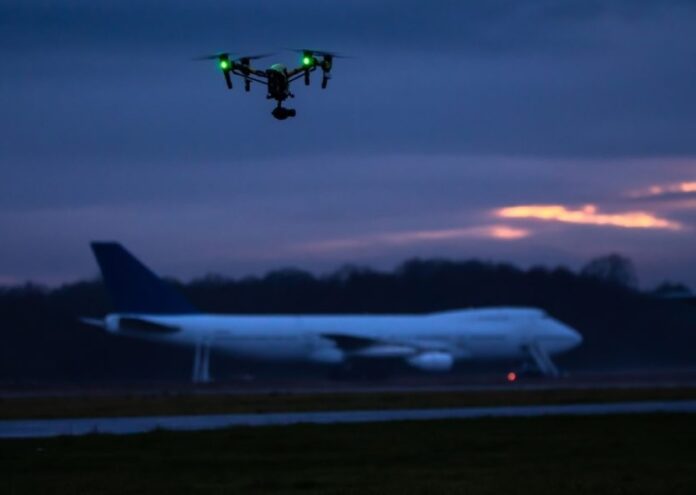 The global market for unmanned aerial vehicles (UAVs) or drones has grown significantly over the last decade. Drones are now established delivery platforms for a diverse set of commercial, government, and consumer applications. Significant efficiency gains and safety improvements can be rapidly achieved through the deployment of drone platforms.
To unlock the full potential of drones in numerous applications, drones require efficient and uninterrupted wireless communication. Although technologies like direct link, WiFi, and satellite communications are useful in scenarios where cellular services are unavailable, exploiting the thriving 5G is most promising and cost-effective to provide secure and ultra-reliable communication links between the drones and their ground pilots or control stations.
Some practical drone applications (namely real-time video filming and streaming) require high data rates in the air-to-ground payload communication links. Fortunately, these requirements can be largely met by advanced 5G and beyond technologies.
The advent of 5G is expected to create numerous opportunities for drones to participate in the realization of bandwidth-demanding services, such as Ultra High Definition (UHD) video streaming, as well as other multimedia services. It will allow new levels of automation drones to have a transformative impact across multiple industries, including security and transportation.
5G networks offer an unprecedented leap in bandwidth speeds in comparison to previous mobile networks. 5G enables drone operators to enhance their offerings through the ubiquitous availability of high-bandwidth networks that enable significant data volumes with minimal latency.
The downlink peak data throughput could reach 20 Gbps, while uplink peak data rates could be as high as 10 Gbps. Since 5G reduces latency and improves overall network efficiency, streamlining network architectures will deliver less than 5 ms end-to-end latency requirements. It allows 5G to offer ultra-reliable low-latency communication for drone applications, increasing service accessibility and improving user experience. Furthermore, 5G will allow the drones to execute beyond-visual-line-of-sight (BVLOS) missions.
Agriculture
By combining low-flying drones with cloud-based AI via 5G, farmers can target specific weeds for precise herbicide and pesticide dispersion. Light detection and ranging (LIDAR) sensors can use spatial distancing for vegetation detection and discriminate weeds from crops. Drones can also be leveraged for this use case if there are complications with overhead vehicles seeing through canopy foliage.
Currently, for drones to work effectively, target areas need to be mapped out in advance to ensure the route can be completed in the amount of flying time available. With 5G, the precision of drones increases due to AI's targeted dispersion capability. The biggest value is that the farmer no longer needs to overspray to ensure crop safety, decreasing pesticide/herbicide usage by up to 50%. By enabling farmers to survey the land with extreme precision and identify specific types of weed that the human eye cannot identify, 5G can drive tremendous value.
Healthcare
A defibrillator delivered by a 5G-enabled drone could arrive four times faster at the patient's location than if delivered by ambulance. Drones can also pick up and transport blood or tissue samples to a central laboratory for analysis and deliver medicines, blood, and vaccines over long distances at high speeds.
Insurance
The use of 5G-enabled drones to inspect and monitor insured properties could improve and streamline claims management while also helping to reduce fraud in the insurance industry. Furthermore, previous location accuracy was insufficient to determine fault in insurance-based claims. However, depending on specific implementations, 5G will improve mobile location precision by one or two orders of magnitude, enabling location accuracy that could be used to determine liability in auto and other related claims.
Energy and utilities
Drones equipped with LiDAR for intensive inspection are emerging in infrastructure, power lines, and the environment. Huge volumes of data are generated by LiDAR scanning. Therefore, >200 Mbps real-time transmission is required. Rather than live visual inspection of potential rotor blade damage on a wind turbine by a trained human drone operator, an autonomous drone fleet deployed with the support of 5G can capture HD video across a wind turbine farm. Similar vertical solutions may help protect essential property and key resources, such as oil & gas pipelines and installations.
Using 5G networks for drones is an opportunity to provide stable connectivity while reducing scale, weight, and power usage costs and specifications. 5G aims to deliver a wide range of wireless services to end-users via multiple access channels and multi-layer networks. To that end, it employs a smarter Radio Access Networks (RANs) architecture that is no longer constrained by base station proximity or complex infrastructure.
In short, over the next ten years, 5G can seamlessly combine big data, cloud computing, artificial intelligence (AI), and a slew of other innovative technologies to hasten the arrival of a golden age of information.