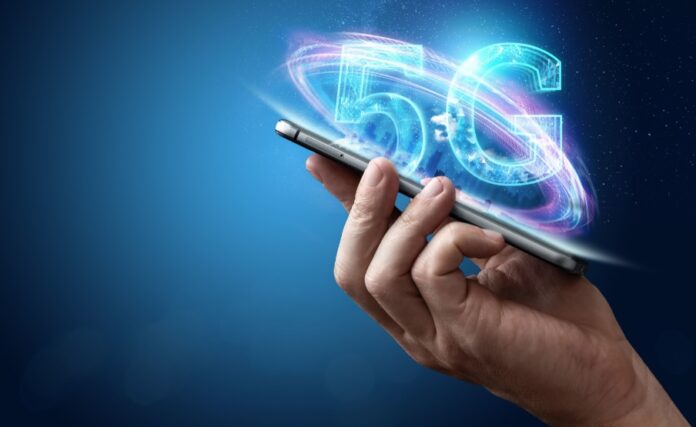 The intersection of artificial intelligence (AI) and 5G technology has enormous potential to deliver substantial improvements in efficiency, productivity, and cost across business sectors, enabling new innovative products and services not previously possible.
Undoubtedly, AI and 5G are set to become the engines of this new technological revolution. The rise of AI, and faster data rates, can transform virtually all facets of everyday life through automation and machine-enabled decision making.
Many applications can be made possible due to the combination of AI and faster data rates supported by 5G networks. The AI and 5G journey in emerging markets will most likely involve enhancing existing use cases and the development of new ones that are yet to be addressed by current technologies.
Most of the potential applications for these technologies in emerging markets hinge on the development of affordable network technologies in industries such as telecommunication, automobile, drones, public safety and security, utilities and energy, agriculture, education, health, and others.
Potential 5G and AI uses
1. Telecommunication
Mobile communication services are becoming increasingly complex. The roll-out of 5G networks is much more challenging than previous generations as it requires upgrades in radio, edge, transport, core, and cloud infrastructure. We can address the complexity associated with 5G networks and the billions of IoT devices these networks can support when managed with AI. In addition, the combination of 5G and AI will bring about a host of new or improved technology applications and services. Entertainment is expected to become richer and more social, thanks to high-speed connectivity capable of delivering holograms, augmented reality, and other virtual applications.
Mobile network operators are currently testing AI due to increased network complexity that requires an intelligent and automated approach. According to the key findings of a study conducted by Ericsson, with 132 service providers globally as respondents, AI is already being incorporated into cellular networks primarily because of a potential reduction in capital expenditures. Service providers testing AI are focused on several areas for potential improvements, including cost reductions, network optimization, and increased revenue streams.
2. Automobile
The automobile industry is betting big on 5G connectivity and its potential when combined with AI. Today, virtually every major car manufacturer has developed its autonomous vehicle. Manufacturers such as Tesla and Toyota are testing self-driving vehicles. These vehicles rely on sensors to continuously detect their surroundings, first by identifying and classifying the information (perception), followed by acting on the information through autonomous control of the vehicle. The success of this new transportation business model will depend on the availability of network coverage, low latency, and fast connection speeds. However, the most promising aspect of 5G is when used with industrial IoT. IoT is used in a non-manufacturing environment, such as windows and doors to air conditioning control hub units and almost all objects and tools we use daily. Although 4G LTE could deliver on some of these requirements, only 5G can offer them all.
3. Drones
Drones are another important application. They represent a $100 billion market and have multiple public safety applications through information gathering and inspection in remote regions. Drones also have been used across emerging markets to address different transport and logistical challenges.
Drones require high-speed connectivity to perform command and control, media sharing, and autonomous flying. 5G networks are well placed to provide machine-to-machine connectivity while meeting stringent latency, throughput, capacity, and availability requirements.
HAWK 30 drone, an Alphabet-backed project developed at the University of Hawaii, is a solar-powered drone beaming a 5G signal that can fly non-stop for six months at a time. The project is currently in the testing phase. In South Korea, drone manufacturer Percepto developed drone-in-a-box systems designed for industrial and enterprise applications in security optimization or business operations using aerial visual insights while reducing risk and operational costs. Percepto recently demonstrated autonomous drones using SK Telecom's 5G trial network.
4. Public safety and security
Public safety and security will benefit from the proliferation of IoT devices. The main impediments to the emergence of a "smart city" have been speed and bandwidth. The combination of IoT devices and 5G through advances in analytics and AI could enable applications around public transit law enforcement. In 2017, U.S. fire and police agencies acquired drones for proactive policing. At the 2019 "5G is ON" summit in China, the China Mobile Industrial Research Institute project, in which 5G drones provide firefighting support, was bestowed a Mobile Internet Innovation Pioneer award.
5. Utilities and energy
Smart meters are already commonplace in many households around the world. The modernization of smart grids is becoming imperative to reduce hydropower generation inefficiencies, fault prediction, decision making, theft prevention, and load balancing. Data communication has been critical to efficient power generation and consumption. AI is expected to be an important component in this effort, as the increasing use of sensors means a constant demand for faster data speeds. This could be a possible application for AI and 5G. However, the energy sector appears to be following a modest adoption of 5G because of the reluctance of utilities to test new technologies.
6. Agriculture
In agriculture, smart farming is not an option but a necessity if the industry keeps pace with a growing world population, particularly when climate change affects crop yields. Sensor technology is already being used in agriculture through IoT devices that allow farmers to better measure critical factors such as moisture, fertilization, and weather patterns. Global technology company XAG develops drones, IoT, AI, and other digital tools to help farmers effectively grow high-quality produce without excessive pressure on the environment. However, high-speed connectivity in rural areas remains a challenge, an obstacle for 5G to address.
7. Healthcare
AI in healthcare offers new avenues to solve health challenges. For example, Ada Health has developed a chatbot in Swahili that helps patients and doctors diagnose diseases ranging from malaria to diabetes. The combination of fast data speeds and AI could bolster healthcare quality, particularly when AI is already used to detect diseases or reduce costs. Other applications in healthcare that would require highspeed connectivity include remote-control surgery and downloading large data files, as the healthcare industry generates a massive amount of data daily, including heavy imagery such as MRI, CAT, and PET scans. The resulting data, in turn, could be processed using AI for faster diagnosis and treatment. Real-time remote monitoring and sensor innovation aimed at developing do-it-yourself innovation would place medical devices in the hand of patients who would be able to monitor their health at home.
8. Education
The global market for AI in education is expected to reach $2 billion globally by 2023, representing a 38 percent annual growth rate from 2018 to 2023. While emerging markets constitute just a fraction of this market, they are seeing growth, too. In Africa, for example, the eLearning sector is in full expansion with market size of $530 million in 2017, which is expected to reach $1.4 billion by 2022. The use of AI is limited in this sector, but there is considerable potential.
The combination of AI and 5G can help make immersive education methods such as virtual reality possible, as many such methods require high bandwidth and low latency to perform optimally. With 5G, download speeds could be reduced to seconds, freeing teachers to use their time in other areas. In addition, IoT devices can be used to automate administrative tasks.