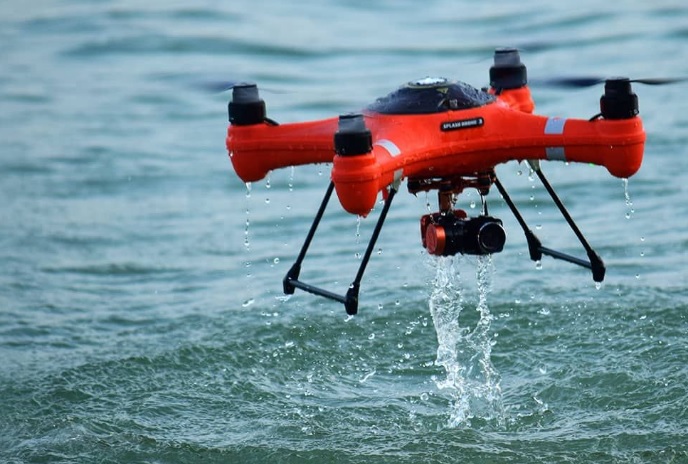 Most drone pilots are concerned about flying their drones over water. There is always a chance for your drone to lose power and fall in the water. But now, you don't have to worry about any water damage. Many companies have made some drastic changes in the design to make their drones waterproof.
The water-resistant features allow freedom of flight beyond the backyards and fields to water bodies. This post will help you find the best waterproof drone for your budget and needs.
1. Swellpro Splash Drone 3 Plus Waterproof Drone
Swell Pro, the pioneers of waterproof drones, has been leading innovations since 2013. The splash drone 3 is the first fully integrated modular waterproof drone. The brand-new aluminum alloy 4k camera with a two-axis waterproof gimbal module is lighter, more durable, and offers excellent stability than ever.
The improved propulsion system with its kilovolt motors and carbon-fiber propellers provides more power in reserve and agility than ever. In essence, the S3 flight controller guarantees rock-solid stability in all situations. The custom-designed remote controller has a built-in FPV monitor. The propulsion system is not just about raw power, but it's also about stability, eliminating the jelly effect caused by the aircraft's vibrations.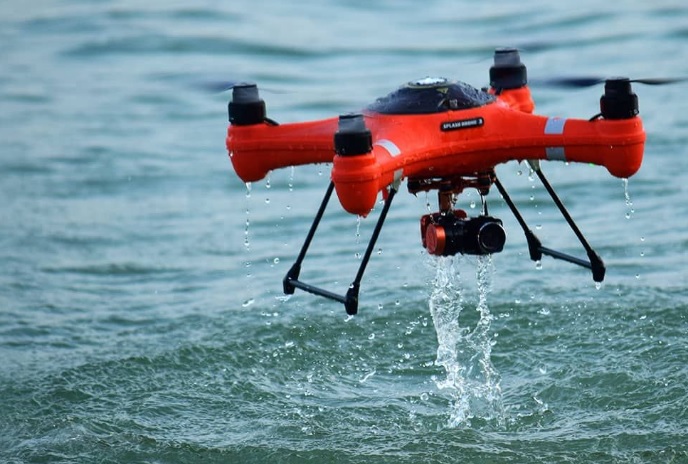 The heavy-duty Splash 3 has a waterproof fuselage, engineered especially for use on water and all-weather flight, and is as durable as waterproof. The 4k waterproof camera gimbal is the first of its kind with a wide-angle lens. The camera captures video and mp4 or MOV format up to 4k 24 FPS, or 2k 30fps, and 1080p 60fps. This also takes breathtaking images of 14 megapixels, either in JPEG or RAW format.
With the 4k waterproof camera gimbal module, you get more vivid sharper and higher resolution footage than ever. The company has built a brain in the splash drone 3, the S3 flight controller in GPS mode, to improve position control precision, and thanks to its propulsion system, the splash drone 3 can retain its location even in high winds up to 12 meters per second.
The drone mainly has several fight modes, including a smart cruise mode, which allows smoother footage to be captured and standard intelligent flight modes such as "follow me" and mission planning. Switching between modules is fast and easy with fast-release system. You can now, in a few seconds, switch from a search-and-rescue configuration to a 4k aerial shooting platform the splash drone 3 provides you with maximum flexibility in the most compact form factor.
Everything you need to fly and capture your footage is remote-controlled with an integrated FPV monitor. It has a better range to choose from among 40 channels, ensuring smooth and reliable video feed in all situations. The drone is useful for a wide variety of applications, including 3d mapping, surveying, agriculture, firefighting, wildlife observation, search-and-rescue, and much more.
2. SwellPro Spry Waterproof Drone
After two years of designing and prototyping, Swellpro introduced the Spry, a waterproof drone that floats like a boat. A mixture of a racing quad and a photography drone with first-ever waterproof remote control, the drone can submerge on the water briefly and flip back and fly in the air at over 40 km/h. The built-in monitor in the remote control allows you to watch the live video stream and on-screen display information. The Spray can also send its video signal to several monitors simultaneously.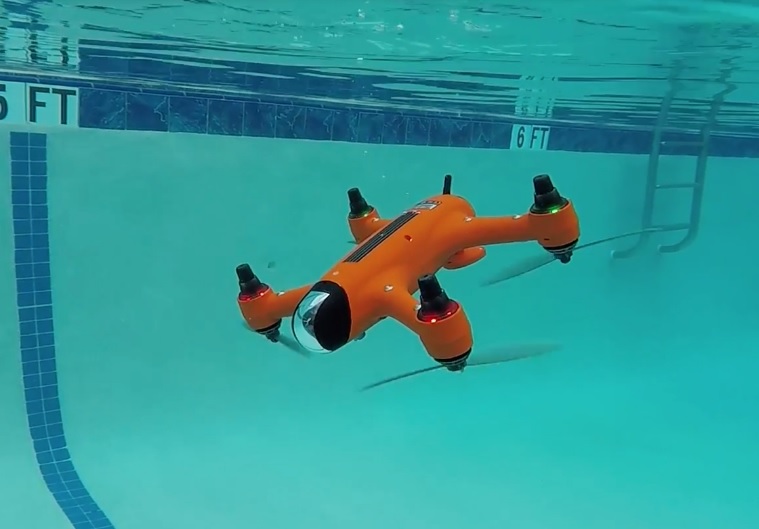 You can also share your flying experience with your friends live. The 4k camera tilts up and down to always point in the right direction during flight or while floating. It allows you to see what's underwater. You can use the remote control to turn the GPS on and off, fly freestyle or activate its advanced flight features like object orbit, Follow Me, and return to remote-control location. If you're more interested in robotic flying, you can use the Spry app to set up waypoints on the map and fly completely hands-free through a designated path.
3. GPTOYS F51C Waterproof Quadcopter
The GPTOYS F51C, an excellent choice for waterproof drones, is impervious to the extent that you can simply drop it right into the water and fly back out. This drone is not only waterproof but can capture photos and videos under the water! Equipped with a waterproof frame, motor, panel, and camera, the drone features an excellent drainage system. Its vents on the body can drain water from the quad quickly. This cool feature allows the drone to submerge underwater to capture videos and photos. The drone also has LED light on the body that makes night flying much more comfortable.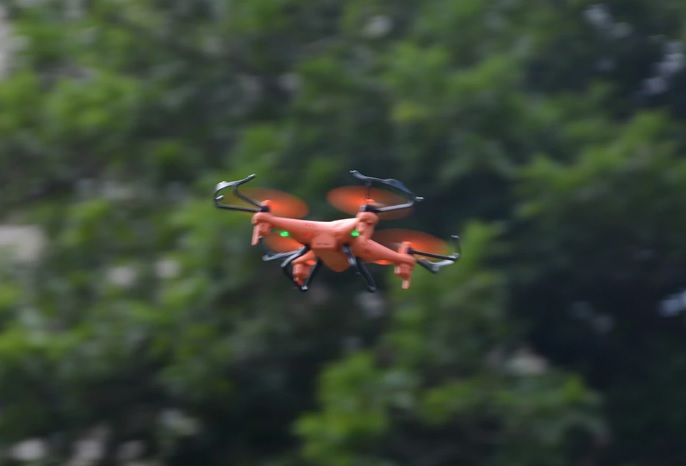 The drone's body can handle all sorts of rugged use. It also has a high impact resistant, extra-tough shell. The safe landing gear on the quad ensures a lesser impact on its frame when landing, and the strong blade protector provides efficient protection during crashes. Also, the waterproof motors allow the propeller to spin in the water without getting damaged. The F51C has a 3.7V 400mAh Li-Po battery that provides a flight time of 8 minutes. The battery takes about 45 minutes to charge completely. The waterproof drone ais controlled by a 2.4GHz control system and has three levels of acceleration mode. Thanks to its strong signal and powerful anti-interference performance, you will never lose your quad.
You can smoothly perform functions such as forward/backward, right/left, and up/down with the controller. This drone can also perform a 360-degree flip in all four directions. It can be challenging to find small quadcopters with a camera for sale. However, the F51C fits the mark entirely. The camera on F51C is built into the front of the drone and sports a fantastic 2MP. It offers clear and bright photos and footage and allows you to record still video and photography actions while the quad is in flight.
The F51C has a 6-axis gyro stabilization system, which offers excellent stability when flying indoors as well as outdoors. It also has one automatic key return that automatically returns the quad to its starting point safely. Its headless mode automatically adjusts the position of the quad before flying. The package includes the drone, transmitter, eight blades, four-blade guards, two landing gears, a screwdriver, two waterproof Li-Po batteries, 4G memory card, charger, card reader and user manual.
4. QuadH2O Waterproof Drone
The QuadH2O is a fast, agile, and waterproof drone perfect for flying over water and in the rain. It has a lightweight, watertight, and solid frame. Mainly designed to fly over water bodies with speed and agility, the drone is great for shooting water sports like speed boat racing and jet skiing since it can reach a speed of 40km/h.
However, the drone does not come with a camera but can accommodate the GoPro action camera and FPV system for recording. The drone has a 4S 3700mAh Li-Po battery. While using with GoPro camera, or FPV, it has a flight time of 10 minutes. Its battery takes about 60 minutes to charge. The drone also has LED lights, which allow pilots to perform night flights.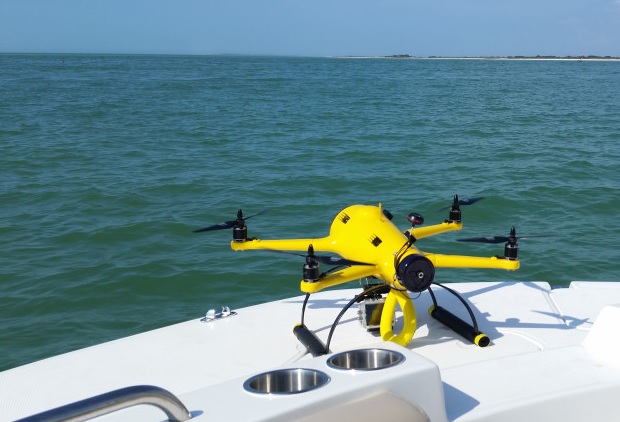 You can control the QuadH20 remotely using a DJI Naza controller and GPS. The remote controller allows a control distance of up to 100 meters. The drone has an enclosed casing. It has a built-in heatsink to make sure that the drone does not heat up. The drone features Headless Mode for easier orientation and the 360' aerial stunt for fun acrobatics. The QuadH20 is the best option if you are looking for a professional drone compatible with GoPro at a fairly reasonable price.
The package includes the drone, painted body & arms, transmitter, carbon fiber legs with foam padding, stainless steel fixings, FPV perspex dome, black anodized ESC heat sinks, motor mount holes and grommets, battery, charger, spitzer battery cap, electronics and FPV tray, sticker kit, and instruction manual.
5. Swellpro Splash Drone Auto
The Swellpro Splash Drone Auto is a top-quality, rugged, and waterproof drone. This drone is one of the most sought-after waterproof drones ever to hit the market. Designed to capture photos and videos above and underwater, the Swellpro Splash can land and take-off in water. It can also fly during the rain. However, it doesn't come with a built-in camera, but supports the GoPro camera which can be mounted! The drone comes with an aluminum case, which keeps the drone safe. The drone has super-strong LED lights that make night flying much easier.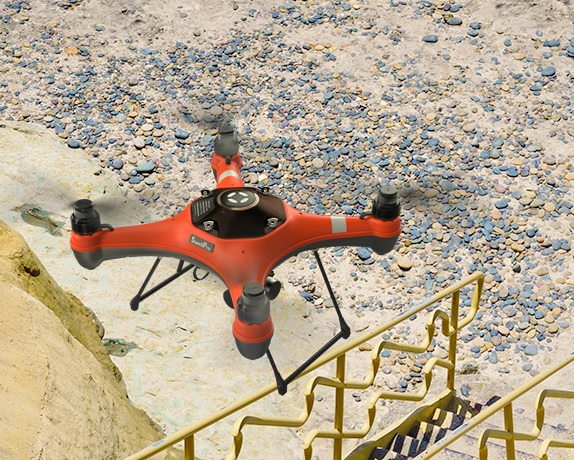 The drone also comes with a 4S 14.8V 5200mAh Li-Po battery, which provides a flight time of about 20 minutes. It can take a payload of up to 1000 grams. The drone uses 590 KV brushless motors and self-tightening propellers for flight. It has a built-in 5.8G video transmission system with a high-end 10-channel telemetry radio remote controller and a MI600s video transmitter, providing a 1km of control distance.
You can use a dedicated app to control it. The drone also has some other useful functions, such as Way-point & Mission Planning flight, Circle Flight, and Follow me mode. The package includes the drone, waterproof gimbal with GoPro case, four propellers, battery, charger, 2.4GHz eight-channel remote control, payload release mechanism, video monitor, and internal 5.8GHz video transmitter.
6. Goolsky JJRC H31 Waterproof Drone
The JJRC H31 is a drone that is waterproof till 50 cm underwater. This makes it great for flying around water bodies. Even though the quad falls into the water, you can just pick it up and fly it because its circuit board supports the waterproof function. The build quality is fantastic. This drone is available in bright green, making it stand out during the flight, and when it hits the water.
The H31 is one of the best drones you can purchase for less than $50. It has a 6-axis gyro system to give a very stable flight. The JJRC H31 also has one-button return, which makes it easy to bring it safely back to the point of take-off, if you lose control. It has a 2.4GHz control system that delivers a strong signal and powerful anti-interference performance to the quad.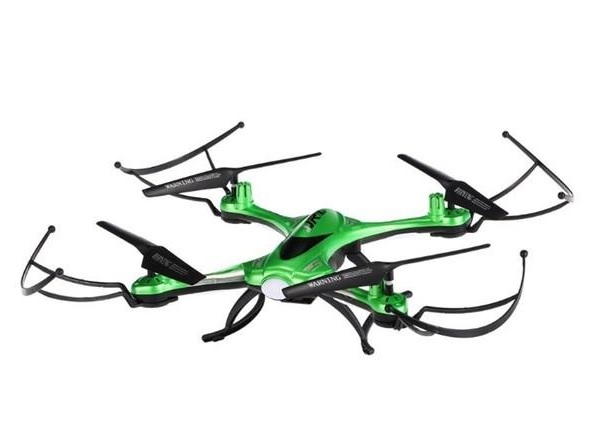 LED lights make it safe during night flights. The drone comes with a 3.7V 400mAh Li-Po battery that has a flight time of about 8 to 10 minutes. It uses a changeable battery, which takes about one hour to charge completely. The H31 is a stable flyer that allows you to perform all functions such as turn left and right, go up and down and forward, backward and sideward flight. You can also perform advanced maneuvers, such as 360 degrees rotation. The package includes the quadcopter, transmitter, USB Charger, sunglasses, four spare blades, screwdriver, and instruction manual.
7. Parrot Hydrofoil Mini Drone
The Parrot Hydrofoil is a 2-in-1 machine used as a drone or to power your boat as a motor. Designed for freshwater use, it can be controlled remotely through an iOS and Android smartphone app. To access more stunts and maneuvers, you can also download the FreeFlight app. The drone has a 550mAh Li-Po battery that provides around 7 minutes of flight time. It takes around 25 minutes for the battery to fully charge. The Parrot Hydrofoil also comes with a mini camera onboard, which allows you to take aerial pictures during the drone's flight.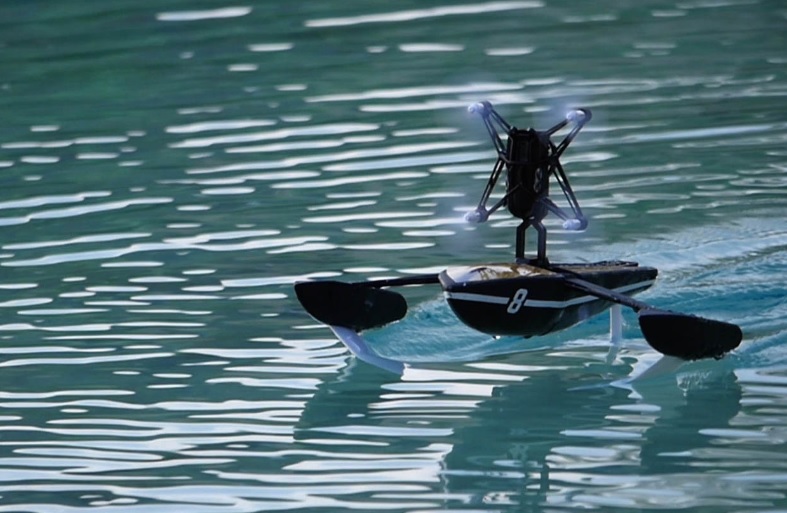 On the water, the drone can reach a speed of 10 km/h and 18 km/h in the air. Unfortunately, this drone has only up to 20 meters of control distance. The drone has a gyroscope and accelerometer with three axes, which work together to ensure ultimate stability. On the water, the Parrot Hydrofoil can reach speeds up to 10 km / h (6 mph) and 18 km / h (11 mph) in air. The package includes the manual for the drone, battery, USB cable, Hydrofoil, stickers, screws, and user manual.