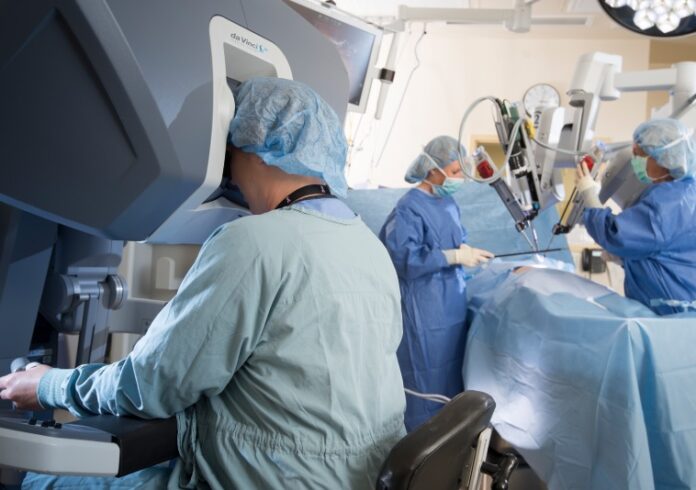 Robotic surgery is a minimally invasive or laparoscopic (small incision) surgery conducted by surgeons using computer-controlled robots to carry out specific surgical procedures.
Robots enable surgeons to have a high degree of dexterity and precision while performing complex surgical tasks in very tight spaces in the body, which is otherwise accessible only through open surgery or traditional long incision surgery. They provide better accuracy, flexibility, increased autonomy, superior instrument dexterity and tissue handling, improved three‐dimensional visualization, wristed articulation.
Surgical robots can be programmed to aid in the positioning and manipulation of surgical instruments. Generally, surgeons work from a computer console in the operating room, controlling miniaturized instruments mounted on robotic arms to make small incisions in the patient. The surgeon's hand, wrist, and finger movements are transmitted and mimicked through the computer console to the instruments attached to the robot's arms.
From a technical point of view, the robotic technology enables surgeons to overcome the challenges of traditional laparoscopic surgery. Robotic surgical platforms offer total control of the procedure without depending on someone else to operate the endoscope, or retract, or assist in a manner that is crucial with conventional laparoscopy.
Advantages
Robotic surgery offers many benefits to both surgeons and patients compared to open surgery. They include:
Smaller incisions, reducing the risk of infection
Reduced blood loss and transfusions
Reduced pain and discomfort
Minimal scarring
Shorter operative time
Faster recovery time
Shorter hospitalization
Low surgical site occurrences
Low radiation
Improved cosmesis
Reductions in errors
High conversion rates
Low post-surgery complications
Procedures don't require a remarkable skill level
Highly superior and efficacious, compared to open surgery
Most difficult operations are possible without the process of trial and error.
Disadvantages
One of the disadvantages of robotic surgery is the lack of haptic (tactile) feedback for the surgeons. Other disadvantages are:
The cost is very high and unaffordable to poor patients.
High cost associated with purchasing the technology
Maintenance and disposable supply costs
Intensive multi-disciplinary team training
Increased surgical time in docking the robot
Managing complex, large robotic devices in a busy theatre space
Lack of evidence-based evaluation of robotic surgery outcomes
Potential risk due to poor data connection between the computer console and the robot
Possible mechanical failure and robotic malfunction
Minimally invasive robotic surgery is finding applicability across multiple specialties. Some of these applications include:
Bariatrics (Weight loss surgery)
Cancer surgery
Cardiac surgery
Cardiothoracic surgery
Colorectal surgery
Eye surgeries
Gynecologic surgery
Head and Neck, Transoral surgery
Otolaryngology, Head & Neck (ENT)
Reproductive Endocrinology & Infertility
Thoracic surgery
Transplant surgery
Urologic surgery (Prostate surgery)