Robot safety deals with mechanical hazards that a moving robot can pose. Such risks include the collision between the robot and human, or the robot and other items, including the robot itself. Other mechanical hazards are trapping, crushing, shearing, pinching, and entanglement by the robot.
These hazards can occur under situations such as an unintended movement and uncontrolled trajectory/speed and can commonly happen at home, in the factory, commerce, and transportation. Factory safety traditionally keeps hazardous machines separated from humans by covering or placing such machines in the work cells. But in the case of medical and healthcare robots, such separation is not possible. Medical and healthcare robots are meant to co-work with humans (surgeon and staff) and interact with the patient.
Surgical robots are to hold and maneuver different types of tools attached to the end of the robotic body. Those instruments can be forceps, mono- and bi-polar blade, milling drill, endoscope, laser fiber, ultrasound transducer, etc. These robots are usually less powerful, less bulky than industrial robots, but any error during the operation of these instruments can be fatal.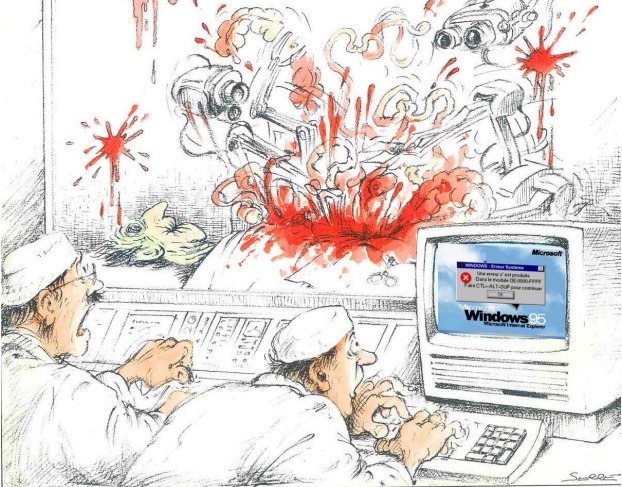 Surgical robots are used with other medical devices. Electrical, thermal, mechanical, and other functional connections between the robot and these devices, intended or unintended, can occur by collision or contact between them. Such functional connections can be sources of hazards. Besides, the hospital environment can be usually unstructured. Operating rooms are often cluttered with several other medical systems. The robot position in relation to the patient can also vary between two operations and even a single operation. Therefore, medical robots need to address medical device safety as well as the robot safety.
Medical robot safety, primarily, ensures the safety of the patients. Patients are considered as laypersons who might not have a formal education and training on safety. This makes them often vulnerable. Besides, in most surgeries, patients are anesthetized, making them incapable of reacting or escaping from hazards. Secondly, the safety of the medical staff as contributors is also critical. They are trained to use medical robots, and it increases the effectiveness of safety information as a risk mitigation measure. However, they are not experts in robotics and mechanical engineering.
How do we overcome the potential risks and improve the safety of medical robots?
Hospitals which employ surgical robots should develop and follow credentialing guidelines.
Ensure that all staff members are competent, trained, and credentialed to perform robotic surgery.
Undertake an ongoing professional performance evaluation of the staff and measures related to robotic surgery.
Improve OR team communication and standardize processes.
Closely monitor robotic procedures and maintain robust quality review processes
Implement intrinsically safe mechanical design ie, lightweight, limited power, slow motion, workspace suited to task, passive limits.
Safe human interface — simple to use, easy to understand, important function efficiently and quickly accessible
Install sensors such as collision detectors, force sensors, hardware self-check sensors.
The FDA's PMA process requires the hospitals and robot manufacturers to ensure the safety and effectiveness of Class III medical devices (those that support or sustain life or which present a potential risk for causing illness or injury to a patient). Its guidelines include:
extensive documentation of product design, testing, and manufacturing
thorough hazard analysis demonstrating that the product is single-component failsafe
scientifically rigorous clinical trials performed under an FDA approved Investigational Device Exemption (IDE)
usage of the candidate system under carefully controlled and monitored conditions
final review by a scientific advisory panel
strict regulations on manufacturing facilities, parts quality assurance, packing, storage, installation, and other aspects of overall product quality.