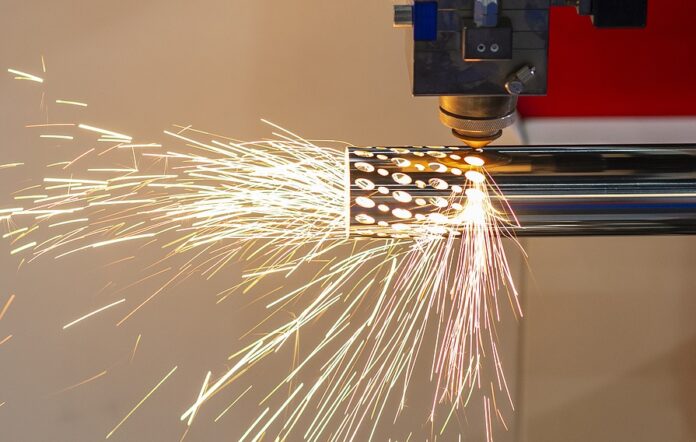 Laser cutting is a "subtractive" digital manufacturing technique that uses a large amount of energy generated by a laser and concentrates on a very small area to cut or engrave a material.
Laser cutting uses optics to direct the output of a high-power laser. They focus the generated laser beam on a small area of the material. The material then melts, burns, vaporizes, or is blown away by a gas jet, leaving a good-quality surface finish on edge. Depending on the type of laser, it can cut through materials up to 20mm thick. A laser can cut various materials, including wood, plastic, cardboard, textile, and ceramic.
Laser cutting machines, widely used in industry, work from digital orders based on topographic information in a vector file. They cut or engrave the material plate in various locations, allowing the surface of an item to be delineated and decorated. To use the laser as a cutting tool, you must first create a 2D vector file using specialized software. Before sending his pattern to the machine, the designer enters all the information about it – material, thickness, and shape. When the pieces are finished, everything remains to put them together!
There are several ways to create a vector file. You can use a wide range of software, either for modeling or design, professional or not, priced or free, more or less complete and easy to use. This post will look at some of the top applications and plugins to create vector files for laser cutting.
1. Adobe Illustrator
Adobe Illustrator is one of the most versatile vector graphics editing tools available. Illustrator, the industry's biggest name, is one of the packages that laser cutter users use when designing work for engraving. It makes it simple to create SVG files suitable for laser cutting. You can also use it with other software to inspect and repair other files. The Artboard setup is one of the features in Adobe Illustrator that laser cutter users will appreciate. It is ideal for laser cutter users who want to reduce waste in their operations. Artboards let you see how designs will fit on a sheet of material, allowing you to determine the best way to use materials. Numerous third-party plugins, add-ons, and so on can provide access to various types of functionality.
2. Inkscape
Inkscape is an open-source, free alternative to Adobe Illustrator. The same options are available in Inkscape. All the tools make it easier to create a new design from scratch or repair an existing one. You can start from scratch or repair an existing design. Even though Inkscape and Illustrator share many features, some have different names and applications. As a result, avoid any confusion between the tools when using both. If you want to do something in Illustrator but don't want to buy a license for Illustrator, you'll almost certainly be able to do it in Inkscape. Amongst many others, key Inkscape features include object creation and manipulation, fill and stroke, operations on paths, text support, and rendering, with multiple file-formats including .png, OpenDocument Drawing, .dxf, .sk1, .pdf, .eps, and PostScript export formats.
3. SketchUp
SketchUp is one of the easiest software packages to obtain and use because many tools are intuitive, and magnetism allows you to create neat designs with minimal effort. Furthermore, you can access even more functionalities through plugins, making SketchUp one of the most interesting software, especially when you have a clear idea of what you want to do and the necessary plugins. SVG files can also be exported from SketchUp. SketchUp cannot handle spheres and circles and will convert them to polygons. There is a free version, but you must pay to use all the features.
4. SolidWorks
SolidWorks is yet another well-known name in 3D modeling. It is based on the creation of models using sketches. This is why converting a 3D model to a 2D design is simple and produces neat and cohesive results. It offers various tools, whether for architectural plans or product designs. Notably, no SVG files can be exported from a SolidWorks design. You must first "Make Drawings" from your object to obtain a viable file. You must also export the drawings in an IA format and open the files in Adobe Illustrator or Inkscape to convert them to SVG. You can use the free, basic version if you sign up with a valid email address. While this version will not suffice for professionals building models, it is more than adequate for those of us using it for personal 3D modeling and those who want to test it before purchasing a subscription package. Because of its simplicity, a large community of professionals and amateur enthusiasts share knowledge, models, guides, videos, and other resources.
5. AutoCAD
AutoCAD, which was designed for architects and engineers, is a market leader in the architecture and machining industries and is built with accuracy in mind, with features such as smart dimensioning (automatic creation of measurements within drawings) and advanced calculation (area, mass, volume, and so on) built into the software. It offers the same tools as the latter for architectural plans and mechanical parts. Before exporting an SVG file from Illustrator/Inkscape, export your AutoCAD file to DXF again. AutoCAD also has a subscription pricing model (monthly and yearly).
6. OnShape
If you don't have a SolidWorks or AutoCAD license, OnShape is a viable option. It has the same number of tools as those two and, like them, will take some getting used to. To work on it and download your design, you'll also need an Internet connection. Another intriguing feature is that OnShape is also available for tablets and smartphones. Again, you can't export SVG files from an OnShape design, so you must go through Illustrator/Inkscape to get a laser-cut file.
7. SolveSpace
SolveSpace is free and open-source software that lacks a visually appealing user interface. SolveSpace isn't the easiest laser-cutting software; it has a fairly simple interface and a steep learning curve. However, once you've learned the software, you'll realize how many features it has to offer. SolveSpace is one of the best laser-cutting software options if you have limited storage space, as it is less than 10 MB and downloads quickly. You can also export your design directly into SVG from the CNC laser cutter software. This software can export 2D vector art to a laser cutter machine with g-code toolpaths, among other things.
Useful plugins
The Flights of Ideas: this SketchUp plugin is for anyone that needs to export faces from their 3D model into the 2D SVG format. This allows you to use editors like Inkscape or Adobe Illustrator and to create 2D layouts for laser cutting.
VectorScribe: VectorScribe is a plugin for Adobe Illustrator that allows designers to create geometric shapes with more refinement and control.
InkScribe: InkScribe is both an alternative and a complement to Adobe Illustrator's pen tool. It will enable you to create paths or draw vectors more quickly and intuitively.
Box Designer: enter the dimensions and thickness of your box online, and the software will generate a PDF to cut a notched box on a laser cutter.
Template Maker: the page contains many templates for gift boxes and other things that can be made from paper. The templates are completely free and all dynamic: you can customize almost all dimensions.
Gear Generator: this online tool creates involute spur gears that you can download in SVG format. Furthermore, it allows you to design multiple gear systems with control over the input/output ratio and rotation speed by composing full gear layouts with connected gears.