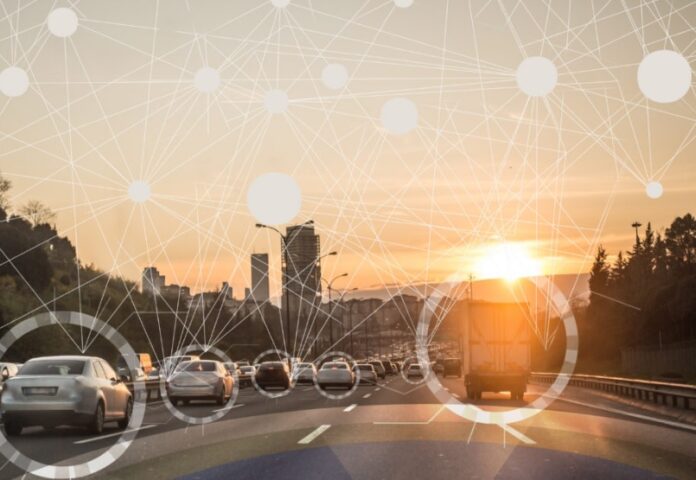 Cellular network operators play an increasingly important role in improving road safety and enhancing safety-critical systems onboard vehicles. Many modern vehicles rely on cellular networks to deliver a broad range of sophisticated infotainment, navigation, safety, and telematics services, paving the way for the development of new cooperative intelligent transport systems (C-ITS) that can make travel faster and more efficient while reducing congestion and pollution.
These technologies, known as Cellular Vehicle-to-Everything (C-V2X), can improve safety and ultimately support autonomous driving by leveraging the comprehensive coverage of secure, already established, conventional mobile networks. They enable highly reliable, real-time communication at high speeds and high-density traffic by supporting short and long-range transmissions between vehicles and roadside infrastructure.
Direct communications between vehicles, vehicles and infrastructure, vehicles, and other road users, such as cyclists and pedestrians, promise to transform information and safety services on highways and cities. It will help to make cities smarter and support increasingly automated, safer, and more efficient transport systems.
Designed to be fully compatible with future 5G mobile technologies, C-V2X has the support of nearly all mobile operators, leading mobile equipment manufacturers and automakers, including Audi, BMW, Daimler, Ford, PSA, SAIC, Tesla, and Toyota.
For automakers looking to improve road safety, C-V2X is a versatile and cost-effective solution, combining secure and short-range connectivity in one technology. Mobile operators keep deployment costs down since they can harness their existing cellular infrastructure to support the rollout of C-V2X connectivity.
How C-V2X works
C-V2X uses two complementary modes of transmission to allow for a wide range of driving safety features – short-range and long-range communications.
In short-range direct communications, C-V2X operates in the 5.9 GHz frequency band – the ITS (intelligent transport system) spectrum that has been internationally identified and harmonized for safety purposes. In this mode, C-V2X works independently of the cellular networks.
In long-range network communications, C-V2X employs the conventional mobile network to enable the vehicle to receive information about road conditions and traffic in the area, beyond the driver's line of sight. This mode operates in a spectrum that has been licensed to mobile operators to provide connectivity to its customers.
The synergies between road operators, automakers, and mobile operators can generate significant technical and economic advantages over other dedicated vehicle connectivity technologies.
Benefits of C-V2X
C-V2X brings significant value to Advanced Driver Assistance Systems (ADAS).
Provides 360-degree non-line-of-sight awareness, e.g., intersections/onramps, environmental conditions.
Allows vehicles to drive closer to each other safely and enables optimization of overall traffic flow
Provides the ability to gather data from further ahead to deliver a more predictable driving experience.
Enables complementary services, such as navigation, pay-as-you-drive insurance, and vehicle diagnostics.
Supports message transfer between a vehicle, a pedestrian, and other traffic participants, such as Vulnerable Road Users (VRUs).
Improve traffic fluidity
C-V2X can be used in many ways to improve road safety, and it has a broad and growing set of use cases. Let us now look at some of those use cases in which C-V2X can help to enhance safety.
Platooning
Platooning is the formation of a convoy in which the vehicles are much closer together than human drivers can safely accomplish. This automated convoy makes better use of road space, saving fuel, and more efficient transporting of goods. For a regular platoon of more than three vehicles, it takes too long to relay information between the vehicles for synchronous braking.
Therefore, C-V2X can be used to allow the platoon's vehicles to communicate so that they all slow down or accelerate simultaneously. C-V2X could also signal the presence of the platoon to other vehicles and roadside infrastructure, using the low latency cellular network.
Cooperative driving
Cooperative driving aims to coordinate multiple vehicles to increase road traffic safety and efficiency. Unlike platooning, cooperative driving involves drivers in different vehicles working together to make the best use of the available road space and minimize the disruption caused by lane changes and sudden braking. They use C-V2X to convey their intent to other road users.
Queue warning
Queue warnings alert drivers when there are queues and road work ahead of them, so they can slow down smoothly and avoid hard braking and queue crashes in work zones. Queue warning is an inexpensive way to reduce that number by slowing drivers down before a queue appears on sight. C-V2X, used by the roadside infrastructure, can also help vehicles retain a consistent speed and reduce traffic jams caused by the ripple effect due to sudden braking and lane changes on motorways.
Avoiding collisions
Most modern vehicles have collision avoidance systems that can create their own real-time map of the immediate environment and determine if any other vehicle is on a collision's potential trajectory. They can detect vehicles or pedestrians, anticipate a collision, and apply the brakes automatically or take corrective steering measures. These technologies have the potential to reduce road accidents and fatalities significantly.
C-V2X technologies can make these technologies even more accurate. Each vehicle could broadcast its position, speed, direction, and identity to other nearby vehicles to construct a real-time map of their environment. C-V2X may also extend the electronic horizon of a vehicle, warning vehicles of hazards such as a blind corner, fog, high vehicles, landscape, road ice, hard vehicle braking, or other obstructions.