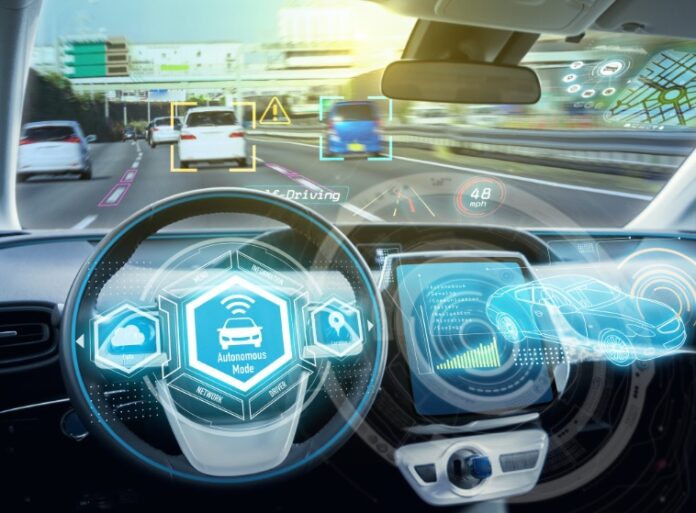 Since the 1990s, the Advanced Driver Assistance System (ADAS) has been a rapidly growing technology in the automotive industry. It has become increasingly prevalent in new vehicles as a promising tool to improve traffic safety, driver comfort, as well as increase road capacity, traffic flow, and limit energy consumption.
The common ADAS features available as standard equipment in at least 80% of vehicles in the midsize, large, and SUV vehicle segments are Adaptive Cruise Control, Blind Spot Warning, and Automatic Emergency Braking.
Lane Keeping Assistance is available in more than 60% of vehicles within 7 of 10 vehicle segments, while Automatic Emergency Braking is standard on 30.6% of all models, and Adaptive Cruise Control on 11.8%. Additionally, 20 automakers have pledged to make Automatic Emergency Braking standard on virtually all models by 2022, suggesting the increasing prevalence of the technologies in the future.
However, most manufacturers use a wide variety of names to indicate their features, making it very hard for consumers to discern what features a vehicle has and how they work. In this post, we will list some of the common ADAS terminologies, currently used by regulatory organizations to establish standardization of terms and definitions for ADAS features.
Driving Control Assistance
Adaptive cruise control (ACC), also known as Dynamic cruise control, automatically adjusts the vehicle speed to maintain a safe distance from vehicles ahead. The control is based on sensor information from onboard sensors such as radar, laser sensor, and camera.
Active or Dynamic Driving Assistance, intended to increase safety and comfort of the driver, uses radar, video, or ultrasonic sensors to monitor vehicle speed, acceleration, and the surroundings and provide a warning with a visual, acoustic or haptic signals in case of critical situations. It can either provide specific assistance or intervene automatically if necessary to avoid an accident or to minimize the consequences.
Lane Keeping Assistance, aka lane departure warning system (LDWS), warns the driver when the vehicle begins to move out of the driving lane. It is designed to minimize accidents by addressing collision causes like driver error, distractions, and drowsiness.
Collision Warnings
Blind Spot Warning is a sensor device that detects other vehicles located to the driver's sides and rear. The alerts can be visual, audible, vibrating, or tactile.
Forward Collision Warning (FCW) system monitors the speed and distance between two vehicles. If the vehicles get too close due to sudden acceleration or braking, the system will warn that driver of an impending crash. Some systems include the detection of pedestrians or other objects.
Parking Obstruction Warning detects obstructions near the vehicle during parking maneuvers.
Rear Cross-Traffic Warning monitors vehicles approaching from the sides and rear of the vehicle while traveling in reverse. The alert is active once the vehicle is shifted into REVERSE. The driver will receive a visual or auditory warning if an approaching vehicle enters the detection areas.
Pedestrian Detection detects the presence and movements of pedestrians coming into a vehicle's path.
Collision Intervention
Forward Automatic Emergency Braking (AEB) automatically applies brakes to prevent a collision or reduce the impact if it detects a potential collision while traveling forward.
Rear Automatic Emergency Braking (AEB-rear) automatically uses brakes to avoid a collision or reduce impact at highway speeds (above 50 mph), if it detects a potential collision while traveling in reverse.
Automatic Emergency Steering applies automatic braking and electronic steering in situations where a collision is imminent due to the driver's delayed reaction.
Parking Assistance
Semi-automated Parking Assistance controls steering during parking. However, the driver is responsible for the acceleration, braking, and gear position.
Fully-automated Parking Assistance, on the other hand, controls acceleration, braking, steering, and shifting during parking.
Active Parking Assist helps you identify parking spaces as you drive by, and steer successfully into chosen spaces with maximum ease. The driver is responsible for the acceleration, braking, and gear position.
Remote Parking allows the vehicle to be remotely maneuvered into a parking position, without the driver being physically present inside the vehicle. It automatically controls acceleration, braking, steering, and shifting.
Trailer Assistance assists a driver during backing maneuvers with an attached trailer.
Surround View Camera provides a birds-eye view of the vehicle from overhead. The system usually consists of four to six fish-eye cameras mounted around the vehicle.
Other Driver Assistance Systems
Driver Monitoring, aka Driver Attention Monitor, is a safety system that actively monitors the drivers' eye movement and head position to determine if they are engaged in driving.
Automatic High Beams automatically switches between high and low beam headlamps, depending on the other vehicles and available light.
Night Vision uses a thermographic camera to increase a driver's perception and seeing distance in darkness or poor weather.
Head-Up Display (HUD) is a transparent display that projects an image of vehicle data or navigational information into the driver's forward line of sight. The driver does not need to look away from their usual viewpoints.