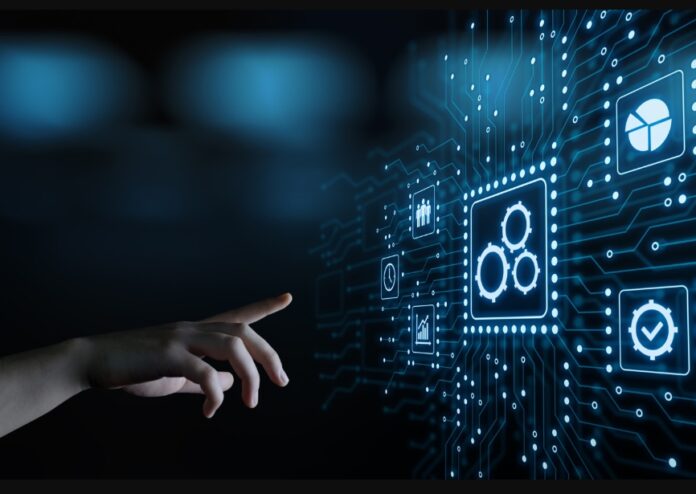 According to research published by Thoughtonomy, nearly one-third of businesses in the UK report the lack of skilled resources and difficulties in managing bots being the two most significant barriers to robotic process automation (RPA).
Over 30% of automation strategy leaders cite skills as the most significant operational challenge they face in scaling up their automation initiatives, while 31% point to the complexity and cost of bot lifecycle management as the top technological challenge.
Besides skilled resources, other operational barriers to higher levels of automation in the UK include an absence of engagement between business and IT stakeholders (cited as the most significant challenge by 24% of strategy leaders), a shortage of buy-in from the general workforce (22%), and an inability to gain the right sponsorship within the organization (7%).
Other key findings
60% of strategy leaders are aiming to automate more than 10% of their processes within the next five years. It is double the current level.
55% stated that the results of their early automation initiatives met their expectations, while 44% said they exceeded them.
50% cite improving productivity and cost reduction as the main goals of their early automation initiatives. But enhancing business outcomes and accelerating speed to market will be critical drivers for future efforts.
71% of automation strategy leaders believe that the use of machine learning/AI technology in automation could have a transformational impact on their business.
25% already have a Centre of Excellence (CoE) in place to drive adoption and standardization of automation across the organization, but 79% see expanding their distributed teams as key to driving scale.
31% cite the cost and complexity of bot lifecycle management as the primary challenge, with a quarter naming software licensing and low utilization levels as the most prominent issues they have faced.
30% identify a lack of skilled resources as the primary operational challenge to scaling automation, with 24% citing a lack of engagement between business and IT leaders.
55% of organizations stated that their CEO is involved in building the business case for new automation initiatives.
Interestingly, 18% of strategy leaders indicated the lack of access to cognitive and AI skills as the primary barrier to scaling up their automation.
Although the cost and RPA complexity remain to be the main stumbling blocks for organizations at the early stage of automation programs, a new set of barriers arise when they try to scale in the next five years. They are associated with bot lifecycle management, software licensing, and virtualization costs (26%), and low bot utilization levels (24%).
Companies face different sets of challenges, depending on whether they are in the early stages of getting their automation initiatives off the ground or scaling up their existing efforts to the next level. The table below showcases the key differences, based on the findings from the study.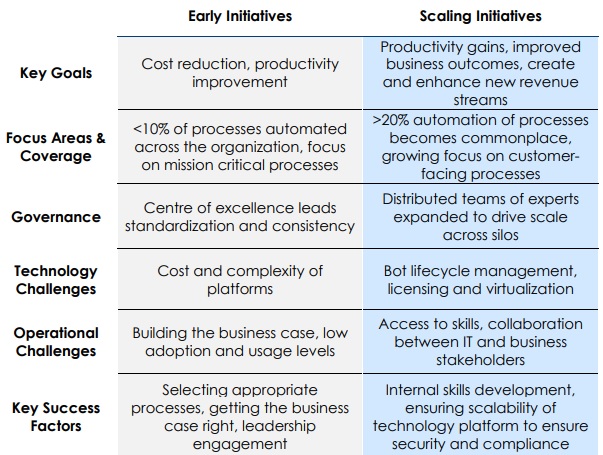 For overcoming these challenges, most businesses select automation platforms based on a broader range of technical factors that include the cloud delivery model (58%), technology roadmap (54%), and flexibility, and scalability of its solution (52%).
For achieving the right governance, 24% of businesses have created a Centre of Excellence (CoE), tasked with ensuring that automation programs are approached in a consistent and coordinated way across the organization and with supporting different departments to begin to automate processes.
However, strategy leaders believe that a more decentralized approach is required as they scale up their automation programs. Only 12% of the leaders believe that expanding the CoE is the best way to speed up the adoption of process automation within their organization, compared with 79% who favor developing distributed teams. 9% of the leaders feel that a combination of both is the best approach.
The research also finds that many organizations are building significant internal resources to drive their automation strategies forward. 44% report that they have a team of between 10 and 50 employees to drive process automation across the business. In large enterprises with more than 10,000 staff, 70% of the leaders have automation teams with over 50 employees.
The study found that a vast majority of automation executives considered their early initiatives to be successful. Yet, they do not believe there is a single magic bullet to getting it right. Selecting the right processes to build the right business use case is, of course, important. But the top priority should be to put the right governance structure in place, which is the crucial ingredient in a successful automation strategy, the study finds.
You can find the complete report here. The report offers practical guidance to senior decision-makers that are looking to lay the right foundations for developing a scalable strategy for automation from the outset.