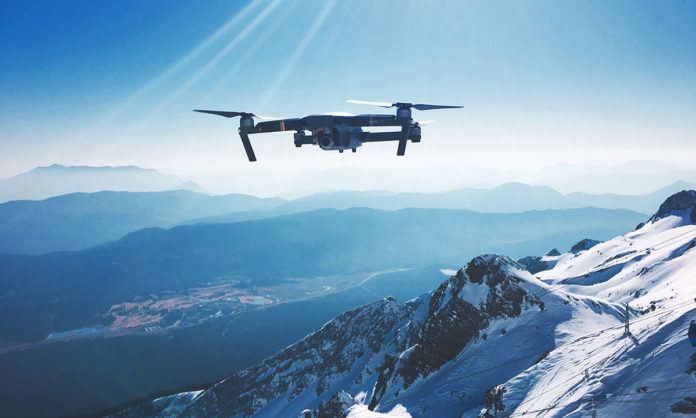 Drones have multiple commercial applications across industries such as farming, entertainment, delivery, and logistics, some of which go beyond essential surveillance, photography, or videos.
Some big tech companies such as Amazon, Google, the United Parcel Service (UPS), DHL, and Alibaba have been running high-profile experiments, testing "last-mile" delivery drone systems. Meanwhile, others are investigating even more dramatic changes like air taxis, equipping drones to supply Internet connections in remote areas, etc.
Though some of the most innovative drone applications might take years to develop, the commercial drones market has attracted companies of all types to invest drastically in it because of its diverse applications and promising future.
The United States, in particular, is a strong source of commercial growth, with the value of the drone market rising from $40 million in 2012 to about $1 billion in 2017. According to estimates, the commercial drones will have an annual impact of $31 billion to $46 billion on the country's GDP by 2026.
This post will look at some of the top commercial drone companies, directing their funds to unlock the greatest potential from drones that streamline operations and facilitate automation rather than more headline-grabbing applications, like drone delivery and transport.
1. SenseFly (Switzerland)
SneseFly is a commercial drone subsidiary of Parrot Group. It produces both the drone's hardware and software for aerial data collection and analysis. Applications of SenseFly drone are inventory tracking (calculating stockpiles volumes, site surveying), traffic management (haul roads, loading floors and stockpile location optimization, blast planning), water management (accurate management of tailing dams, watersheds, drainage basins assessment and mapping the potential flow of water base on-site current topography), collaboration (improving operational planning, depletion accounting, monitoring environmental factors and making the decision on necessary maintenance work).
2. Drone Deploy (USA)
The company is a cloud software platform for commercial drones, which is mostly compatible with DJI drones. This company provides software for aerial data analysis by drones for a variety of industries, including mining. The software can make 3D modeling of the area, contour line map, offline mine inspection, and stockpiles volume calculation. It has been claimed that Drone Deploy customers have mapped and analyzed more than 30 million acres in over 160 countries.
3. Kespry (USA)
Kespry produces both drone's hardware and software for application in the mining industry. The services for the mining industry by Kespry include managing waste-rock and ore stockpile inventories, generating cut-and-fill reports for dragline operations, evaluating slope stability on active high-walls, reclamation planning, and verification of blasting pattern locations.
The Kespry 2s drone delivers images with the 0.5 cm per pixel resolution. Because of the low flight time of multirotor, Kespry added a swappable field battery on the drone. The obstacle avoidance of this drone is about (50 m) forward-facing by the LiDAR sensor.
4. Propeller Aero (Australia)
Propeller Aero produces aerial data analysis software and uses customized DJI's Phantom 4 Pro (P4P) drone for aerial data collection. The Propeller Aero package provides various mining industry services, including tracking the mining status, volume measurement for stockpile and pit, planning blasting and extraction, monitoring protected areas, and monitoring progress against design, safety inspection, etc. The Phantom 4 RTK can capture high-quality images with (2.1 cm) total vector distortion. The propeller drone shows the accuracy at or below (3 cm) by using multiple independent checkpoints over the site.
5. QuestUAV (United Kingdom)
QuestUAV produces software for aerial data analysis and uses fixed-wing drones for aerial data collection. QuestUAV drone properties assist in a mining operation in a verity of disciplines. The drone has an accuracy of 3.2 cm over areas. Because of difficulty landing fixed-wing drones, a parachute is deployed by QuestUAV for a safe landing. Besides, launching is available by hand, designed air dock, or zip line. Similarly, QuestUAV drones allow a series of payloads to be attached to the drone.
6. Skycatch (USA)
Skycatch uses a multirotor drone for aerial data collection, a site base station that uses GPS and GNSS for accuracy in coordinates collection and data management software. Explore-1 drone is designed by Skycatch base on the DJI Matrice M100 drone and manufactured by DJI. Komatsu tried to make the earthwork machine autonomous with Skycatch drone data. They used machine learning and deep learning to find patterns and improve data outputs.
7. Prioria (USA)
Prioria was one of the first companies that have provided aerial data for the mining industry. This company produces both drone hardware for aerial data collection and software for data analysis. Prioria products perform aerial imagery, mapping, stockpile volume calculation, and inspections like pipeline and utility. The fixed-wing drones of this company are hand-launched and tube-launched. The vertical volume calculation precision is 4 cm, and for ground sampling distance, it is 1.4 cm.
8. 3D Robotics (USA)
3D Robotics produces software for aerial data analysis, which is compatible with Yuneec and DJI drones. The available services by 3D Robotics aerial scan include geo-referenced maps and point clouds for mineral exploration, calculating the volumes of individual stockpiles, tracking inventory over time by calculating the volumes of respective stockpiles in every flight, improving site planning and coordination by pre and post-blast surveys, mitigating project risk and remote access to mine information by having near real-time drone and maps and data.
9. Trimble (USA)
Trimble provides positioning technologies for various industries, such as land survey, construction, agriculture, transportation, telecommunications, asset tracking, mapping, utilities, mobile resource management, and government. However, recently, this company applied drone technology for aerial data collection and analysis.
The Trimble drones can provide boundary and topographic surveys, survey-grade mapping, power line modeling, field leveling, site, route planning, progress monitoring, as-built surveys, resource mapping, disaster analyses, volume determinations, topographic contours, 3D surface models, and orthophotographs for the mining industry.
10. Precision-hawk (USA)
Precision-hawk offers software for aerial data analysis and uses other company's drones for aerial data collection. The specifics of DJI multirotor drones and birds-eye-view fixed-wing drone, which is used by Precision-hawk. The company's software provides the volume measurement tools for the pit, stockpile, and similar structure. Besides, the software outputs could be useful in monitoring, planning, reports, safety and compliance, oversight, and reclamation.
This company uses various kinds of sensors on the drones for aerial data collection. Those sensors include thermal for tracking the relative temperature of the land and objects; multispectral for capturing near-infrared radiation and ultraviolet light; hyperspectral for identifying minerals, vegetation, and other materials; LiDAR for collecting high-quality evaluation of natural and human-made objects; visual for capturing high-resolution aerial images, and video for live streaming and capturing video to on the ground devices.
11. Pix4d (Switzerland)
Pix4d uses images taken by drones, hand, or plane for data analysis by using the photogrammetry method. Its software is compatible with various drone company products, including DJI, Parrot, and 3DR.
The services for the mining industry by Pix4d are as follows: (1) supporting blasting operations by locating boreholes, (2) monitoring blast sites without putting people in danger, (3) measuring stockpile volumes and excavated materials, (4) Pit mapping, and (5) toxic tailing dam mapping. It has been claimed that drone mapping could be performed in 20% of the traditional mapping method time, without disrupting traffic.
12. Microdrones (Germany)
Microdrones produces both drone hardware and software for aerial data collection and analysis. The drones and software package can map the deposit site, survey mine, explore minerals, monitor stockpile volume, track equipment, and make time-lapse photography. Besides, sensors like multispectral, thermal, LiDAR, and methane gas detection could be added to the drone for inspection. The drone positioning is carried out by GPS, and the post-processing of the data method is aerial triangulation.
13. Delair (France)
Delair creates both software and drone hardware for aerial data analysis and collection. The software and drones package can provide stockpile volume, contour maps of the pit, finding potential hazards, detecting anomalies, and doing the topography survey in the field without interrupting operation.
Freeport-McMoRan, one of the largest American copper and gold mining company, used the DT18 Mapper drone package of Delair to do weekly topographical surveys for calculating the production capacity and creating digital surface models of the copper mine at Tenke Fungurume (TFM) in the Katanga Province of the Democratic Republic of Congo.