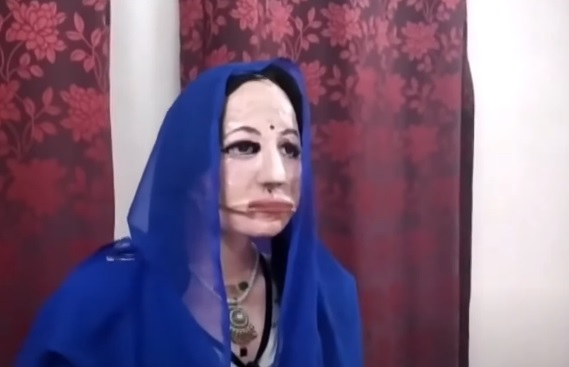 Is it possible to build a home-made humanoid robot, similar to Sophia? A Kendriya Vidyalaya teacher from Mumbai proves that it is very much possible to make such a robot with easily available materials from the local market and even compete with leading laboratory robots!
Meet Dinesh Patel, who built "Shalu," the first social humanoid robot from India that can speak nine Indian languages and 38 foreign languages. All parts of this robot are custom-made with aluminum, plastic, and other materials. None of the components is 3D-printed.
Shalu can recognize faces, identify objects, shake hands, and show simple emotions like happiness and anger. It can initiate conversations based on any predefined scripted social content using Artificial Intelligence. It can also solve simple math problems/equations, tell about chemistry elements, and conduct a short quiz on specified areas.
It can act as a personal assistant, reply to emails and send SMS, deliver weather reports based on the date and daily news, readout sun sign horoscopes, recipes, book author name, about movies, phone models, etc. We had a chance to interview Dinesh Patel, and let's hear more from the creator himself.
1. Before we talk about Shalu, could you tell us a bit about yourself? How did it all start?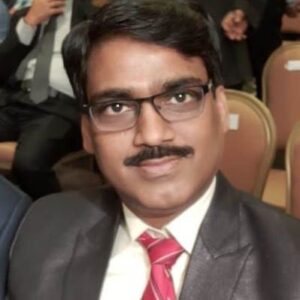 I am a Computer Science teacher at Kendriya Vidyalaya, IIT Bombay, Mumbai. I work with India's ambitious young minds as part of my job. The idea to build a humanoid came to my mind after seeing the popular social humanoid robot Sophia during its visit to IIT Bombay. I thought of building a similar robot in India cheaply without compromising the key functionalities.
I started to think about the ways how the robot could be made and how it would function. Once I was convinced that it is achievable, I started to work on the robot during my free time, after work. I only used parts purchased from the local market. These items are readily available, and none of them are costly robotics equipment. India being a developing country, it is challenging to procure complex 3D printed parts for robotics. The cost of such items is unimaginably high. For Shalu, I used Raspberry Pi, Arduino microcontroller, and open-source software/libraries like Python, Tensorflow, NLTK, etc.
2. Tell us all about Shalu. What can it do, and what was the inspiration?
Shalu, we call her "अपनी Robo Shalu," is a social-educational humanoid robot which I built during my free time as a hobby. It is the first robot in the world that can speak nine Indian languages. This low-cost robot has all capabilities common to all other humanoid robots today. It can answer a verbal question, express human gestures and emotions like happiness and anger, recognize faces and objects, make jokes, and act as a personal assistant. Shalu can work as a teacher, answer students' queries, conduct verbal quizzes, and serve as a receptionist at airports, banks, schools, offices, etc. It can also respond to emails. After Sophia, the second inspiration for me to build Shalu was director S. Shankar's sci-fi movie "Robot" (Enthiran).
3. It's a good thing to note that, like you, there are a handful of ambitious robotics engineers out there in India today, building promising humanoid robots for various purposes. Tell us about the multiple challenges you face right now, especially in India, where the humanoids are yet to find a mass-market or to become a part of our daily lives as technology progresses.
The robotics research community in India is relatively small compared to other countries like Japan, Korea, and the USA. The percentage of startups working in this field and the investors looking to fund robotics startups is also sparse. I have faced difficulties in procuring quality parts for my robot. We lag behind in manufacturing technologies when compared to countries like China.
I had approached a few corporates for sponsorship of my research. There are not many investors or corporates willing to fund researches in robotics in India. I am sure that India will emerge as a prominent player in robotics research within the next few decades. I find that the new generation of youngsters is far more enthusiastic and willing to take risks. Within the next two decades, India will see numerous startups tackling significant problems using robotics, and that will be a gamechanger.
4. Tell us how learning coding and robotics are shaping the Indian education system.
The new generation is surrounded by more computing devices than anyone else in the past. They seem to grasp things much quicker. In my experience, coding appeals to youngsters, unlike disciplines like Physics or Mathematics. The reason seems to be the tangible and hands-on nature of the subject. They can play and experiment with programming languages, unlike serious mathematical problems in Physics and Mathematics. When taught at the right age, programming can appeal perfectly to young children's curiosity and exploring minds. Many of my students have worked on projects in their spare time, and it inspires me and keeps me passionate about my vision.
In my opinion, programming is a great tool to teach problem-solving, decision making, and collaboration. Robotics and coding should be more encouraged in schools. The ability to code also enables many job opportunities today. With increasing automation and improvements in Artificial Intelligence, I genuinely feel the world requires much more researchers and engineers to work in software and robotics.
5. Can you tell us about some of the top global robotics trends right now, amid COVID-19 and extensive automation. What is the future of robotics in the next five years?
We have reached an age of extensive automation in manufacturing and other industries. Within the next five to ten years, we would most likely see robotics tackling big challenges spread across numerous domains. Robots will be a gamechanger in the medical field. Thousands die worldwide due to medical errors during surgeries and incorrect diagnoses. Robots could perform these surgeries with far greater precision than human surgeons. In the future, we will see more robots in hospitals. We will also see social robots, providing aging adults the care and companionship they require, solving the series of social and economic problems brought about by aging population.