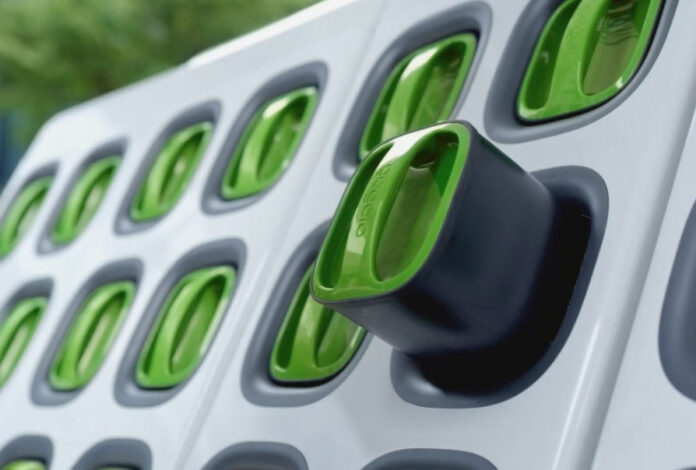 Battery swapping is a plug-and-play solution for charging the battery of an electric vehicle (EV). This alternative involves exchanging discharged batteries for charged ones and provides the flexibility to charge them separately.
Battery swapping also de-links the charging process and battery usage while keeping the vehicle in operational mode with negligible downtime. Battery swapping is typically used for smaller vehicles such as 2Ws and 3Ws with smaller batteries that are easier to swap, compared to 4-wheelers and e-buses. However, solutions are emerging for the latter segments as well.
Battery swapping offers three key advantages relative to charging: time, space, and cost-efficient, provided each swappable battery is actively used. There are various swapping solution providers in India, some in the form of startups and some which are new arms of existing businesses. This post will list some of the leading battery swapping solution providers in India.
Sun Mobility
Sun Mobility is the most prominent player in India's battery swapping space and caters to electric two-wheelers and three-wheelers. In September 2020, Bosch acquired a 26% stake in the firm. Its open-architecture Energy Infrastructure Solution, which includes Smart Batteries that can be swapped at Quick Interchange Stations powered by its Smart Network, enables EVs for mass adoption, especially in shared mobility segments. The company focuses on the shared mobility segment and has partnered with various OEMs and third parties to deploy its energy infrastructure and swapping services.
The company offers a battery swapping station that works on a pay-as-you-go model. These stations are interconnected; some are powered by renewable energy and tracked by a Smart Network. The stations are offered for two-wheelers and three-wheelers, which include e-bikes, electric autos, and e-rickshaws. Furthermore, it enables the vehicles to swap quickly in around one minute.
Battery Smart
Battery Smart operates a network of over 160+ battery swapping stations providing Li-ion batteries on a pay-per-use basis for the drivers of electric two and three-wheelers through an asset-light network of partner swap stations. Battery Smart's battery-as-a-service model enables interoperable battery swapping for electric vehicles in under two minutes. With over 160 swap stations operational in the Delhi-NCR region, the company has completed 3 lakh battery swaps and powered 10 million emission-free km by servicing more than 1200 active e-rickshaws. It undertakes ~5000 swaps per day.
Lithion Power
Lithion Power is a startup focusing on "Battery as a service" operation and provides lithium-ion batteries for e-bikes and three-wheelers. It has a network of Lithion Swapping Points (LSP) predominantly in Delhi NCR. Currently, it has ~10 swapping stations in Delhi NCR and plans to enter a few more cities in the future. The company has developed battery management systems, telemetry units, etc., to continuously send data to a server/cloud on 24 x 7 basis, irrespective of whether the vehicle is running on the ground or in the park. So, we get data 24 x 7 about the state of affairs of the battery, and we do this daily. The BMS also has a GSM and GPS module to track the location of batteries.
Amara Raja Power Systems
Amara Raja Power Systems is part of the Amara Raja group. The company offers a battery swapping station for on-the-go charging solutions for two and 3-wheeler EVs, with swapping time under 2 minutes. The company claims that it provides smart and efficient charging, ensuring good health and battery life. The swapping stations come with a touch screen, RFID authentication, and digital payment, providing hassle-free operation to the customers.
The swapping stations are available in 20, 12, 8, and 4 channel variants. The battery slots are provided with rollers for smooth movement of Batteries (Rack in/Out). The swapping stations charge battery ratings from 1.5kWHr to 3kWHr, with charging rates ranging from 0.5 to 2C. the swapping stations are for outdoor and indoor operations.
VoltUp
VoltUp is a startup that provides lithium-ion battery swapping solutions for two-wheelers and three-wheelers EVs. VoltUp, through its smart swapping network, is deploying a network of connected VoltUp stations with smart batteries, building mobile technologies hardware, and leveraging data to enable an innovative mobility solution to transform commute by e-vehicles. It claims that its batteries are cheaper and made with the highest quality energy density, making them more efficient for a longer duration than common Li-ion and Lead acid batteries.
ESmito
ESmito is a startup founded in 2018 that provides SaaS & IoT-enabled battery management products and solutions for electric vehicles. It offers hardware and software-enabled solutions for clients. It offers services like charging solutions, fleet management, battery swapping solutions & more, with features like data analytics and reporting, automated payments management, battery health predictions, etc.
Numocity
Numocity is a Bangalore-based startup with experience delivering solutions in the global e-Mobility market. Their digital technology platform is designed and built for scale and flexibility in the emerging e-Mobility industry. Numocity offers a comprehensive end-to-end digital technology platform for EV charging, battery swapping, and Smart Grid integration.
Charge-up
Charge-up is a New Delhi-based startup founded in 2019. It offers a battery swapping model called 'Battery-as-Service (BAAS)' to e-rickshaws. The company follows a subscription-based model wherein drivers sign up for a battery rental plan minus any upfront costs.
RACEnergy
RACEnergy is an electric vehicle-based startup from Hyderabad established in 2018. Its vision is to accelerate the adoption of electric mobility in India by focusing on public transportation, specifically the two-wheeler and three-wheeler segments. Its unique battery swapping stations and swappable batteries are provided as a service through a network of swapping stations.
Charge+Zone
Charge+Zone is a startup based in Vadodara and was founded in 2018. The company provides hassle-free and reliable charging services for all Electrical Vehicles (EVs) types. They are part of TecSo Global Group, a leader in Renewable Energy Solutions, Product Development, and Software Engineering.
Okaya
Okaya is a pioneer in the battery manufacturing industry. It is known for providing a wide range of battery solutions like Tubular, inverter, solar, SMF, e-Rickshaw, Lithium, and EV charging solutions. It provides smart battery swapping stations solutions other than EV li-ion batteries, EV charging solutions, etc. The battery swapping solution is a charging cabinet that has 12 rechargeable cubicles.