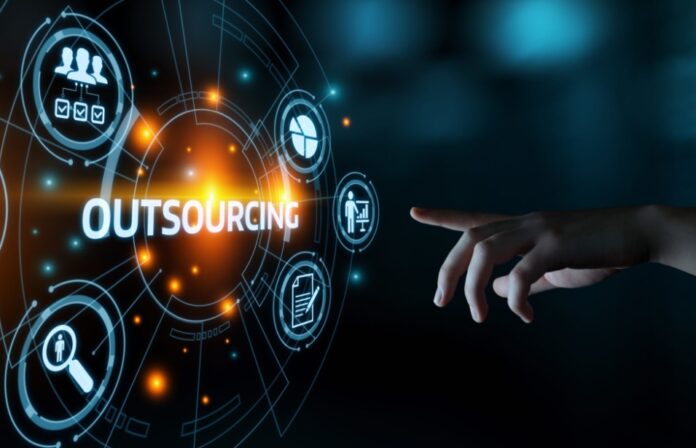 The cyber security posture of your company depends on your choice of efficient security and risk management solutions to defend your IT infrastructure from attacks and secure your data. Some businesses hire a third party to handle all or part of their cyber security needs.
Outsourcing cyber security is a common practice today for organizations of all sizes. More and more organizations are turning to third parties for a range of security services to reduce costs and access skilled staff whose full-time job is security.
Those security services include network boundary protection or security monitoring (firewalls, intrusion detection systems, and virtual private networks), emergency response and forensic analysis, vulnerability assessment, penetration testing, anti-virus and content filtering services, information security risk assessments, and data archiving and restoration.
Benefits of outsourcing cyber security
The key benefits of outsourcing cyber security include:
Cost – the cost is typically less than hiring or retaining in-house, full-time security experts.
Staff shortage – it eliminates the shortage of qualified cyber security experts.
Skills – it brings in wider skillsets while dealing with hundreds or thousands of potentially threatening situations every day.
Facilities – it can also enhance security simply because of the facilities they offer.
Independence – it simplifies and strengthens a company's security posture amid multiple ad hoc solutions and security problems.
Performance – it guarantees higher service levels and real-time results 24 hours a day, seven days a week, and 365 days a year.
However, organizations must need a high-quality strategy while working with third-party agencies to meet the security requirements, including the availability, confidentiality, and integrity of information assets critical to the organization's mission. This article presents four options to consider while outsourcing your cyber security to a third party.
1. Internet Service Provider (ISP)
Depending on the needs and nature of your organization, different cyber security controls have different levels of protection and costs to implement and maintain them. Although some businesses may find outsourcing services advantageous, the expense might be too high.
If your company cannot afford to hire a cybersecurity firm, you should inquire with your ISP to see if they provide cybersecurity services. For instance, many ISPs include anti-virus, anti-malware, and firewall software as add-on services in their plans for a fee.
The questions on the following list are some of the most important ones to ask an ISP if you want to add extra security services to your company's network.
Are intrusion prevention systems something you offer?
Can you identify cyberattacks as they develop and before they reach their intended targets?
Are you able to detect malware?
Are you able to recognize and stop IP address spoofing?
Do you inform users of infections or intrusions (such as a botnet)?
2. IT/Cyber security consultant
It might be difficult to pinpoint the precise cyber security requirements for your company and foresee the effects a cyber incident might have on it. You can determine which security concerns should be addressed and how to implement security controls and action items by working with an IT or cyber security consultant.
Clients often hire IT or cyber security consultants to conduct a thorough risk analysis of their company; test their existing security measures; check for vulnerabilities in software, computer systems, and networks; assist in designing and implementing a strong cyber defense model; Offer suggestions and technical guidance; and create, construct, and implement cyber security solutions.
You can decide if your business needs MSSP services by discussing your cyber security posture and figuring out what steps must be taken to ensure your networks, systems, and data are secure. To assist you in determining what kind and level of service are best suited for your security needs, many MSSPs will also perform a preliminary assessment of your cyber security posture.
3. Cloud Service Provider (CSP)
Many businesses are moving their data, databases, applications, and IT infrastructure to the cloud. They might not have their own full-time IT staff, or cloud computing may help reduce the price of IT services and security. The price of internal IT resources, hardware, servers, storage, and maintenance can also be decreased with cloud computing. Since CSPs can provide scalable, on-demand computing environments and a wider range of capabilities, many organizations turn to them for support.
Although cloud services are practical and economical, they do not necessarily safeguard your company's assets hosted by a CSP or stored in the cloud. When working with a CSP, you cede direct control over several security and privacy issues and, as a result, place a certain amount of trust in the CSP. With cloud services, your business is still responsible for ensuring the privacy, availability, and integrity of the IT services and data hosted by the CSP. To take advantage of cloud computing, your company must determine all operational and security requirements, manage security risks effectively, consider cloud-specific security issues, and properly evaluate and approve security controls for cloud-based services.
In general, CSPs offer three different service models for clients to choose from:
Infrastructure as a service (IaaS): In an IaaS service model, the consumer is given the ability to provision computing resources such as processing, storage, networks, and other basic computing resources so they can deploy and run any software, such as operating systems and applications.
Platform as a service (PaaS): The ability to deploy consumer-created or acquired applications using programming, libraries, services and tools supported by the provider onto the cloud infrastructure is a feature of a PaaS service model.
Software as a service (SaaS): In a SaaS model, the customer receives the service of using applications that are hosted on a cloud infrastructure by the provider. Through a thin client interface, such as a web browser (for web-based email, for example) or a program interface, the applications can be accessed from various client devices (e.g., local applications).
4. Managed Security Service Provider (MSSP)
Cyber threat actors constantly refine their strategies and occasionally get around even the most advanced security measures. Even with devoted IT professionals on staff, organizations are experiencing increased and more complex risks to their environments and are falling prey to cyberattacks. More than ever, businesses of all sizes now contract with MSSPs for some or all of their cyber security needs.
A technology company known as an MSSP offers cybersecurity services to businesses and organizations. MSSPs can manage your infrastructure, host security services, deploy cybersecurity hardware and software, and offer information security (IS) services. They offer outsourced security devices and system management and monitoring; in some circumstances, they can take preventative measures against compromising your IT systems. Working with an MSSP is chosen by organizations for a variety of reasons. Some may need security monitoring and management outside of regular business hours because they lack the internal resources or knowledge for a particular security area. An MSSP may be sought after by other organizations to perform security audits or to respond to and look into incidents.
Other reasons for hiring an MSSP include the following:
Increasing security
Adding additional layers of internal security to help close some gaps
Putting into practice/integrating your IT infrastructure's/customized architecture's third-party security solutions and technologies
Improving threat visibility while accelerating a security response
The services that an MSSP can provide include:
Overseeing VPNs, threat defense technologies, intrusion detection systems (IDS), and firewalls;
Utilizing SIEM (Security Incident and Event Management) tools;
Ongoing system and device monitoring;
Managed Detection and Response (MDR) Services, which monitor, identify, notify, and coordinate the defense against potential system attacks;
Controlling patch management and software and hardware upgrades for security;
Conducting security audits and assessments;
Performing vulnerability assessments and threat scans to offer suggestions and guidance on cybersecurity remedies;
Training in security awareness;
Applying threat intelligence operationally