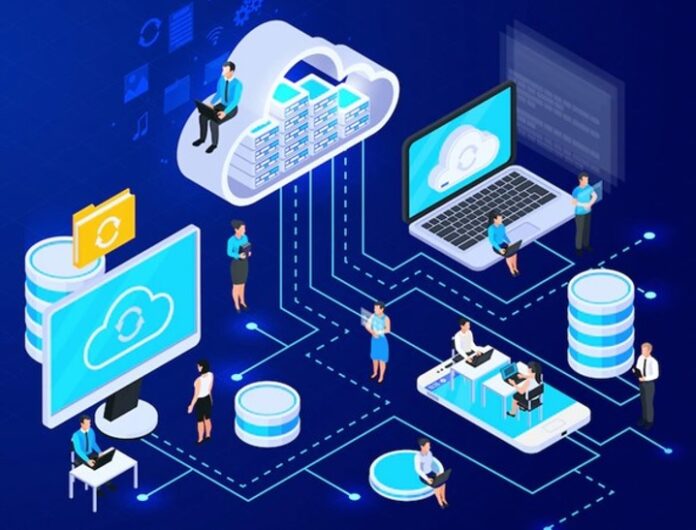 While the cost of storing a piece of information has been declining year on year, the demand for storage capacity is outstripping IT budgets, and companies need to look for more efficient storage solutions. Software-defined storage (SDS) systems are becoming an economically and functionally attractive alternative to traditional monolithic enterprise arrays.
In this article, we'll answer the question of what is software-defined storage and take a look at the current and potential trends in software-defined storage and the opportunities it provides when building an IT infrastructure.
What is software-defined storage (SDS)?
The principle of software definability involves the abstraction of software from the hardware on which it runs. This gives organizations additional freedom in choosing which equipment to use. Thus, SDS is attractive because of the opportunity to reduce costs through using standard – and therefore cheaper – technology. However, as in the case of, for example, cloud services, savings in themselves mean little and are not always justified (stingy, as we remember, pays twice) if not for other advantages.
Software-defined solutions now offer the same features as high-end enterprise storage systems, such as inline deduplication and guaranteed quality of service. Thanks to lower prices for flash drives, SDS can provide the same performance as classic systems without compromising their reliability. These solutions are mature enough to support any virtualized workload, and enterprises are increasingly using them.
Thus, according to ReportLinker research, the global software-defined storage market size was estimated at $28.99 billion in 2021 and expected to reach $35.33 billion in 2022 and is projected to grow at a CAGR of 22.12% to reach $96.18 billion by 2027.
The trend to reduce the cost of ownership of IT infrastructure
In large organizations, data storage systems occupy a significant share of the cost of the IT infrastructure (according to experts, up to 25%). This figure could rise significantly. The reasons are the growth in the volume of data and the need for capacities of data storage systems (DSS), including due to laws that oblige this data to be stored. At the same time, companies are actively trying to save IT budgets, which forces them to constantly search for the most profitable technological solutions that would allow them to reduce these costs without compromising the quality of service. The same applies to data storage and processing.
Customer requirements to reduce the cost of ownership of IT infrastructure are forcing vendors to invest in development and offer new technologies. One of them is software-defined storage systems. Companies start thinking about implementing SDS when data management procedures become inefficient and time-consuming to retrieve.
The SDS concept provides benefits such as:
abstraction from the lower level (hardware platform),
scalability,
simplified storage infrastructure,
low-cost solutions.
Thanks to SDS technologies, you can significantly reduce the cost of storage and administration.
SDS Solutions
Many vendors offer software-defined storage:
Dell EMC (Dell Nexenta, EMC ScaleIO solutions);
HPE (StoreVirtual VSA solution);
IBM (Spectrum Storage solution);
VMware (vSAN solution);
StarWind (Virtual SAN solution);
Red Hat (Red Hat Storage Solution);
NetApp (solution ONTAP Select);
DataCore (SANsymphony solution);
Conventionally, all SDS solutions can be divided into three categories:
classic (CEPH, Red Hat Storage Server, EMC ScaleIO);
based on traditional storage systems (NetApp ONTAP Select, HPE StoreVirtual VSA);
as part of computing systems (VMware vSAN).
Some manufacturers offer complex solutions and software (Huawei, Dell EMC). This allows flexibility in product selection and using legacy "computing" hardware for less resource-intensive storage tasks. Another merit of SDS was the possibility of using disk array virtualization in some classic storage systems.
Solutions are architecturally built on two principles:
loosely connected;
distributed (without common elements).
In the first case, distributed data copies provide fault tolerance, but the write speed decreases due to redundant communications between nodes (nodes). The critical point is the data network, so such solutions are usually implemented based on InfiniBand. VMware vSAN, HPE StoreVirtual VSA, and Dell EMC ScaleIO solutions are built on this principle.
In systems without common elements, data is written to one node and then copied to others at specified intervals to ensure fault tolerance. In this case, the records are not transactional. This approach is the cheapest. Most often, it uses Ethernet as an interconnect. This architecture is convenient in terms of scalability. Its bright representative is CEPH.
Now many companies are developing both software SDS (for example, Atlantis Computing, Maxta, StarWind, DataCore Software, Sanbolic, Nexenta, CloudByte) and the release of complex solutions (Dell EMC, IBM) or specialized devices (Tintri, Nimble, Solidfire).
Demand for Software-Defined Storage will grow for a long time
Software-defined storage best meets the steadily growing needs of tasks such as machine learning, big data analytics, the organization of large-scale media libraries for significantly multi-threaded broadcasts over the Internet, etc. In particular, benefits from moving to the Hyper-converged infrastructure (HCI) SDS paradigm because it makes it as easy as possible to add new hardware to an existing solution and scale it almost limitlessly.
HCI customers worldwide are dominated by mid-sized and small companies eager to take advantage of the low-cost and highly flexible services provided by hyper-converged data center operators. At the same time, stand-alone SDS solutions are increasingly found in private enterprise-level data centers.
According to Informa PLC, in 2019, global shipments of HCI solutions grew by 24% year-on-year and stand-alone SDS by 12% (all in monetary terms). By 2023, the volume of the HCI segment should reach $43 billion (five-year CAGR = 47%) and stand-alone SDS – $42 billion (five-year CAGR = 18%). In the SDS market in 2019, 43% of deliveries in monetary terms fell on cloud service providers (including hyperscalers) and only 4% on telecom companies, which so far lag in the implementation of software-defined storage from general industrial rates.
Tool of the future
SDS technology began to develop in the early 2000s but has not yet been able to replace classic storage systems for several reasons. But manufacturers are actively developing their products, and interest in SDS technologies is growing. According to our estimates, shortly, they will become the tool that will reduce the cost of IT infrastructure with an increase in the need to increase storage capacity.