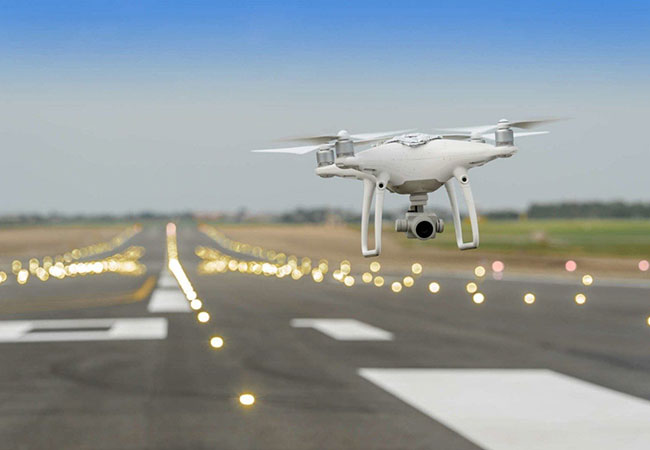 Countries across the world realize the potential of drones and are investing in the growth of drone innovations. But they also understand the risks posed by unfettered usage of drones and have laid down rules for drone usage.
The first body to bring this out was the Federal Aviation Administration (FAA) in the US, and soon, other countries followed suit. India's Directorate General of Civil Aviation (DGCA) has also brought out its own set of rules to govern the Indian skies via Remotely Piloted Aircraft System (RPAS) regulations.
India has been late in initiating the formulation of the regulatory framework as many countries have already put in place empowering domestic regulations. Although drone usage in India is limited in contrast to the US and China, the nation has taken the initiative in forming rules of global governance partly because the evolution of drone technology could have profound security implications for India, but equally because it is advantageous for India to take the initiative and guard its interests.
The DGCA announced the country's first Civil Aviation Requirements (CAR) for drones on August 27, 2018, which went into effect from December 1, 2018. The operation of drones in India is governed by the Unmanned Aircraft System (UAS) Rules 18 – Part VI, which was published on June 2, 2020, in the Gazette of India.
This post will briefly look at some of the key guidance provided by the DGCA RPAS Guidance Manual.
The air space has been partitioned into three zones: namely Red Zone (flying not permitted), Amber Zone (controlled airspace), and Green Zone (automatic permission). The army, naval bases, and airports come under restricted zones where drone operations are strictly prohibited.
The DGCA RPAS Guidance requires obtaining an Unmanned Aircraft Operator Permit (UAOP) and a Unique Identification Number (UIN) for piloting UAS. No unmanned aircraft shall be operated or owned unless it has been allotted a Unique Identification Number (UIN). The UIN must be physically present on the drone for authorities to trace the ownership of a drone that they recover in case of an accident.
The UIN must be obtained by the submitting documents that provide the purpose of operation, drone specifications including manufacturer name, type, weight and size, year of manufacture, type of propulsion system, flying capabilities in terms of maximum range endurance, and height, and equipment capabilities. The operator also must provide a copy of the flight manual and the manufacturer's maintenance guidelines and verification proofs.
The drone operators have to register in the Digital Sky platform of DGCA. The Digital Sky Platform of the Ministry of Civil Aviation is a national unmanned traffic management (UTM) platform that implements a "no permission, no takeoff" (NPNT) policy. It operates as a traffic regulator in the drone airspace, coordinating closely with the civilian and defense air traffic controllers (ATCs) to ensure that all drones remain on the approved flight paths.
The UAOP is compulsory for all remotely piloted aircraft systems under 25 kg. UIN is not necessary for nano-drones (below 250 grams, including payload). UAS are allowed to fly only in permissible areas identified in the online platform.
The guidance requires permission for each flight through the Online Digital Sky platform for No Permission No Takeoff (NPNT) compliance.
It prohibits the carriage of any payload and Beyond Visual Line of Sight Operation (BVLOS), thus restricting autonomous operations. It allows visual line-of-sight daytime-only and a maximum of 400 ft. altitude operations.
Operators flying UAVs over 200 feet above ground level also need to obtain an Unmanned Aircraft Operator Permit (UAOP) from the DGCA. This permit does put the operator under stringent scrutiny.
No person other than an authorized UAS importer shall import a UAS or part or component thereof in India. No person other than a licensed UAS trader shall engage in selling, buying, or leasing of a UAS or a part of a component.
The operators should not fly their drones above densely populated areas and large crowds. They should fly during daylight hours and under the right weather conditions. One person can't fly more than one UAV at the same time.
The use of drones or camera drones is prohibited in sensitive areas, including government or military facilities. Flying over national parks or wildlife sanctuaries is also barred.
A drone operator must be a trained drone pilot and should have attained the age of 18 years. The license plate indicating the operator's details and how to contact them must be placed on the drone.
The area within 50 km of the country's border is prohibited for drone flying. Flying drone more than 500 meters into the sea from the coastline is banned.
The person applying as a Qualified Remote Pilot shall not be less than eighteen years of age. He/she should be medically fit and shall have passed class X or its equivalent examination from a recognized Board. The person should have completed the training course from an authorized training organization or institutes. No person having an age more than sixty-five years can be a qualified remote pilot.
All unmanned aircrafts shall have emergency recovery systems to ensure protection from damage and public injury in any failure conditions. They must have a valid third-party insurance policy to cover the liability that may arise on account of a mishap.
As of date, the current Digital Sky platform only accepts registrations for these RPA models: LookOut VTOL RPAS, Patang, A200, Insight, Ninja, Agribot UAV, Prion Mk3, Starlite, Freebird Z1 A, DH-Q4, WHITE HAWK, Staredge, Model V, A400, NOCTUA DS and Insight 2.0.
The firms registered in the DIGITAL SKY platform of DGCA for the manufacture of drones are Throttle Aerospace Systems, Skylark Drones, Asteria Aerospace, Aarav Unmanned Systems, ideaForge Technology, IoTechWorld Avigation, UAVE Limited, Hubblefly Technologies, Ecom Infotech, Dhasksha Unmanned Systems, EDALL SYSTEMS, Hubblefly Technologies, CBAI Technologies, Asteria Aerospace, Detect Technologies, and Aarav Unmanned Systems.