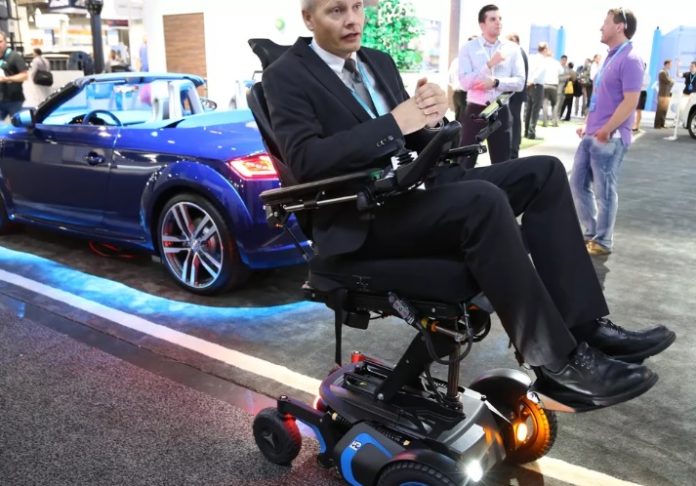 Whether due to disability or disease, people with cognitive, motor, or sensory impairment rely on power wheelchairs. Some people can't use a traditional joystick to navigate their wheelchair, and they have to use alternative control systems. To help these individuals who find it difficult or impossible to operate a power wheelchair, several researchers have developed mobile robots to create smart wheelchairs. Typically, a smart wheelchair consists of a standard power wheelchair base to which a computer, sensors, and seat are attached.
Techniques used in smart wheelchairs
BCI Control
Brain-Computer Interface (BCI) based smart wheelchairs use electroencephalography (EEG) data from the brain and convert it into device control commands with the use of signal processing techniques. It records electrical brain signals from the scalp, where the brain signal originates from postsynaptic potentials.
EMG-controlled
These smart wheelchairs use electrical currents or EMG signals, generated in muscles during their contraction representing neuromuscular activity. EMG signals are collected from the muscles to control signals for the movement of the wheelchair.
EOG-controlled
These smart wheelchairs use EOG signals and detect eye movements and blinks, which are codified as wheelchair control commands. When the eyes are rolled up or down, positive or negative pulses are generated.
Head orientation tracking
In this method, on the screen, head movements are transformed into cursor movements. Cursor movements are proportional to the movements of the head. Head movements are calculated by different methods such as the accelerometer placed in the cap of a patient or by capturing video of head movements.
Chin control
In this technique, the chin is placed in a joystick in the shape of a cup and is controlled by neck movements (flexion, extension, and rotation).
Eye tracking
In this technique, wheelchairs use a screen-based eye-tracking system in which a camera is used to track eye features continuously. After a calibration algorithm is used to find the direction of the eye gaze in real-time. According to the gazed position, the screen movement control signals are calculated to control the wheelchair.
Tongue controlled
This technology is based on the law of Faraday. The permanent hall effect sensor is attached to the tongue and traces the tongue movement. The output signals are collected as the tongue moves in the induction coil of the air core.
Image Processing
A webcam is used to capture image input from the user's finger. An image processing algorithm detects finger movement and wheelchair movement in left-right or front-back direction depending on the course of the finger.
Accelerometer based
Wheelchairs based on accelerometer use either an acceleration sensor or a tilt sensor. When an object is tilted, the values are recorded by the sensor and sent to the microcontroller. Depending on the tilt direction, the microcontroller controls the direction of the wheelchair.
Deictic approach
This approach uses environment vision as a control interface. To move, the user specifies the location within the environment to which he wishes to go by pointing to it on the interface. Then the wheelchair will automatically move to that position.
Touch screen controlled
When the user wants to change direction in a touch screen controlled wheelchair, the touch screen sensor is modeled by pressing the finger against the various quadrants on the touch screen, which has different values for a different direction.
Voice actuated
In this technique, the user speaks in microphone, and the voice recognition system compares the voice command with the pre-stored memory and generates a control signal to control wheel movements.
Best smart wheelchair prototypes
iBOT
Developed in a partnership between DEKA and Toyota in association with its inventor Dean Kamen, iBot is a stair-climbing wheelchair, first unveiled in 2001. Its "standing" configuration could climb stairs, raise users from sitting level to eye-height, and travel at a steady walking pace. The product was discontinued in 2009, however. Toyota and DEKA formed a partnership in 2016 to produce a new version of the iBOT.
Ability in Motion
Ability in Motion is a standing wheelchair designed to assist all people with function mobility problems in the lower limbs to maneuver independently in small and confined spaces and perform standard daily routines. Made by Australia's Duchenne Foundation in association with Perth-based researcher Dr. Jenny Downs, it allows the user to reach the standing position by pushing a button and move forward while upright.
Life & Mobility
Life & Mobility is an advanced prototype of the smart wheelchair developed by SAP Netherlands to help wheelchair-bound patients who are unable to control or change their sitting position on their own.
KD Smart Chair
KD Smart Chair is working with the Jacobs School of Engineering at UC San Diego to develop an open-source, low-cost, powered wheelchair that uses assistive and autonomous navigation technologies. The team has developed a new 59-pound wheelchair capable of traveling across a variety of terrain.
Below is a list of institutions around the world that have produced a prototype smart chair since 2005.
US Naval Academy, Maryland, USA
Lehigh University, Pennsylvania, USA
Northwestern University, Illinois, USA
UMBC, Maryland, USA
Case Western Reserve, Ohio, USA
University of Pittsburgh, Pennsylvania, USA
University of Alabama, Huntsville, Alabama, USA
The University of Texas, Arlington, USA
University of Nevada, Reno, Nevada, USA
Doshisha University, Kyoto, Japan
Chuo University, Tokyo, Japan
Toyohashi U.of Technology, Tokyo, Japan
ATRII Kansai, Japan
Kumamoto University, Kumamoto, Japan
Saitama University, Saitama, Japan
Indian Institute of Technology, Jodhpur, India
Institute of Engg. & Technology, Ghaziabad, India
B.M.S College of Engineering, Bangalore, India
LURCH, Chennai, India
Imperial College, London, UK
University of Kent, Canterbury UK
Smile Rehab, Greenham, UK
University of Paris, France
University of Lorraine, Metz, France
McGill University, Montreal, Canada
University of BC, Vancouver, Canada
University of Bremen, Germany
University of Aveiro, Portugal
Universidad Carlos III Madrid, Spain
KU Leuven Heverlee, Belgium
University of Canterbury, Christchurch, NZ
U. of Apl. Sci. W. Switzerland, Fribourg, Switzerland
University of Sydney, Australia
Hefestos, Sao Leopoldo, Brazil
Chonnam National University, Gwangju, S. Korea
King Abdulaziz University, Jeddah, Saudi Arabia
Integral Rehabilitation Center, Orizaba, Mexico
Uni. Politecnica delle Marche, Ancona, Italy
Universiti Tun Hussein Onn, Malaysia