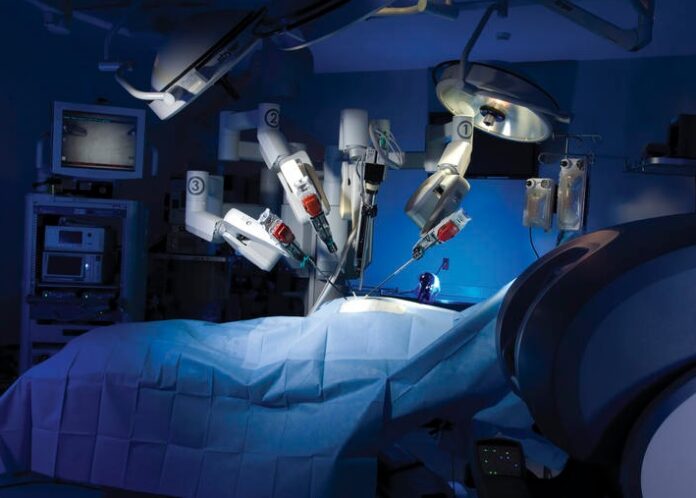 Surgical robotics has led to a new era in minimally invasive surgery. From a humble beginning with primitive robots like the PUMA, PROBOT, and ROBODOC to the current state-of-the-art da Vinci Si surgical system, robotic surgery has come a long way. Thanks to the inherent advantages of robotic surgery over conventional laparoscopic surgery, including superior ergonomics, enhanced magnification, 3D-vision, motion scaling, tremor filtering, improved dexterity, precision, and control of operating instruments.
Surgeons are now capable of conducting complex surgeries with a superior level of precision and accuracy, presenting several benefits to patients such as smaller incisions, decreased blood loss, less pain, and quicker healing time. Robotic surgery also allows the surgeon with no previous laparoscopic training to provide patients with the advantages of minimal access surgery.
The rising popularity of robot-assisted surgery is rapidly in the US, Europe, Australia, and other developed nations. However, in India, robotic surgery is still in its infancy, although the number of hospitals installed with surgery robots is rising very slowly. One of the reasons why robotic surgery in India is not picking up at a faster rate is financial. Robotic surgeries need to be economically feasible not only for patients but also for hospitals. The high cost of a robot, which ranges approximately between Rs. 6-14 crore, prevents many hospitals from bringing these advanced technologies to patients. The annual maintenance costs, along with the disposable supply cost, also makes it beyond the reach of many institutions and health care systems. The second big drawback is the lack of robotic surgery fellowships in India.
As robotic technology has not entered the mainstream health care system, there is a lack of access to technology and a deficit in educational opportunities. Young Indian urologists wishing to specialize in robotic surgery need to go abroad to get trained in the nuances of robotic surgery. Very few of these surgeons come back after their training. Besides, the lack of evidence-based evaluation of robotic surgery outcomes from the high volume centers in India is also a big drawback.
On the bright side, the surgical robotics market in India is predicted to witness a remarkable increase from $129.9 million in 2016 to $372.5 million in 2025, growing at a CAGR of 19.2 percent. The first robotic radical prostatectomy in India was performed in AIIMS New Delhi in July 2006. At present, India has over 50 surgical robots and a pool of over 300 trained robotic surgeons. An estimated 700 robotic-assisted surgeries a month are conducted in India.
The major specialties practicing robot-assisted surgery in India are urology (radical prostatectomy, partial nephrectomy and pyeloplasties), gynaecology, general surgery (gastric bypass, hiatal surgeries, adrenalectomy and colorectal surgery), thoracic and cardiac surgery (coronary artery surgery and mitral valve reconstruction, thymus and lung surgery), ENT and neurosurgery (transoral and transnasal surgeries).
Here is a list of the best hospitals for robotic surgery in India.
Apollo Hospital, Chennai, New Delhi
Artemis Hospital, New Delhi
Asia Columbia Group of Hospitals, Bangalore
Aster Medicity, Kochi
Aware Global Hospital, Hyderabad
BGS Global Hospital, Bangalore
BLK Super Specialty Hospital, New Delhi
Bombay Hospital, Mumbai
Columbia Asia, Bangalore
Dharamshila Cancer Hospital, New Delhi
Fortis Hospital Mumbai, New Delhi, Chennai, Bangalore India
Fortis Memorial Research Institute, Gurgaon, India
Global Health City, Chennai
Global Hospital, Mumbai, Bangalore, Chennai, Hyderabad, India
Hinduja Hospital, Mumbai
Hiranandani Hospital, Mumbai
Indian Spinal Injuries Center, New Delhi
Indraprastha Apollo Hospital, New Delhi
Jaypee Hospital, New Delhi
Lilavati Hospital, Mumbai
Manipal Hospital, Bangalore
Max Super Specialty Hospital, New Delhi
Medanta Hospital, Gurgaon
Paras Hospitals, New Delhi
Primus Super Specialty Hospital, New Delhi
Rajiv Gandhi Cancer Hospital, New Delhi
Rockland Hospital, New Delhi
Saifee Hospital, Mumbai
Seven Hills Hospital, Delhi
Shalby Hospital, Ahmedabad
Wockhardt Hospital, Mumbai