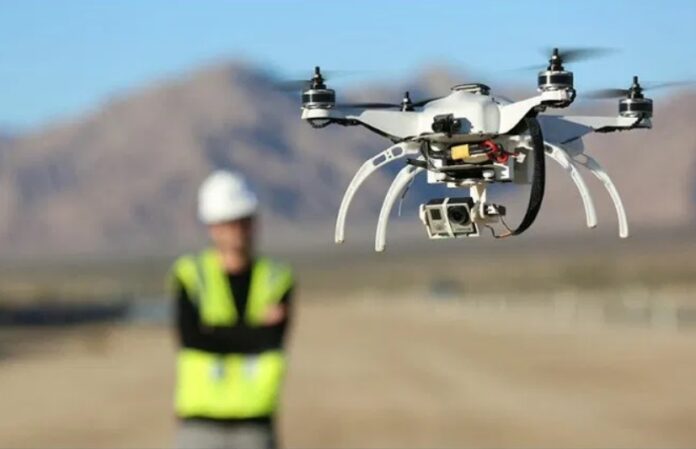 Construction is one of the most dynamic sectors in the global economy, contributing significantly to the development of nations by creating jobs, income generation, and redistribution. In the US, nearly 6.5 million people work at approximately 252,000 construction sites across the country on any given day.
Construction, however, has the reputation of being the most hazardous sector in terms of work environment and personnel safety. The fatal incident rate is much higher than the national average of all other industries. The potential hazards for workers in construction include falls (from heights), trench collapse, scaffold collapse, electric shock and arc flash/arc blast, etc. Besides, construction projects go through different, yet slow-moving steps in their lifecycle, such as site surveys, creation of 2D and 3D maps, architectural designing, procurement, precision, and quality management, resource management, environmental monitoring, etc. Although technology can speed up the pace to some extent, most processes continue to be time-consuming.
Here is where drones come in. Equipped with HD cameras and sensors, they have a significant use case in the construction sector, from aerial photography to 3D modeling. Drones can dramatically transform almost every step in the construction business, not only in terms of safety, saving money and resources, but enabling teams to arrive quick decision-making with accurate measurements and enhanced communication.
According to studies, the adaptation of drones in construction can bring about 239% growth. According to PwC, construction sites using drones were able to complete their tasks 20 times faster, and the tasks became 91% safer than those conducted by ground teams. The use of UAVs results in the following advantages.
Pre-construction
Pre-construction processes like surveys, design of complex infrastructures, and planning have always been a crucial step in the construction lifecycle. Construction companies spend a significant amount of money, effort, and workforce to collect data, traditionally using manual hand-held devices, and their accuracy is highly questionable. Things get even worse if the construction site is on a tough terrain. But drones make the lives easier for both engineers and construction companies.
The best alternative in the survey process, drones can hover over sites in all weather conditions, and store and transmit accurate data, giving an edge over manual processes. Using Ground Control Points (GCP), drones can plan a flight path and capture geo-coordinates to create accurate automated field mapping, eliminating the time-consuming task of geo-referencing a satellite image and then digitizing it.
Drones can also do the LiDAR mapping of 3-D digital representation of buildings, objects, and terrain and the volumetric calculation of stockpiles at construction sites efficiently and substantially at a lower cost, compared to the conventional methods.
Construction
Monitoring is one of the biggest challenging tasks in construction, especially when it comes to colossal infrastructure exacerbated by linear distances. Collecting real-time information about site activities, safety compliance, and progress is critical, as it helps in reporting the work progress and managing workflow to improve the delivery of projects significantly. Inadequate monitoring will result in poor project management and time and cost overruns.
Drones can handle the monitoring of construction sites in real-time. They can detect trespassers or unauthorized persons at construction sites, making it possible to take action on security breaches and unplanned proximity of site workers near trenches. Drones are also critical for post-disaster recovery at unsafe and unstable construction sites to minimize danger and begin the rebuilding process.
Moreover, drone-generated images can be superimposed on utility maps to reveal alignment-related flaws and other construction-related challenges, allowing engineers to re-plan or redesign conflicting situations with minimal alteration of design and cost. Using drones, along with optical barcodes and radio frequency tags (RFID), makes the asset inventory management process more efficient, safe, and reliable.
Post-construction
The post-construction requires maintenance, a time-consuming activity starting with an inspection. Considering the safety hazards at inaccessible and difficult-to-reach areas such as roofs, building enclosures, bridges, highways with fast-moving traffic and elevated structures, it is a challenging task.
Conventionally, an inspector visits a site, collects images, prepares a progress report manually, to detect violations. Using a drone to identify safety hazards is more accurate and can conduct up to 100 times more observations than a safety manager. It can conduct more rigorous inspections and spot more issues in less time.
From a documentation point of view, recording and storing images and video data from inspections on the assets' technical condition could help comply with industry security standards and regulations.
To sum up, here are the benefits of using drones in construction.
Provide a detailed site analysis for extensive risk calculation of the new environment before someone sets foot on a site.
Reduce the time spent on surveys and the processing of survey data.
Improve the precision and accuracy of data, preventing costly and dangerous construction errors.
Inspect hard-to-reach or contaminated areas and deliver supplies.
Capture real-time imagery and process it for topographical models and heat maps instantly.
Operate in extreme conditions like floods, earthquakes, etc., and provide instant data.
Facilitate quick inspections of the sites and equipment without any delays or need for costly equipment shutdowns
Enable compelling, reliable, and automated comparisons of photo documentation of before and after inspection.
Improve communication and reporting of potential problems or threats to health and safety.
Dramatically reduce the human involvement in hazardous construction environment, ensuring personnel safety.
Eliminate regulatory demands for health and safety requirements like expensive security equipment
Provide amazing aerial photos of the site to be used for marketing and promotional campaigns