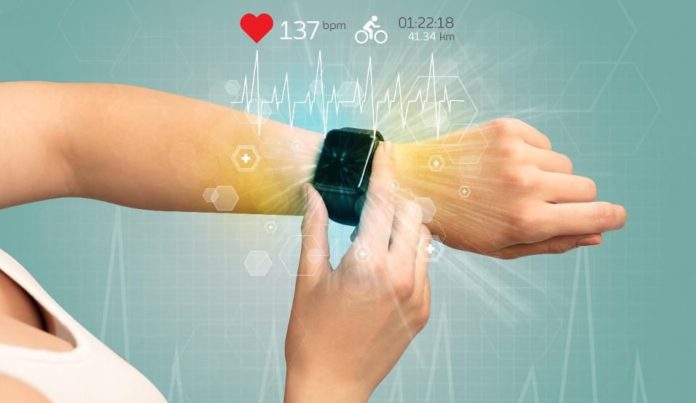 Europe is home to some of the most innovative wearable startups in the world. According to Worldwide Quarterly Wearable Device Tracker by International Data Corporation (IDC), the shipments of wearable devices in Europe grew 30% in 2018. The wearable device market is expected to reach 53.1 million units shipped in 2023, totaling a market value of $12.4 billion, and the smart wearables will account for 51.7% of the market, driven by smartwatches.
In this post, let's look at the 14 most innovative smart wearable startups in Europe.
1. 8sense (Germany)
8sense is a wearable startup from Germany that makes the world's first smart back sensor with a virtual coach. Founded by Christoph Tischner and Ralf Seeland in 2016, the 8sense system regularly gives feedback on the user's posture, combining position and movement analysis with realtime interaction and training. Designed to enhance and protect the health and productivity, this attachable coach helps you to sit more actively and informs you about your actual fitness level in your office.
2. Ava (Switzerland)
Ava is a Switzerland-based medical technology company, dedicated to bringing innovation to women's reproductive health. It makes the world's first fertility tracking sensor bracelet that monitors nine physiological parameters that identify the fertile days in real-time during a woman's cycle. Ava collects data continuously throughout the night and accurately predicts at least five fertile days per cycle without the hassle, messiness, and invasiveness of other methods like ovulation sticks and BBT thermometers. The user can wear the Ava bracelet while sleeping and sync it with the Ava app in the morning. Each night, Ava's sensors collect three million data points around physiological parameters, including pulse rate, breathing rate, sleep quality, heart rate variability, and temperature. It then correlates with the rise in reproductive hormones estradiol and progesterone.
3. aucobo (Germany)
aucobo is a Stuttgart-based industrial wearable startup that provides a cloud-based, smartwatch solution that connects people and machines on the shop floor and simplifies communication among employees. Founded in 2016, aucobo platform increases productivity by automating all processes with a simple user interface without any programming effort. It can also provide information about maintenance conditions, error messages, and tasks.
4. Elvie (UK)
Elvie is a London-based femtech company developing smarter technology for women including a silent wearable breast pump and a smart pelvic floor exerciser. Its debut product Kegel trainer helps women strengthen their pelvic floor with five-minute workouts and gives real-time biofeedback. The second product, the remotely operated, silent wearable breast pump, monitors milk volume in real-time, tracks pumping history for each breast.
5. Elitac (Netherlands)
Elitac is a Dutch wearable tech startup that integrates textile and stretchable electronics for professional end-users. The company's wearable develops smart garments for tactile information, navigation and wearable sensing devices with facilities including testing, R&D, prototyping, and production of wearables. The core competence of the company is the electronics-textiles integration and the use of vibrations to bring the sense of touch into human-system interactions. The company's Sentaztactile navigation system can translate audio and visual instructions from normal navigation systems into vibrations in the driving seats of all first-responder vehicles, including fire engines, ambulances, and police cars and reduces the response time.
6. Tespack (Finland)
Tespack is a Helsinki-based wearable startup that designs and develops unique solar backpacks and solar-powered chargers for smartphones, laptops, and other portable devices on-the-go. The current product line includes backpacks, messenger bags, and attachable bags that promise to keep you 'charged and connected at all times.'
7. iBreve (Ireland)
iBreve is a wearable startup that helps you cope with stress and stress-related diseases through smarter breathing. Its digital health solution lets people improve their stress resilience by monitoring their breathing patterns with the help of machine learning. The iBreve wearable detects prolonged phases of shallow breathing, optimizes the respiratory rate, and guides through breathing and relaxation exercises. Focusing initially on women's health & well-being, the iBreve wearable can easily be attached to any regular bra. The machine learning algorithm correlates breathing rate, activity, and stress level, triggering a gentle vibration on the device or notification on the phone.
8. Lifee (Sweden)
A wearable technology company, Lifee from Sweden, was founded in 2014 by serial entrepreneur Tomas Ahlström and electronics engineer Anders Petersson. Lifee, a wristband that motivates physical activity, is developed by Linköping based outfit FutureMe Labs. It has features such as tracking individual achievements, a challenge system, and friend proximity features.
9. LifePlus (France)
Paris-based startup LifePlus develops a clinical-grade smartwatch for health/activity/safety monitoring for elderly people. The watch measures precise physiological parameters that determine the level of risk for certain chronic diseases and transmits alerts using an optical signal to the caregivers or a care call center without an Internet connection or a smartphone. The parameter extraction algorithms combine the latest advances of digital signal processing and machine learning to continuously adapt to each individual's health and generate personalized, actionable insights in real-time.
10. Oura (Finland)
Oura is a Finnish health technology company that makes the world's first wellness ring and app to show how your body responds to your lifestyle. By analyzing sleep, activity levels, daily rhythms, and the physiological responses in the body, the ring gives regular feedback to improve their health, allowing users to understand their bodies better and reach their goals.
11. Onera Health (Netherlands)
Digital health startup Onera Health transforms sleep diagnostics with the development of the world's first at-home medical-grade sleep diagnostics patch system without cumbersome sensors that are attached to the scalp, face, chest, and limbs. The company uses R&D and nanotechnology to make sleep diagnostics cheaper and more convenient for both doctors and patients.
12. Racefox (Sweden)
A spin-off of the Swedish Institute of Computer Science (SICS), Racefox makes the world's first real-time digital coach for running and XC-skiing. By combining biomechanics and sports science with data science and artificial intelligence, Racefox detects and addresses potential imbalances that may lead to injury, improving the performance of world-class athletes, casual runners, and skiers.
13. Sleep.ai (Netherlands)
Sleep.ai is a Dutch startup, founded in 2014, focussing on the diagnosis and monitoring of sleeping disorders using Mobile Health (mHealth) solutions. This anti-snore app uses your mobile device to conduct an audio analysis and detects snoring while you sleep, and sends a signal to the Silentsleep wearable band, worn on the user's arm, making it vibrate.
14. Wandlebots (Germany)
German startup Wandelbots develops a wearable sensor-laden suit that enables non-programmers to teach industrial robots faster and cheaper. By using the sensors attached to clothes, the Wandelbots software backend tracks human motion to live-control industrial robots. Operators can teach automation tasks by demonstration.