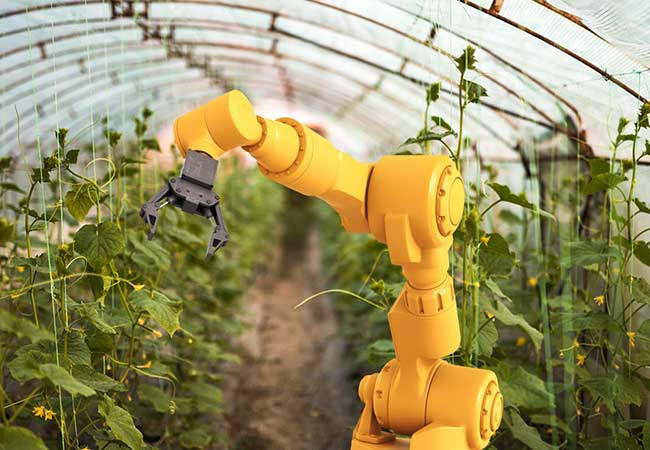 Robots continue to influence our lives on an unbelievable scale. They simplified automated production, reduced injuries to workers, and reduced manufacturing defects.
In the healthcare sector, robots perform precise, minimally invasive operations that speed recovery and enable surgeons to perform surgery beyond their natural abilities.
Now they are moving through these stationary roles and finding their way into farming. These smooth, autonomous systems can transform agriculture incredibly. In this article, we present the 40 top companies that develop agricultural robotic applications.
1. Abundant Robotics – a California-based startup that developed a cutting-edge solution to the problem of apple-picking in the form of an autonomous tractor-style vehicle that can navigate through orchards using Lidar. Once it spots the apples it seeks, it can detect their maturity using image recognition technology and then reach and literally suck its chosen apples off the trees into an on-board storage bin.
2. AeroFarms – an NJ indoor farmer marketing their technology to prospective vertical farmers. AeroFarms grows a wide variety of leafy greens without sun or soil in a fully controlled indoor environment using a root misting system for faster harvest cycles, predictable results, food safety, and less environmental impact.
3. AG Leader – offers the complete package of precision farming tools from planting to harvest and from the desktop to the field. Its AgFiniti platform equips farmers with the right information at the right time to boost productivity while adding confidence to the many decisions made every day.
4. Aris – is a Dutch engineering and systems provider. Many of their projects are integrated with vision and robotics that identify, grade, sort, and analyze everything from orchids to chickens, from potted plants to seedlings. Using their systems, nursery clients can then grade and robotically cut branches that can then be potted.
5. ALCI Visionics & Robotics – a French integrator of vision and robotics technologies for meat and fish slicing and packaging and for nurseries and growers for potting plants and seed germination, analysis and classification for corn, rice, and wheat.
6. Agribotix – A drone-enabled software company that provides advanced imaging and analysis for precision agriculture. It offers Agribotix Hornet Drone, a rugged, low-cost drone, for farms and Agribotix Infrared and Thermal Sensors, which are thermal cameras that collect images over fields of interest. It also offers Agribotix Image Processing Services, a software solution that delivers easily viewable georeferenced aerial images.
7. Blue River Technology – a pioneer in computer vision and robotics that provides crop protection with See & Spray machines that precisely monitor and treat each plant in the field. By applying herbicides to weeds only, they dramatically reduce the number of chemicals used. Blue River has developed tractor-towed robots capable of sensing each plant and asking the right amount of input–all in real-time.
8. Conic Systems – Spanish horticultural machinery developer Conic System provides greenhouse equipment including robotic and software-controlled grafting, seeding and planting systems. Conic's product catalog features seeder lines, irrigation booms, trays washers, nebulizers, and grafting machines.
9. Clearpath Robotics – provides self-driving vehicle technology and services to markets that span industrial materials handling, mining, military, aerospace, and agriculture. It is a global leader in unmanned vehicle robotics for research and development.
10. CMW Horticulture – a UK integrator and reseller of a whole range of horticultural equipment such as greenhouse and nursery automation products including Logiqs mobility and handling systems.
11. Deepfield Robotics – a young startup of the Robert Bosch Start-up GmbH, offering a modular agricultural robot that deals with weeds and maximizes crop yield.
12. Demtec – a long-established Belgium-based maker of a good range of horticultural machinery that includes potting machines, seeders, planters, transplanters, etc. Most of these processes integrated industrial and mobile robots into their systems. Demtec robotics plays a big role in flat and shelf handling, palletization, packaging, and shipping.
13. DroneDeploy – a cloud-based drone mapping and analytics platform which includes automated flight safety checks, workflows, and real-time mapping and data processing.
14. Egatec A/S – a Danish integrator of end-of-line packaging, boxing and palletizing systems for the ag and food processing industries.
15. FarmWise – builds smart and autonomous robots to solve the problem of weeds in agriculture, saving farmers time and money, and providing their consumers with healthier products.
16. FFRobotics – offers the first fully automated mechanical picker for fresh fruits such as citrus, apples, pears, peaches, and cherries. It can precisely and gently pick ten times more good fruit compared with a laborer.
17. Harvest Automation – a Boston-area mobile robotics provider with nursery applications for spacing, a task that involves bending over, picking up one or two containers often weighing up to 22 pounds each, walking a few steps and then bending over again to place them in a predefined pattern. The company recently divested a warehousing variation on their mobile robot to better focus on ag industry applications.
18. Harvest Croo – offers a robotic harvester — the Berry 5, that identifies, selects and picks only ripe strawberries, leaving unripe berries and plants unharmed.
19. Helper Robotech – a Korean manufacturer of robotic grafting, smart seeding, and other intelligent devices. They also make a wide range of nursery products to nurture seedlings to maturity.
20. HETO Agrotechnics – a Dutch manufacturer of horticulture machines including robotic potting systems and pick and place systems for potted plants.
21. Hortiplan – a Belgian integrator, reseller, and provider of nursery equipment, supplies, and mobile gully systems – which move in an automated way from the planting side to the harvesting station. Hortiplan also designs and sells lighting, irrigation, and handling systems.
22. IntelinAir – agriculture focused aerial imagery analytics company that delivers actionable intelligence to help farmers make decisions.
23. Irmato Jentjens – An established Dutch builder of food handling and packaging systems. Irmato also makes Rombomatic, a nursery robotic cutting system that examines, evaluates, cuts, pows and inserts cuttings into pots and other media. Jentjens is a funding partner in a variety of EU Clever Robots for Crops sensing and manipulation projects. These include a robot for sweet pepper harvesting, an apple harvesting robot, precise, canopy-optimized spraying robots and other AI-based ag systems.
24. Iron Ox – A Silicon Valley startup presently in stealth mode but hiring with a plan to provide a fully robotic, wholly controlled environment for ag in a greenhouse growing leafy greens (lettuce, basil and bok choy) using natural light but mobile bots to move plants through each stage of development to harvesting, packaging and palletizing.
25. ISO Group – a Netherlands-based supplier of automation solutions for nurseries. They adapt industrial robot technology for horticulture uses such as grafting, planting, vision inspection, and replanting.
26. Logiqs BV – a Dutch manufacturer of internal transport and logistics systems for greenhouses for growers of cut flowers, tree nurseries, flower bulbs, potted plants, and vegetables. Their new modular GreenCube vertical cultivation system uses trays sensors and vertical transporters, also with sensors, for movement between layers and movement to and from the various stages of nursery growing operations.
27. Mirai Group – A Japanese farmer that, in 2009, became a member and leader of the Japanese government's public-private consortium to build low-cost plant factories. Mirai today provides R&D and design-build services in order to grow leafy plants for farmers who are interested in vertical farming similar to what Spread is doing. Mirai is also producing and wholesaling green vegetables from a large plant factory located near Chiba, Japan.
28. Naio Technologies – develops and markets robots for agriculture and viticulture. They hold a range of electric tools for weeding, hoeing, and harvesting to help farmers efficiently collect the fruit of their hard work.
29. Photon Systems Instruments – An established Czech Republic provider of ag instruments including high throughput conveyor and robotic nursery phenotyping systems.
30. Priva Group – a Dutch engineering, design and systems integrator for greenhouse nurseries. Recent projects include developing a leaf-removing robot for tomato plants. The lowest leaves of tomato plants are regularly removed to promote ripening (this process is called de-leafing).
31. PrecisionHawk – Drone tech company PrecisionHawk offers a fully autonomous UAV performing low altitude aerial data collection and subsequent data management and analysis.
32. QUBIT Phenomics – a Canadian provider of conventional and robotic plant screening systems for nurseries and growers. The company's PlantScreen™ Field Phenotyping System allows growers an automated non-invasive measurement of photosynthesis, leaf biochemical status, water status, and canopy temperature. Greenhouses are the primary marketplace, but the company hopes to break into field operations as well. Many major biotech companies and universities have partnered with Qubit in the study of plant responses to various stresses.
33. Rowbot Systems – develops and provides a robotic machine that allows farmers to practice in-season nitrogen management. The company's focus is on fertilizing corn, but the platform could also potentially spray herbicides or pesticides when needed, plant cover crop seeds between the cornrows in early fall before harvest, or mechanically kill weeds that have become resistant to chemicals.
34. Spread – A Japanese lettuce grower, is constructing the world's largest plant factory near Osaka and Kyoto. The new factory, scheduled for mid-2017, will be as robotically automated as possible. Spread's current facility produces 21,000 heads of lettuce per day using LED lighting, controlled air conditioning, and recirculating water. The company is planning to construct and operate 20 new factories in the next five years in addition to selling the technology for others to build their own plant factories.
35. Tortuga AgTech – builds digital horticulture systems using robotics, automation, and precision data analytics and machine learning. It also makes harvesting robotics for controlled environment growers.
36. Urban Crops – A Belgium startup pioneering the distribution of robotized vertical farming and plant factories. The company offers two types of products, one fits into a 40' container and can be fully automated or not, and another is custom-built for larger spaces. The company has made a small number of sales and has partnered with companies such as Belgocatering, a Belgium based catering company, and a UAE group of investors.
37. Urbinati – an Italian manufacturer of nursery technology including automated, and in some cases robotic, seeding, pot filling, transplanting, handling and irrigation devices. They also sell backroom processing robots such as palletizers.
38. Transplant Systems – an NZ integrator and reseller of nursery machinery and robots from Urbinati and others.
39. Visser – a Dutch provider of horticulture automation systems and complete production lines for large and small nurseries and greenhouses including a robot seeder, transplanter and packing and palletizing robots.
40. Vision Robotics – Dubbed as some of the best products on the market, the San Diego company has been working on agriculture robotic systems for seven years. Their products include a vineyard pruner that takes images of vines and uses a robotic arm to thin plants, as well as an automated lettuce thinner.