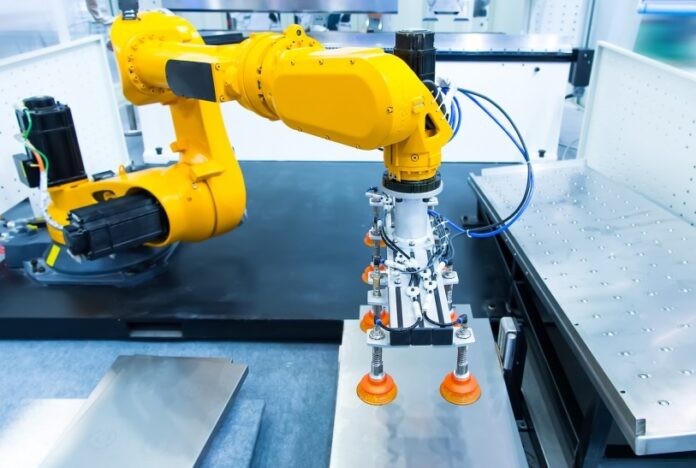 According to the International Robotics Federation, Slovakia is the world's 15th largest robot market. A leading Central and Eastern European country in terms of robotics innovation and robot density, the country has over 151 robots per 10.000 employees in the manufacturing industry, outranking countries like France, Finland, and China.
Slovakia is also well above the European average (106 robots per 10.000 employees). In the previous post, we have looked at some of the top robotics research institutions and labs in Belgium, and today, we will see top robotics research institutions and labs in Slovakia.
ICII at Slovak University of Technology
The Institute of Control and Industrial Informatics (ICII) at the Slovak University of Technology offers research on industrial robotics, mobile robotics, mobile manipulators, and service robotics.
Its main areas of research are modeling of robotic systems, manipulation, variable structure control, telecontrol, intelligent and autonomous control, SLAM and navigation, RGBD mapping, optimization of control methods, and resonance-free moving in mechatronic actor systems.
The department has mobile manipulator MRKV01, mobile robot Black Metal, multi-agent system created from iRobot Create platforms, several robotic manipulators (Mitsubishi, OJ-10, in future ABB), special vision systems (Thermo camera, HDR camera, Kinect, stereo vision), several laser range finders, geodetic GPS Leica 1200, laser range finder for welding, walking robots (biped, hexapod), bridge crane model, spykee robots etc
The members of the research team are members of international scientific committees such as IFAC Technical Committee TC 4.3. Robotics, IEEE The Institute of Electrical Engineers, Inc. and editorial board of journals like Journal of Intelligent and Robotic Systems (CC). They organize conferences like Robotics in Education and competitions on robotics such as Istrobot, Robotour.
The Center for Intelligent Technologies (CIT) at the Technical University of Košice, established in 1995, focuses on the promotion and support of intelligent technologies in Slovakia.
The main focus areas of CIT in long term research include distributed framework for companion robotic systems, computational Intelligence tools including other related bio-inspired approaches, remote smart monitoring diagnostic and additional sensory information, distributed artificial intelligence for knowledge sharing, framework for manual teleoperation with the learning ability, bridges for middleware platforms, emotional models, prediction systems for weather forecast support, accessories for humanoid robots and fuzzy systems, neural networks, evolutionary systems, brain-like image processing.
Equipped with 16 NAO humanoid robots for research and educational purposes towards intelligent technologies, the center also promotes intelligent technologies among research associates, academic community, industrial and non-industrial companies in Slovakia. It also supports spin-off and start-up in the artificial intelligence domain as the essential domain of current and future IT.
Faculty of Mechanical Engineering at Technical University of Košice
The faculty of Mechanical Engineering at the Technical University of Košice was established in 1973 when the faculty bought the robot Versatran 500.
Its research areas include intelligent management of service robot, research modules for intelligent robotic systems, e-learning of robotics with using of a virtual laboratory with a remote control real equipment based on Internet, improving the accuracy of machine tools using numerical simulations of the dynamics of the machining process, application of new types of studies working with reducers and actuators, design, installation and implementation of software for automatic tester piezoelectric sensors etc.
The laboratory is equipped with robotic cell with two KUKA robots, experimental workplace with robot OTC, workplace with the robot SDA 10 Motoman assigned for developing research in intelligent assembly and cooperation with humans, robot soccer, management for multi-agent systems, laboratory of service robotics for application and simulation of mobile platforms and application of robotic mechanics in rehabilitation.