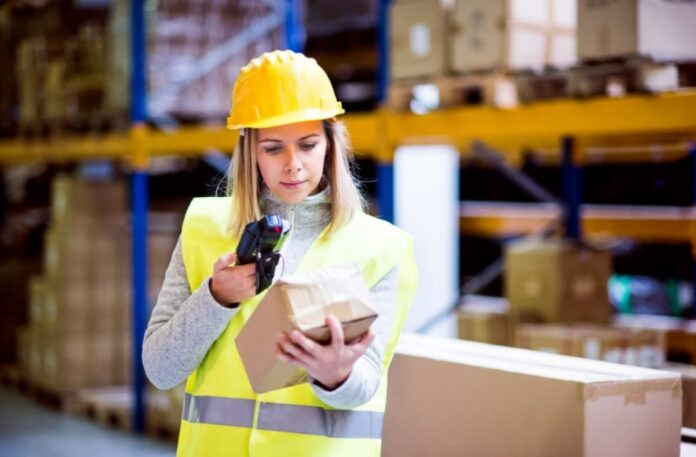 In 2020, Gartner found that women made up less than 40% of the total workforce in the supply chain currently. Furthermore, the number of women in leadership roles was only 17%, proportionally lower at the vice president and senior director levels.
Despite this enormous gap, some women have made great contributions and had the chance to ascend on the career ladder to leadership positions. So, what changed and what more is there to be done?
Today, we have Victoria Thomas, an ex-Disney Imagineer turned warehouse robotics expert currently working as a Senior Mechanical Engineer at inVia Robotics, and she would share her views and experience on what led her into an unpredictable industry – warehouse automation, after working as a Disney Imagineer. Is she about to bottle the Disney magic and take the lessons learned into the world of warehouse automation? Let's find out!
1. Our readers might not be familiar with what a "Disney Imagineer" means. Could you elaborate on your previous role as Disney Imagineer?
More generally, Disney Imagineers are responsible for designing and building everything at the Disney theme parks, resorts, attractions, and cruise ships. My specific role as a Show Mechanical Engineer gave me the opportunity to not only present my innovative ideas but also utilize design and engineering to make them a reality. Projects I worked on included "Galaxy's Edge" animated figures, the automated Elsa and Anna in the "Frozen Ever After" ride, the Hatbox Ghost from the "Haunted Mansion," and the Shaman in the "Avatar Na'vi River Journey" attraction – this attraction is specifically well-known for its lifelike robots.
2. What led to the new role as the Senior Mechanical Engineer at inVia Robotics?
To give a bit more background, my dad is a machinist, and I grew up with a front-row seat of him constantly working on new projects and building new things. He would share the challenges he faced and how he would work through them, which helped me adopt a problem-solving mindset. In high school, I joined my school's Vex robotics team and would build an 18"x18"x18" robot every year, which allowed me to strengthen my robotics skill set. I was then invited to participate in the first-ever robotics team collaboration, including five high schools. Becoming team captain cemented my love of working on collaborative engineering teams.
Alongside this, my dad strongly encouraged me to learn 3D modeling (specifically solidworks). He would bring his work computer home on the weekends for me to do tutorials with. This eventually led me to Disney Imagineering, where I worked for over five and a half years. An opportunity eventually presented itself to work on the industrial side of robotics at inVia Robotics,  where I'm a Senior Mechanical Engineer.
3. Tell us about the lessons you learned in the previous role and how do you intend to implement them into the world of warehouse automation?
Overall, I'd say that I learned nothing is impossible, but some things are extra difficult given certain budgets and schedule requirements. With that, it's important to learn how to rely on your team. The best robots are built by highly collaborative teams, and it takes a village to build robotics systems and an even larger village to maintain those systems. The real heroes are the people who do your maintenance, assembly, troubleshooting in the field, and day-to-day handling operations.
4. The number of women reshaping the warehouse automation market is proportionally low, but some women have made significant contributions, leaving an indelible mark across the industry. Highlighting their success stories is important as younger generations need strong role models. Can you share your success and tips for females in the industry?
One of the most important pieces of advice I have for women in the industry is learning how to clearly communicate your ideas. I would advise learning how to draw, as sketches are instrumental in proving that your ideas will work and become incredibly useful when giving your elevator pitch to your colleagues or boss. Keeping your communication clear and concise will ensure your message is not lost. Additionally, being as organized as possible and keeping your portfolio up to date will ensure you are always ready to uplevel your career and show others the work you are doing in real-time.
Next, network network network! Find people (regardless of gender) who make you feel heard and supported.
And lastly, career shadows. Let younger folks see what your day-to-day job is like! I feel like I'm way too young to mentor anybody, but I could provide guidance to someone ten years younger. Women in the industry should actively seek out younger women and mentor them when they can.
5. In your opinion, what are the most important things the organization can do to increase the presence and visibility of senior women leaders in warehouse automation?
I feel there are several important things that an organization can do:
Don't deprive women of the opportunities to gain the experiences necessary to become Senior Leadership. Women who don't get the chances to learn won't learn. If opportunities for women to gain leadership experience are few and far between, anyone in that position will become paralyzed by perfectionism/fear, reducing their chances of success. Other women in the department will see their peers become paralyzed with fear and fail or be too scared to reach out for support and fail, increasing their fear of leadership opportunities at their company.
From there, supporting women who have been given these leadership opportunities is critical to success. Things like working remotely, flexible work schedules, and meetings scheduled the day before have proven to help working parents get ahead. Currently, most child-rearing tends to fall to female parents in our society, so allowing some common-sense adjustments to work-life balance tends to help women get their work done quickly and efficiently while allowing for an optimized work-life balance.
I'm not 100% sure how to quantify this, but two women working together in senior positions tend to work better than in senior management composed of all men and one woman. If there is only one woman in senior management, she tends to try to be "One of the guys" so that no one "thinks less of her." She tends to make her perspective as close as possible to her male peers. If there are 2 (or more) women in senior management, they feel freer to be themselves. Neither one is "the girl manager" anymore. They are free to bring their perspective to the table!
Recognizing and addressing impostor syndrome is incredibly important. Helping someone to recognize when they are doing a great job and reminding them of their past successes, regardless of their self-doubt, helps a lot. Make sure to remind your colleagues that you're glad they are part of your team or an "attaboy."
6. Tell us about inVia Robotics. How does it help warehouses implement automation to keep up with the e-commerce boom?
inVia Robotics offers warehouse automation systems that optimize e-commerce fulfillment. This is an area of retail that's especially labor-intensive when labor is hard to find. Our AI-powered warehouse execution system (WES) software and our autonomous mobile robots automate rote, repetitive tasks.
We're unique in that we offer a robotics-as-a-service (RaaS) approach to customers, which essentially means customers subscribe to inVia's offers, preventing them from making large capital expenditures. inVia designs and implements a system for each, oversees their operation 24/7 and handles all maintenance. The subscription model eliminates CapEx, and customers can see annual savings of more than $1 million.
inVia offers both AI-powered software and robots. The AI software alone can direct workers to perform fulfillment tasks more efficiently. When paired with the robots, they travel autonomously through the warehouse to perform the tasks people used to do. The robots pick totes containing that day's orders off shelves and bring them to a central PickerWall. People pull the ordered items from the wall, eliminating time-consuming warehouse walking. The PickerWall allows robots to work continuously throughout the day and allows people on the other end to work in bursts to pick ordered items and get them ready for shipping. By handling specific rote tasks on an ongoing basis, employees are spared monotonous labor and can keep up with increased demands caused by the e-commerce boom.