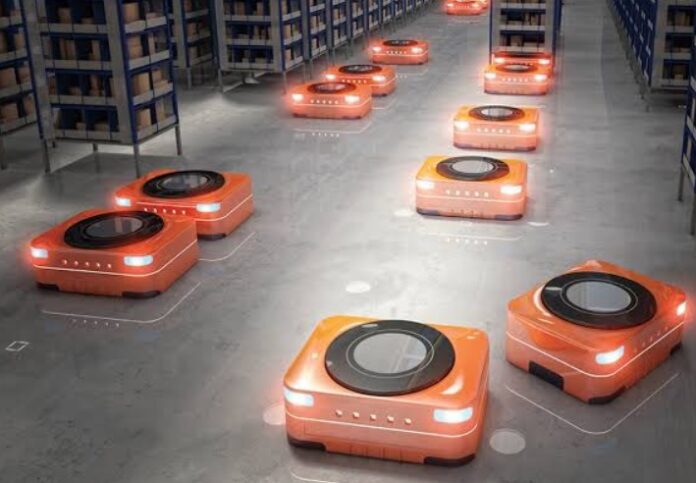 The warehousing industry is facing a major labor shortage and significantly elevated demand at the same time. Around the world, warehouses are both running out of space and do not have the labor needed for effective operations.
As a result, many warehouses look to novel robot technology to streamline operations. In practice, new autonomous warehouse robotics can help these facilities do more with the labor and resources.
This is how warehouses adopt new robots and how autonomous warehouse robots could transform the industry over the next few years.
Robots May Help Warehouses Cope With a Challenging Market
In January 2022, the total number of warehousing jobs rose by 13,400 positions to 1,728,200 jobs – a record industry employment level.
At the same time, however, retail demand – which experts sometimes use as a proxy for overall consumer demand – continues to rise consistently. Demand is also on track to continue rising in the future.
The warehousing industry, as a result, is contending with a large and growing labor gap. In July 2021, well before the holiday season, the warehousing industry saw a record 490,000 job openings. This suggests, despite employment growth, that the industry is struggling to hire enough workers to meet current levels of demand.
These market conditions aren't likely to change significantly any time soon. Warehouses could face months or years of an ongoing labor shortage and growing demand.
While rising demand is good for warehouses, many warehouse managers have found that they don't have the labor needed to keep goods moving.
Labor Gap Pushing Warehouses to Adopt Automation for the First Time
Automation may seem like a straightforward answer to this crisis, but the warehousing industry has traditionally been slow to adopt automated solutions. Despite growing industry interest in automation, around 80% of warehouses have no automation at all, according to a report from Research and Markets.
Many of these warehouses haven't even adopted important business automation tools like warehousing management systems, let alone more advanced automation technology, despite the growing list of benefits. This trend is starting to change, however.
Led by a handful of warehouse operators adopting cutting-edge technology, more warehouses are beginning to use technology like automated mobile robots to handle essential warehousing tasks that have traditionally been challenging to automate.
Key adopters include companies like Amazon, which invested heavily in the technology and warehousing sectors, and several leading businesses in the freight, transportation, and warehousing sectors.
The productivity gains from technology can be substantial, depending on the software and hardware robots a warehouse uses.
These Robots Are Gaining a Foothold in the Warehousing Industry
Often, warehouse robots are some type of autonomous mobile robot (AMR) or autonomous guided vehicle (AGV) capable of navigating the warehouse on their own and performing basic-but-essential warehousing tasks.
Some businesses and experts use these terms interchangeably, while others use the term "AMR" to refer to more advanced and autonomous robots than AGVs.
Both AMRs and AGVs may employ various technologies to achieve autonomous navigation, including radio waves, magnets, lasers, and video cameras. To support navigation, some less-advanced AMRs and AGVs may also need warehouse navigation infrastructures – like visual markings, magnets, or reflective strips on the warehouse floor.
This infrastructure helps ensure smooth movement of the robot around the facility and limits where the robot can travel. If a warehouse's needs change suddenly or need to expand its use of robots, the warehouse will need to install new infrastructure and potentially uninstall existing infrastructure. This process can be expensive and time-consuming, and it requires the hiring of construction contractors and robot specialists.
More advanced AMRs may leverage AI-powered machine vision and video cameras to dynamically interpret their environment. With the technology, the robot can move while identifying navigable floor-space, obstacles, and workers. These algorithms allow for AMRs that do not rely on navigation infrastructure.
Additional data, like GPS location information and pre-programmed navigation routes, may support the AMR's navigation.
Use Cases of AMRs and AGVs
The task an AMR or AGV is used for may vary significantly depending on the needs of a particular warehouse or logistics company.
In most cases, AMRs and AGVs are used primarily to move goods around the warehouse, freeing up human workers for jobs that require creativity or problem-solving skills.
Some autonomous robots with technology like machine vision may also perform basic picking and packing tasks – automatically identifying stored inventory, pulling it, and delivering it to a packing area.
Without automation, when a warehouse receives a new order, workers must pick inventory from storage and deliver it to a processing area, where the item can be packed for shipping. These tasks require workers to navigate the warehouse floor, identify the correct item, carry it to the packing area, and prepare it for shipment.
Rather than automating entire workflows, these robots automate single tasks, providing the fulfillment center with a combination of flexibility and automation.
Typically, the robot won't fully replace a human worker but instead support existing workflows, helping to streamline warehouse operations without disrupting current practices. In many cases, these robots will also support additional trending warehouse automation solutions – like IoT data collection, predictive analytics tools, and warehouse management platforms.
How Do Warehouses Benefit From These New Robots?
Third-party logistics provider Kenco is an adopter of self-driving warehouse robots from Locus Robotics. The company primarily uses these robots to help workers fill online orders at the company's largest e-commerce site.
Kenco also has plans to adopt tractor-like AMRs capable of towing carts loaded with pallets, allowing the company to partially or fully automate the movement of larger loads throughout their warehousing and logistics facilities.
Transportation and warehousing company XPO logistics claims its robots have allowed the business to improve productivity by as much as six times in certain cases. The company also has plans to double the number of robots in its warehouses.
In addition to helping automate the warehousing industry, AMRs and similar robots are also typically built in retail, health care, and heavy industry.
In these sectors, the robots perform similar work like robots in the warehousing industry – for example, moving key inventory without the need for human oversight or extensive navigation infrastructure.
Future Applications of Robots in Warehousing
Many warehouses are also experimenting with robots beyond AMRs and AGVs. For example, autonomous warehouse drones may soon support operations much like other autonomous warehouse robots.
These robots may be able to pilot themselves safely around a warehouse, identify inventory items, acquire them, and deliver these items to their destination. They could be applied to various warehouse tasks, including the picking, packing, loading, and unloading work that AMRs currently help with.
However, unlike AMRs and AGVs, they'll have much greater freedom of movement, potentially allowing them to work both faster and more safely.
However, autonomous drones probably won't be used for picking and packing or similar tasks in the near future. Payload restrictions and limitations of existing grip technology mean significant innovations will be necessary before drones can be used to move goods around warehouses.
Instead, they'll likely gather warehouse data from the air – monitoring performance, traffic flows, and the movement of goods. This information could help warehouse managers streamline operations and identify facility bottlenecks.
Both autonomous and non-autonomous drones are already being used for similar data-collecting purposes in other industries, like agriculture and construction.
How Robots and Industry 4.0 Automation May Transform Warehousing
The challenges faced by the warehouse industry are likely to linger well into the future. Experts predict the labor shortage could last well into the decade, meaning warehouse managers need to find new strategies for doing more with their resources.
Despite low automation adoption rates by warehouses, robots may soon help the industry improve productivity and streamline operations.
AMRs and AGVs may become standard warehouse automation tools in the near future. Warehouse drones may also become more common over the next few years.