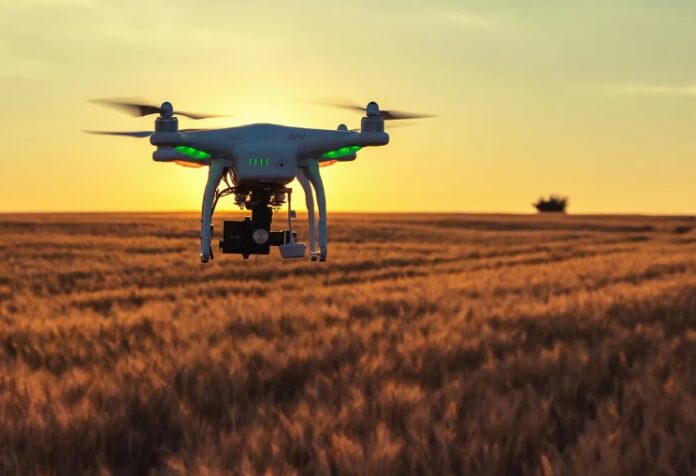 The modern farming sector is at a turning point. Farmers now have more tools than ever to improve process accuracy and efficiency, thanks to the development of more advanced farming techniques, such as precision agriculture, farm automation, greenhouses, vertical farming, etc.
Agricultural drones are one of those technologies on the surge, particularly for creating real-time maps of fields, monitoring crop conditions, plant health and crop yield, evaluation of germination, predicting the productivity, checking the quality of plowing, and maintaining environmental monitoring of agricultural land. Drones are also used for various other tasks, including weed, insect, disease management, spreading micro-granular pesticides and fertilizers, and even planting new forests.
Similar to other countries, drone applications in agriculture are already widespread across India. More than forty drone startups are currently engaging with farmers to enhance the technological standards, scale of operation, and productivity at an affordable price. According to a recent FICCI and EY report, India's drone market will touch a whopping $885.7 million by 2021, when the global market size will be $21.47 billion (approximating to only about 3.8%).
However, drone applications are limited in India due to the cost of drones, operational policy, and limited availability of technically trained pilots in the drone market. Hiring an urban drone team to conduct a remotely located small field survey is extremely expensive for any assessment or crop planning at the grassroots level.
Besides, due to the costs of purchasing drones, small and medium-scale farmers are reluctant to use drones. In addition to technical know-how and affordability, the lack of skilled pilots is a major preventive factor for India's UAV market development. This post will explore some of the real problems and bottlenecks in agricultural drones in India today.
1. Flight Time and Range: Like other commercial drones, agricultural drones have short flight durations, ranging from 20 to 60 minutes, due to their relatively higher payloads. As a result, each charge can cover only a small area of land. The result? The cost rises dramatically as the flight time increases.
2. Initial Cost: The majority of agricultural drones used for surveying have fixed wings and can cost up to $25000 depending on the features and sensors required to carry out their intended function. Some drones are more expensive because imaging sensors, software, hardware, and tools are included. Aside from sensors and features, the initial cost is proportional to the payload and flight duration capacities.
3. National Laws: India's Directorate General of Civil Aviation announced its first Civil Aviation Requirements (CAR) for drones in 2018. The operation of drones in India is governed by the Unmanned Aircraft System (UAS) Rules 18 – Part VI, published on June 2, 2020, in the Gazette of India, which requires obtaining an unmanned aircraft operator's permit (UAOP) for piloting UAS, Permission for each flight through Online Digital Sky platform for No Permission No Takeoff (NPNT) compliance. The current Digital Sky platform only accepts registrations, and APIs aren't fully open yet. Very limited UAOP has been issued to date. Very few Indian OEMs have been provided provisional NPNT compliance, thereby limiting the use of drones in agriculture, including other general applications. The UAS rules also prohibit a) carriage of any payload as specified by Director-General for RPAS, restricting spraying and pod planting applications discussed in section 3.1.2 & 3.1.4 to only Model Remotely Piloted Aircraft System (MRPAS) used for educational or experimental purposes only. b) Beyond Visual Line of Sight Operation (BVLOS), thus restricting autonomous operations for better work productivity within unaided line of sight of the authorized UAS operator.
4. Connectivity: Online coverage in India is mostly unavailable in arable farms. In such cases, the farmers who want to use drones must either invest in connectivity or purchase drones that can store data locally in a format that can be transferred and processed later.
5. Weather Dependency: Drones, unlike traditional aircraft, are difficult to fly in windy or rainy conditions. All drones are affected by the weather.
6. Knowledge and Skill: Drone images require specialized skills and knowledge to translate into useful information, which an average farmer lacks. In these circumstances, the farmer must either learn how to use image processing software or hire skilled personnel familiar with the software.
7. Misuse: There is a chance of misuse to infringe people's privacy and illegal transfer of information.
Drones have considerable potential in carrying out several agricultural operations very efficiently. It can save labor and accomplish the norms of social distancing in COVID 19 and national lockdown. India is probably amongst the first country to use drones for aerial surveillance and other COVID-19 related work. India is also presumably one of the first countries to issue official guidelines concerning establishing a government-certified school dedicated to drone operation. However, high initial cost and policy reforms are challenging areas making it popular and farmers' friendly.