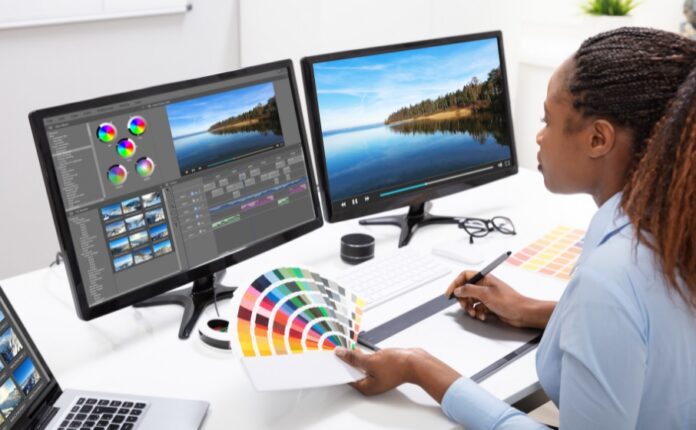 AI technologies are getting easier to access, and almost anyone can use machine learning software. How will it affect the video editing industry? Can a human editor be replaced? If not, then in what ways an AI-based video editor can help in producing better videos?
AI-based systems are already part of our daily lives. Whether they are used to finding tax deductions, identifying cancers from x-ray images, or calculating the best house mortgage rates for you, these systems can provide quick and efficient service to help you solve your problems.
There has been a clear shift in marketing methods in recent years. Advertisements that were mostly projected in print media shifted to television and now to digital media. Key components of these advertisements are short videos that engage the consumers very effectively. Then there are movie trailers that have to be short and crisp to engage the audiences to go to the movie theater.
Since the attention span of today's generation is quite short, about 8 seconds, the videos must have the capability to hold the attention for sufficient time so that the message has an impact and has a high conversion rate in revenue generation. The video must be short, relevant, interesting, and engaging, which immediately grabs the viewer's attention.
What is an AI video editor?
An AI video editor can help you create a great short video quickly. These videos can be produced in-house using advanced video editors, which may be AI-based without outsourcing or external support. It can help you a lot for your business. These AI video editors are not only very powerful, but they are also intelligent enough to edit or even make a video for you as per your requirements. Video editing software is gradually becoming more powerful, which may not replace the human editor but will make their work easy by automating most routine tasks.
How do AI systems work?
The AI video editors are trained by showing them thousands or millions of examples and then providing them feedback by telling them what is good and bad. The machine notes it and remembers it. As the machine learns, it picks the results and improves itself based on the feedback. Ultimately the machine becomes equally good or, in some cases, even better at the task than the human who trained it.
The technology can augment your videos with different AR effects such as face and color filters, AR masks, face touch up and much more. It may use computer vision and neural networks to extract, interpret and understand the content of the video.
Interviews can be analyzed and delivered to the editor fully transcribed, ready to search by word or even sentences. Key concepts can be derived from the transcript and used to segment and label the transcripts with keywords used to organize the clips. Subject keyword-based timelines can be automatically generated. These editors can do a speech-to-text conversion, keyword extraction, image recognition, facial recognition, emotion detection, and even sentiment analysis.
AI-video editors can be used to pull sections of a video clip from any source automatically. The content is analyzed to determine its highlights based on the presence of people, their actions, and their emotional status. The extracted material can then be used to create a new video, saving the video creator's time and effort. These systems can even detect emotions that allow them to create warm, appealing videos. A video editor can find all the happy moments in the raw footage and make it a happy video for you if you want it.
Can they replace a human being?
Despite its advantages, AI video editing systems are not yet advanced enough to completely replace the human editor. A content editor will still need to intervene in the process because, unlike a computer program, people have creativity and feelings, which even the best AI systems have not yet achieved. Content creators can design a certain script for a video, and AI video editing software can turn their ideas into a finished video. However, it will still need a human editor to review the video.
A list of AI video editors that you may like to use
1. Gliacloud
This video editor can help you to create videos automatically from your raw footage. Its key features include: capturing keywords and finding major content related to them. It allows material mapping and can create different versions of the same video for A/B testing.
It is an online video editor that you can use to edit videos directly in your browser easily. With Movavi video editor, you can easily cut, crop, merge, reverse, flip clips to easily produce stunning videos for family, friends, education, or business.
It is a simple AI video editing editor that easily helps create marketing, explainer, and demo videos. You can choose from the pre-existing video editing template, upload your video clips, and customize your video by trimming clips and adding colors, texts, audio, and transition effects.
This video editor can be used both by professionals or beginners alike. It can help you convert your raw video clips into great finished products.  It can fine-tune the colors, and audio Adobe Premiere has complex VR editing functions and can easily handle multilayer videos.
This is a useful AI video editing tool that can help create outstanding social videos. It can transform your videos and images into well-crafted and fun movies with ease. It can make the video editing process semi-automatic as its AI engine captures the most exciting clips in your video and edit them to deliver perfect videos.
Conclusion
In the future, we'll see more machine learning applied to video post-processing. It won't be long before AI-based systems can pull together a wedding, corporate, education, or news video which is crisp, effective, and attention-grabbing. AI-assisted video editing is not meant to replace humans. Its main idea is to create high-quality videos faster and more efficiently by doing repetitive tasks automatically instead of manually by a human editor. These AI video editors complement the human editor to make better videos and not to replace them entirely.