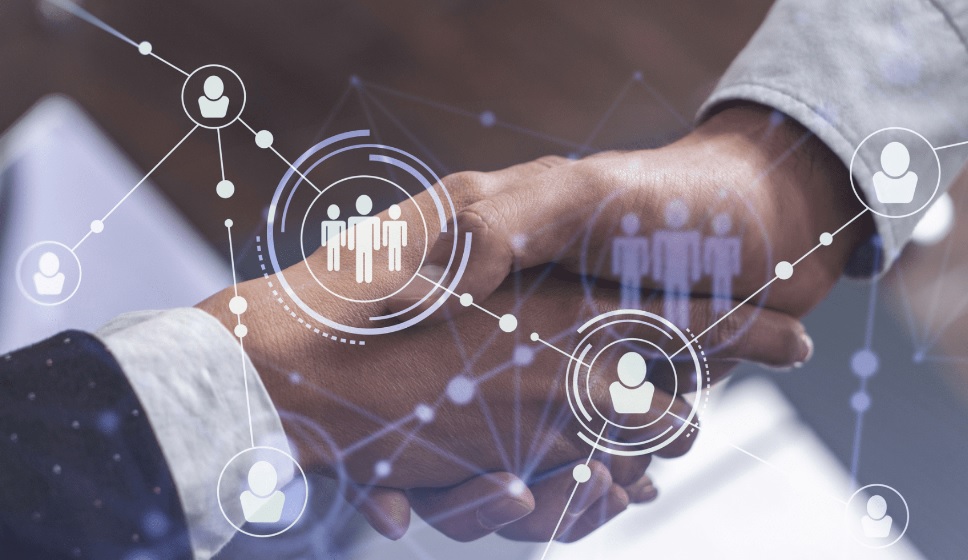 Employment consists of several stages, starting with the potential talent search and interviewing them to select those who fit the company most. Onboarding is the next stage when management introduces employees to their work. It consists of familiarizing them with their responsibilities, introducing them to team members and colleagues, and allocating work tasks.
CleverLMS is an example of a learning management system (LMS) that can be leveraged as an employee onboarding software. As you'll see, various management options tools can be used for that purpose, depending on your company's activities. Let's start with the onboarding definition and continue to describe this process.
Hiring and further
See below the scheme of talent management in the company. The onboarding stage begins after the employee successfully passes the interview and the company's management approves their recruitment. It consists of the newcomers' integration into the company's workflows, familiarizing them with their team members and responsibilities.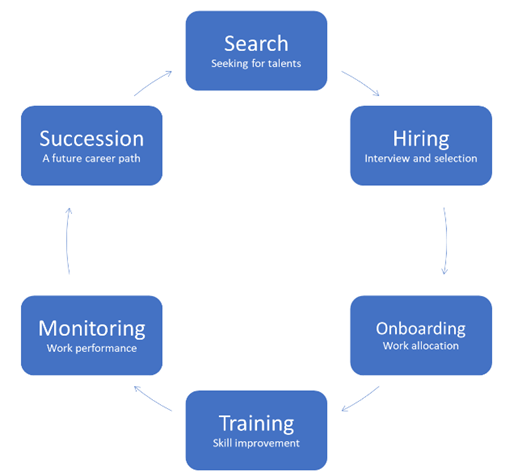 Onboarding includes all stages of the employee's post-recruitment invitation and integration into the company's working processes. Employees' mentorship, training, and development are also deeply interconnected with it, improving their work skills and ensuring their performance. The onboarding process is connected with work allocation: meeting the company's objectives and clear goals set for the employee. While those who already work in the company are familiar with these processes, modern workplaces are flexible, and switching between various types of work or sometimes even various team roles is usual.
Let's see which practices help with that and then assess the software available to facilitate the onboarding.
Best practices
Inviting new employees sincerely and efficiently requires some mastery. Several practices may help with that, as they directly focus on integrating employees into your company's working processes without coercion and pressure.
Pre-boarding includes providing newcomers with important information to prepare them: handbooks, policies, and paperwork.
Provide welcome and orientation practices for new hires on their first day. For example, introduce them to team members, provide a workplace tour, and give an overview of the company's culture and mission, showing how it connects with their work responsibilities.
Set clear expectations and goals for the employee's role: communicate their responsibilities, expected results, and performance metrics to employees.
Training and development opportunities improve employees' efficiency and adaptation. Offer both formal training sessions and informal mentorship.
Conduct regular check-in meetings with new hires to provide feedback, address concerns, and ensure they have the necessary resources to perform their job effectively.
Encourage social integration based on informal communication.
Provide continuous feedback to new hires for their achievements and progress. It boosts employees' confidence, motivation, and engagement.
Lastly, encourage employee feedback about their onboarding and work experience to identify areas for improvement and track the process while ensuring their well-being and building trustful relationships.
Therefore, the onboarding best practices are connected with understanding which skills an employee is the best, establishing proper communication with them, and allocating them to the right work goals. It will ensure quick adaptation, high performance, and well-being, which are three crucial points. Let's see how you can realize these practices using digital tools for training, communication, tracking, and project management.
Onboarding management
Various onboarding software is present in the market for process facilitation and automation. In general, any management system can potentially be utilized for this purpose. Therefore, to make the right decision, it would be wise to specify which activity.
Choosing the best software
So, onboarding tools are different, and in this case, "the best" will mean "the most suitable" to a larger extent than just "better than others." Usually, various HR or project management services are good for allocating people for work and showing newcomers what they should do and how. Sometimes, you'd better leverage a learning management or communication system.
CleverLMS is a learning management system with options to create and upload online courses, educational materials, and files, track learning progress, motivation tools using score points, and communication features. It's good if you want to connect your onboarding process with education and skill uplifting, ensuring high productivity and innovations.
BambooHR is an HR management package oriented at talent search and onboarding, with a rich functionality oriented at performance tracking and employee management.
Asana is a project management tool with goal-setting tools, workspaces with notes and files, and project trackers. It is good if your workflow consists of clear projects with strict deadlines, which should be closely tracked.
SAP SuccessFactors is a large HR management package for employee management, oriented at planning, goal setting, and progress tracking. It's good for medium and large enterprises that want to automatize their routine processes.
ClearCompany is a talent management tool with rich onboarding features: from communication to progress tracking. Similarly, it's good for middle-sized companies that want to automatize their hiring and onboarding processes and find talents from around the world.
Slack is a team communication platform where you can create teams, schedule meetings and tasks, and share information. It is especially useful as a lightweight team management tool for remote workers, and it's good to introduce new workers to the collective and ensure that they'll adapt to the company.
See the table below to compare all six onboarding systems. You may decide which of these types fits you best based on your company's activity. BambooHR, SAP, and ClearCompany are large and more expensive solutions providing many features.
| Name | Tool's type | Distinct features | Pricing |
| --- | --- | --- | --- |
| CleverLMS | Learning management | Media sharing, communication, progress tracking, online training | $5/month per user at most |
| BambooHR | HR management | Enrollment tracking, employee management, performance tracking | The fee is available on-demand |
| Asana | Project management | Goal setting, progress tracking, information sharing, planning | £9.49 – £20.99 per user per month |
| SAP | HR management | Employee management, progress tracking, planning, and more | $25 – $38 per user per month. |
| ClearCompany | Talent management | Productivity tracking, onboarding programs, communication, and more | The fee is available on-demand |
| Slack | Team communication | Team communications, meeting planning, information sharing | Free version available, $7.25 – $12.50 per user per month. |
Therefore, the right onboarding program will help you to adopt new employees quickly and ensure that all your working processes will be maintained well.
Doing the best: How to improve onboarding skills?
To conclude, let's summarize how you can unite your managing skills with the most suitable onboarding software to achieve the best results.
Onboarding training includes adopting newcomers with your work processes and tracking their performance to guide them and ensure that their work eventually becomes successful and efficient.
For example, CleverLMS is a good choice for companies that want to maintain clever innovation culture, as it enables interactive communication, media and knowledge sharing, and training. Newcomers may be connected with managers and mentors who'll quickly involve them in workflows and help them improve their skills while working.
In addition, it's a platform for comprehensive online course creation, which is good if your company wants to adopt new technologies or enter new markets. Other tools focus on other aspects of the onboarding: for example, you can choose Slack if all employees should be constantly in touch or Asana if you need to track all work processes closely. Connect the tool functionality with your company's activity, and you'll succeed!