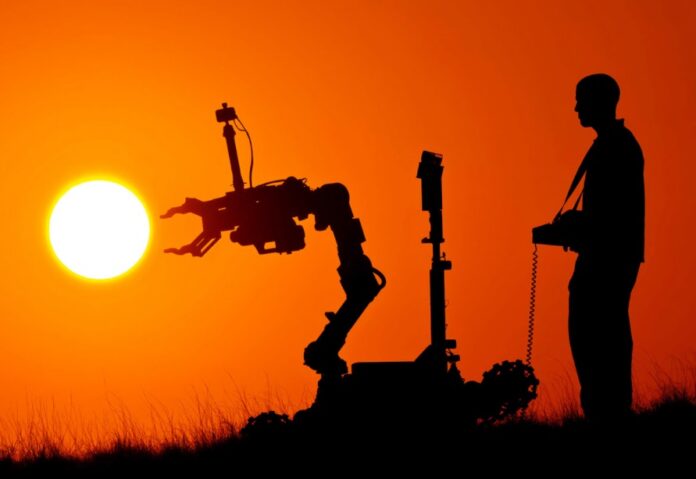 The robotic arm is a programmable mechanical arm that works similarly to a human arm. Robotic arms played a significant role in the process of industrial automation. The human-like dexterity of these robotic arms makes them productive in diverse applications in various industries – manufacturing, atomic power plants, space exploration, material handling, painting, drilling, agriculture deployments, assistive robotics applications, and numerous other applications.
The robotic arm typically comprises an end effector designed to manipulate and govern the surroundings. The six-axis robot arm is designed to manipulate and govern the surroundings—the 6 Axis pivots in 6 different ways that mimic a human arm.
The major issues concerned in an industrial robotic arm are its mechanical structure and the control mechanism. The control mechanisms can be effectuated by three options: keyboard, joystick, and slider-based control—the design of a lightweight robotic arm that can be compatible with any robotic system.
A mechanical arm, also known as a robotic arm or an industrial robot, is a device that functions similarly to a human arm and has several joints that can move along an axis or rotate in a specific direction.
Let's now briefly look at the pros and cons of robotic arms.
Pros
Increase productivity and accuracy
High precision and improved production capacity
Use equipment effectively
Reduce working costs
Flexibility at work
Low cost/simple. End-to-end connectivity and affordability
Easy to operate – reliable
Get the job done in quicker
Provide good returns on investment
Ability to work in a risky environment and makes it safer for workers
Improve factory working conditions
Cons
High initial cost
It needs constant monitoring to avoid mechanical faults/malfunction.
It can perform specific tasks but cannot be comparable to the versatility of the human hand
Can cause unemployment for manual workers
Need a large number of sensors and high accuracy to perform the complex tasks
If a robotic arm breaks down, the entire production line will go off in the factories.
A robot is a complex machine that combines several technologies to provide the final user with a pleasant interface with which to interact. The problems that need to be solved to have a robotic arm involve overcoming lateral loads, power consumption, solution of kinematics equations, etc.
A robotic arm is a mechanical arm that performs functions similar to a human arm and is usually programmable; the arm can be a standalone mechanism or part of a larger robotic process. Depending on the application, the end effector or robotic hand can be designed to perform any desired task, such as welding, gripping, spinning, and so on.