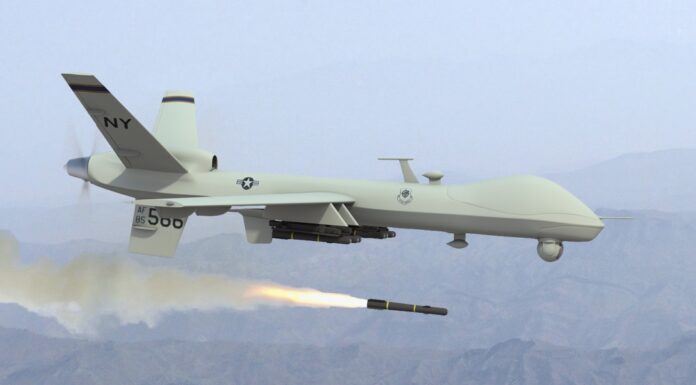 Drones, or unmanned aerial vehicles (UAV), have reshaped modern warfare by allowing militaries to engage enemies precisely and gather intelligence without putting their soldiers' lives in danger.
The US Department of Defense (DoD) has been the primary buyer of multimillion-dollar drones. Continued defense spending in the United States will account for roughly 40% of the entire drone market by 2020.
Drone spending in the United States is increasing with the migration of artificial intelligence (AI) and robotics from Silicon Valley to the defense industry. AI will add new functionality to legacy platforms over the next decade, allowing humans to use robotic systems to improve troop safety and decision-making. Future DoD spending will eventually fund fleets of self-driving vehicles across all military branches.
Military aircraft will become increasingly autonomous in the future, from surveillance to weapon delivery. Despite the ongoing winddown of the MQ-9 Reaper and the retirement of the MQ-1 Predator fleets, US defense spending on drone procurement and R&D is likely to increase over the next decade.
Large drones for military operations
Despite rising defense budgets, drone manufacturers in the United States face stiff competition in the "large drone" market from companies in China and Israel. The United States is not the only country spending more on defense. According to the Stockholm International Peace Research Institute (SIPRI), military spending is increasing worldwide.
Although the United States has the largest fleet of high-altitude, long-endurance (HALE) and medium-altitude, long-endurance (MALE) drones, China and Israel have increased their production and export of defense drones for foreign and domestic militaries. The Missile Technology Control Regime (MTCR), established in 1987 to limit missile technology proliferation, has been interpreted as limiting the export of MALE and HALE US drones.
In July 2020, the US government signed legislation allowing the sale of armed US drones with a top speed of fewer than 800 kilometers per hour to foreign governments that had previously been barred from purchasing them under the MTCR. As a result, exports of MALE and HALE US defense drones are expected to increase in the near future.
MALE drones, such as the MQ-9 Reaper, currently operate in undefended airspace and at altitudes where they can be seen and shot down; however, future war zones' airspace may not allow loitering MQ-9s. The United States Air Force announced in 2020 that the MQ-9 would be phased out of service in favor of a lower-cost, reusable, and expendable replacement that can be lost in combat without exposing top-secret engineering.
Although the US wants to avoid incidents like the 2011 Iranian capture and eventual reverse engineering of the classified Lockheed Martin RQ-170 Sentinel, the US Air Force is likely to keep using stealth intelligence, surveillance, and reconnaissance (ISR) drones like the RQ-170 and Northrup Grumman's RQ-180 for at least the next five years, while also accelerating the retirement of aging unclassified aircraft.
In aerial combat with autonomous drones, human-piloted advanced fighter aircraft like the F-22 and F-35 are likely to reign supreme for the next decade. However, military R&D investments in new drones suggest that in the long run, when advanced autonomous combat offerings develop the situational awareness and processing capacity required to consistently outperform humans, air superiority may shift to autonomous drones.
Microdrones for military operations
While large HALE and MALE drones will continue to dominate defense drone spending, defense forces will soon add more compact rotary drones to their arsenals. On the battlefield, small drones are nothing new. Since the mid-2000s and early-2010s, the US has used AeroVironment's fixed-wing RQ-11 Raven and RQ-20 Puma drones at battalion level for midrange reconnaissance. The US Army awarded AeroVironment a $76 million Lethal Miniature Aerial Missile Systems (LMAMS) procurement contract in May 2020 for its Switchblade drone, a back-packable loitering munition drone for targets beyond visual line of sight (BVLOS).
On the other hand, Rotary drones have been conspicuously absent from military toolkits due to their slow speeds, short battery life, and fragility compared to fixed-winged counterparts. The integration of powerful onboard sensors and improvements in rotary drone performance has opened up tactical use cases for military adoption. The Swiss Armed Forces chose Parrot, Europe's leading drone company, to supply rotary drones for its Mini UAV program in February 2020. The Defense Innovation Unit (DIU) of the US Department of Defense approved five US-made multi-rotor drones in August 2020.
In the military, small drones are used as situational awareness tools that can be deployed quickly. They can be used to get a bird's eye view of the battlefield or navigate a building autonomously to clear rooms before troops arrive. Modern military ground forces will likely acquire at least one rotary drone per platoon, resulting in more than 19,000 units acquired by the US Army and US Marine Corps (USMC) to perform short-range, quick-look reconnaissance missions.