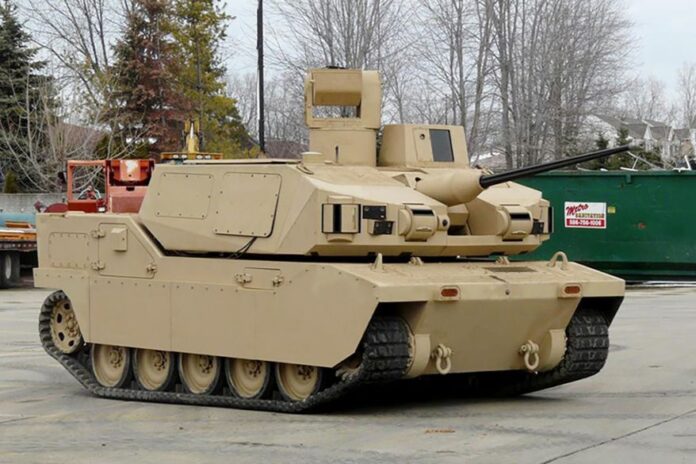 Many military organizations and governments in the world are creating advanced military robots and unmanned ground vehicles at an increasing rate to solve a variety of complex problems on the battlefield.
Usually employed within integrated systems that include video screens, sensors, grippers, and cameras, these military robots come in different shapes and sizes, according to their purposes in the modern warfare.
They are either autonomous or remote-controlled and can destroy the enemy's manpower, demine territory, and perform other important tasks.
Major advantages of military robots
Replace soldiers in dangerous missions, reducing casualties.
Easily replaceable, unlike human life.
Produce an accurate and more precise result.
Make faster decisions than humans.
Flexible and can perform multiple roles.
Unaffected by anger, revenge, hunger, fear, fatigue, or stress.
Comparatively cheaper compared to hiring human labor.
Less noisy and can improve work speed by 50 percent.
It can withstand damage by bombs and other types of weaponry.
It comes in a variety of sizes, depending on the purpose.
Handful of personnel can supervise a squad of robots.
Today, we will show you the top 10 best military robots and unmanned ground vehicles in the world.
Harris T7
Harris T7 Explosive Ordnance Disposal (EOD) Robot provides best-in-class mobility, manipulation, and intuitive control, delivering uncompromised performance for critical missions. This multi-mission robotic system with a strength and dexterity to tackle any challenge is compatible with an array of attachments such as standard-issue of sensors and disruptors, supporting a wide range of commercial and military missions, including explosive ordnance disposal (EOD), hazardous materials (HAZMAT) cleanup, intelligence, special weapons and tactics (SWAT) missions, surveillance and reconnaissance (ISR).
MUTT
Multi-Utility Tactical Transport (MUTT) is an unmanned ground vehicle that comes in two versions – wheeled and tracked. The US Announced by Marine Corps in July 2016, MUTT accompanies the fighters, making travel easier by reducing the amount of equipment that they carry while crossing difficult terrain on foot. Besides, thanks to an integrated weapon station featuring a minigun, MUTT can provide fire support for its unit. MUTT has a payload of 273 kilograms when moving on the ground. Overwater, it can transport up to 136 kilograms of cargo.
Rambow
Rambow is a versatile 3.5-ton unmanned vehicle with a payload capacity of one ton. It can operate by remote control, using teleoperation and obstacle avoidance, operate autonomously. It can be used for different purposes by attaching various systems, including a remote-controlled weapons station that utilizes 12.7-millimeter caliber rounds. The six independently suspended wheels have in-hub electrical motor allowing high mobility over rough terrain. The vehicle can be battery-powered, granting it a range of 50 kilometers. It can also be powered by a diesel generator providing more than 160 kilometers of mileage.
HDT Hunter WOLF
The Hunter Wheeled Offload Logistics Follower (WOLF) is an unmanned ground vehicle developed by HDT global to meet the logistics requirements of the US Army. Extensively evaluated by the US Army, Marine Corps, and Special Operations Command, the WOLF, can carry a maximum payload of up to 450 kilograms. It can be installed with a remotely controlled weapon station holding an M240B 7 62 millimeter machine gun, m134 general-purpose machine gun, and an M2 point 50 caliber machine gun.
Milrem THeMIS
THEMIS (Tracked Hybrid Modular Infantry System) is a multi-mission unmanned ground vehicle developed by Estonia-based security and defense service provider Miller with support from the Estonian Defense Ministry. The UGV is designed to carry out a wide range of military missions and areas that are either dangerous or difficult to reach. The vehicle can be configured for various roles, including reconnaissance, observation, communications relay for target acquisition, rescue logistics support, firefighting, and medical evacuation.
Rheinmetall Mission Master
Rheinmetall Mission Master is a multimission Unmanned Ground Vehicle (UGV) that enables the performance of mullet mission profiles to force protection and surveillance using a variety of modular payloads, capable of performing in hazardous or hard-to-reach zones. The Rheinmetall Mission Master gives mounted and dismounted forces safety and security, increasing their operational effectiveness and keeping them out of the way of harm. The Rheinmetall mission master is adaptable and highly modular and features a platform that allows the operators to install the different payloads onto the vehicle to accomplish all kinds of missions.
Phantom
Phantom is a remotely operated mini tactical unmanned ground vehicle, developed by Ukraine's state-owned enterprise Spets Techno Export. This UGB can perform a variety of tasks and missions in complex urban environments, including combat, reconnaissance, ammunition transportation, and evacuation of wounded soldiers on the battlefield. Based on a six by six all-wheel-drive chassis, the phantom is capable of carrying two injured soldiers or payloads weighing up to 350 kilograms.
Black Knight
The Black Knight is a prototype unmanned ground combat vehicle (UGCV) designed by BAE Systems. It is an early prototype that demonstrates advanced robotic technologies. Tested by the US Army, the Black Knight is apt for missions that are too risky for a manned vehicle, including forward scouting, intelligence gathering, and investigating hazardous areas. The Black Knight is equipped with a 25-millimeter cannon and coaxial 7.62-millimeter machine gun, derived from the Bradley.
VIHR
VIHR is a reconnaissance strike ground robotic complex (which was also mentioned under the name Udar), designed to strengthen units, reduce human losses, and protect facilities. Its weaponry can be used in conjunction with the movement for ground and air targets. The robotic firepower is provided by the ABM BSM 30 remote-controlled weapons station. The weapons station has an optical-electronic complex for detecting ground and air targets, a 30 millimeter to a 72 automatic gun, a 7 62 millimeter peak ATM machine gun, and a coordinate m8 EGM.
Uron 9
Russian military equipment manufacturer JSC 766 UPTK unveiled the Uran-9 multipurpose unmanned ground combat vehicle during the 2016 international military-technical forum. The vehicle is designed to provide remote recognition and fire support for a variety of tasks performed through counter-terrorism, recognition, and military units in urban environments. Equipped with a variety of sensors and weapons, the robot improves the fighting effectiveness of infantry squads while offering maximum personnel protection. It can detect and track enemy targets over daytime at a distance of 6 kilometers and 3 kilometers overnight.