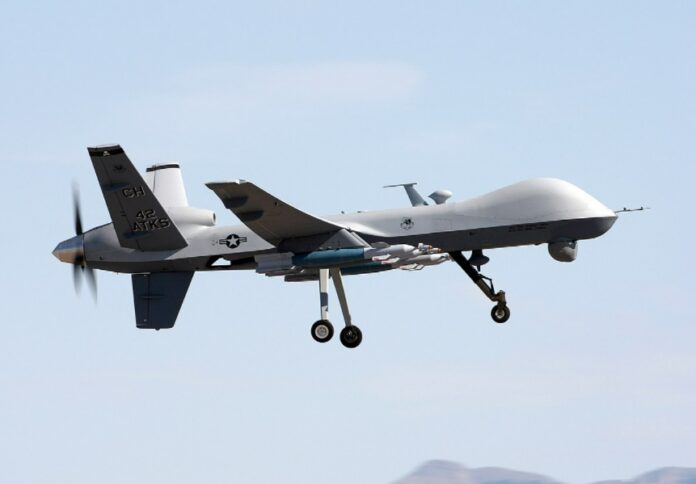 Military drones are remotely-piloted, unmanned aerial vehicles (UAVs) used for monitoring, mapping, target acquisition, intelligence, battle damage management, and surveillance.
These drones have been a valuable asset in the military for many years. They play an important role in executing high-level military tactics to improve security and sovereignty. They're armed with missiles, bombs, or anti-tank weapons.
In recent years, UAVs have been used extensively on the battlefields. They come in different shapes and sizes depending on the range, weight, and speed. Fixed-wing, fixed-wing hybrid, tactical, micro, large combat, target and decoy, surveillance, and GPS drones are most widely used in military services.
In this post, RoboticsBiz presents the top 13 leading manufacturers in the global market of military drones.
1. General Atomics Aeronautical Systems, Inc.
General Atomics Aeronautical Systems, Inc., headquartered in Poway, California, is a leading manufacturer of remotely piloted aircraft systems, unmanned aircraft, and sensor systems. It is an affiliation of General Atomics that offers a variety of UAVs and radar solutions for US military and commercial applications worldwide.
In April 2021, General Atomics Aeronautical Systems, Inc., L3Harris Technologies Inc., and the US Air Force collaborated strategically to enhance the mission capabilities of the US Air Force's MQ-9 Reaper Remotely Piloted Aircraft, also called Predator B, which is well-equipped with an infrared sensor, daylight TV camera, and laser designator and designed for long-distance and high altitude surveillance, close air support, reconnaissance, combat search and rescue, and target development. The US Department of Defense awarded General Atomics Aeronautical System a contract worth USD 93.3 million in November 2020 to develop intelligence tools for unmanned aircraft.
2. Northrop Grumman Corporation
Northrop Grumman Corporation, headquartered in Falls Church, Virginia, is a global aerospace and defense technology company. It is a major weapon manufacturer and provider of military technology globally. It's also a leader in autonomous systems, such as unmanned aerial vehicles, making them for military uses like real-time intelligence, surveillance, and reconnaissance.
The company offers products in various categories like military vessels, autocannons, chain guns, electronic sensors, and military aircraft and unmanned aerial vehicles. It produces MQ-4C Triton, a UAS that provides real-time intelligence, reconnaissance, and surveillance. Bat is another UAV widely used for intelligence gathering, real-time video and image capture, and laser range finders. This bug drone can withstand any weather conditions. Northrop Grumman Corporation recently obtained a contract worth USD 82 million from the US Department of Defense to test and develop MQ-4C Triton unmanned aircraft systems for the US Navy.
3. Israel Aerospace Industries Ltd
A leading aviation and aerospace manufacturing company offering aerial and astronautic systems for civil and military use, Israel Aerospace Industries Ltd (IAI) manufactures civilian and military aerospace and defense products, including unmanned aerial systems for gathering intelligence and border surveys and target missions. It provides advanced technological solutions to commercial consumers and governments worldwide for satellites, weapon systems, radars, and unmanned and robotic systems.
Tactical Heron, Searcher Mk II, BirdEye 650D, BirdEye 650, and Hovermast 100 are the company's five tactical medium-range surveillance UAS. The Hovermast 100 is one of Israel Aerospace Industries Ltd's most popular military drones. The Hovermast 100 is an electrically powered drone used for real-time ISR (Intelligence, Surveillance, and Reconnaissance). It is used in anti-terrorist operations, border control and portal security, and disaster management, among other things. To expand its tactical UAV activities, Israel Aerospace Industries Ltd. announced a half-acquisition of BlueBird Aero Systems in September 2020.
4. BAE Systems Plc
BAE Systems Plc is a British company operating in the arms, security, and aerospace sector, concentrating on designing and developing next-generation UAS technologies. The largest defense contractor in Europe is BAE Systems Plc. The company develops and designs autonomous aircraft systems and unmanned aerial vehicles (UAVs).
BAE and UAVTEK collaborated in 2020 to develop a 196g nano Bug drone with a battery life of 40 minutes. In 2020, BAE Systems Inc. received a contract worth USD 400 million from the US Air Force to develop a digital design for a low-cost, autonomous robotic combat drone that can collaborate with piloted warplanes under the US Air Force's Skyborg program.
5. Lockheed Martin Corporation
Based in Bethesda, Maryland, Lockheed Martin Corporation provides aerospace, information security, and defense technology services to customers worldwide. The company provides fixed-wing and rotary-wing UAVs for ISR operations and unmanned systems for commercial and military applications.
Lockheed Martin, primarily a security and aerospace company, does a significant amount of business with US federal government agencies and the US Department of Defense. The Indago 3-UAV from Lockheed Martin is a small unmanned aerial vehicle with intelligence, surveillance, and reconnaissance capabilities. It weighs less than 10 pounds, deploys in under two minutes, ranges up to 12 kilometers, and withstand extreme weather. The Swiss Army ordered a fleet of Indago 3 small UAS for tactical reconnaissance and surveillance from Lockheed Martin Corporation in July 2020.
6. Raytheon Company
Raytheon Company is a multinational aerospace and defense contractor based in Waltham, Massachusetts. Raytheon manufactures and sells a wide range of products and systems, including aircraft radar systems, communication and battle management systems, and air and land-based missiles. Raytheon Coyote is a micro unmanned aircraft system that can operate in autonomous swarms and is widely used for reconnaissance, surveillance, and intelligence by the Army and US Air Force.
7. Insitu Inc.
Insitu Inc., based in the United States, specializes in designing, developing, and producing cost-effective and high-performance unmanned aerial systems (UAS). ScanEagle is a micro, low-altitude, long-endurance unmanned aerial vehicle (UAV) used for reconnaissance and surveillance. It is equipped with an electro-optical infrared camera and has a flight endurance of about 20 hours.
8. AeroVironment, Inc.
AeroVironment, Inc., based in Arlington, Virginia, is a defense company that provides a variety of unmanned aerial vehicles and tactical missile systems for reconnaissance and surveillance. It is a major provider of unmanned aircraft solutions for tactical intelligence, surveillance, and reconnaissance (ISR).
AeroVironment is one of the most important drone suppliers to the US military. It introduced first hand-portable UAVs in the mid-1980s and launched a novel lineup of military drones, the Raven series, capable of flying using computer vision and GPS coordination. The company possesses a wide range of UAS products and develops groundbreaking UAS technologies continuously. The US Department of Defense Foreign Military Sales awarded AeroVironment, Inc. a USD 8.4 million contract in October 2020 to deliver Puma 3 AE unmanned aircraft systems.
9. Turkish Aerospace Industries, Inc.
Turkish Aerospace Industries, Inc. develops, designs, and manufactures aerospace systems for the Turkish Army. Among the products offered by the company are rotary and fixed wind air platforms and unmanned aerial vehicles (UAVs). ANKA is a military drone designed to meet the surveillance and reconnaissance needs of the Turkish Armed Forces. ANKA tracks stationary and fixed targets, ISR missions, and signal intelligence. It can withstand any weather.
10. Elbit System Ltd
Elbit Systems Ltd is an Israeli defense company that makes land, aerospace, naval systems, unmanned aircraft systems (UAS), and signal intelligence systems. With its headquarters in Haifa, Israel, Elbit Systems Ltd. designs and manufactures a wide range of UAS and UAVs. It provides a wide range of unmanned aerial systems, including MAGNI, a fully autonomous micro-unmanned aircraft system specially designed for delivering day/night, 3D real-time intelligence. In March 2021, Elbit Systems Ltd. received a five-year contract worth USD 300 million to supply Hermes 900 UAS to an Asian country.
11. The Boeing Company
Boeing is a leading manufacturer of autonomous systems for air, water, and land use. The company also produces unmanned aircraft systems for military operations. To maintain its market position, the company emphasizes the development of modern technology, strategic agreements, and contracts. In April 2020, the US Navy awarded the Boeing Company a contract to modify three additional MQ-25 unmanned aerial refueling aircraft.
12. Thales Group
Thales provides unmanned aerial systems (UAS) for military surveillance and monitoring. The company is leading the development of future UAS capabilities and has delivered Europe's largest UAV program. The company focuses on agreements, partnerships, contracts, and acquisitions to maintain its market position. Thales Group and Bharat Dynamics Ltd. signed an agreement in January 2021 to manufacture the STARStreak Air Defence System.
13. Saab Group
Saab Group, headquartered in Stockholm, Sweden, has a large UAV program with military, defense, maritime, and civil security sectors. UMS SKELDAR, a joint venture between the company and UMS Aero Group AG, was recently formed. UMS SKELDAR, a joint venture between Saab Group and UMS Aero Group, unveiled its new V-150 unmanned aerial vehicle in March 2020, supporting tactical operations and Vertical Take-Off Landing (VTOL).