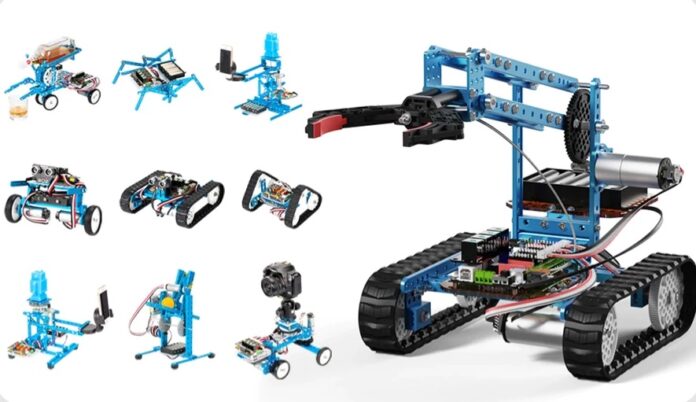 In the world of do-it-yourself (DIY) robotics and education platforms, Makeblock stands out as a leading brand catering to makers, STEM learners, and educators. With their extensive collection of over 500 mechanical parts, user-friendly electronic modules, and intuitive graphical programming software, Makeblock has made it enjoyable and accessible for individuals to bring their robotic dreams to life.
One of their remarkable offerings is the mBot Ultimate, a versatile 10-in-1 robot building kit that harnesses the power of the Makeblock platform. Packed with rich features and exceptional compatibility, this kit provides more than 500 mechanical parts and electronic modules to create ten unique robots and endless possibilities for other maker projects. Whether you are a Raspberry Pi or Arduino enthusiast, a mechanical or electronics engineer, a teacher, or a student, the mBot Ultimate is designed to facilitate your learning journey in mechanical structures, electronic modules, and programming with ease.
You can buy your Makeblock mBot Ultimate from here.
Let's explore the standout features that make the mBot Ultimate a must-have for robot enthusiasts and learners of all ages:
1. Powerful Drive Capability: Mainboard MegaPi
At the heart of the mBot Ultimate lies the MegaPi main control board, boasting exceptional motion control performance and expandability. With this advanced mainboard, users can effortlessly achieve synchronous drive and control of multiple motors and servos, read sensor data, communicate with Raspberry Pi, and connect to high-power coder motor driver boards, among other advanced functions.
The MegaPi exhibits a robust motor-driving ability, capable of simultaneously driving 10 servos or 8 DC motors. This unparalleled drive capability opens up a world of possibilities, from building complex robots capable of 3D printing to tackling even more challenging applications.
2. 10-in-1 Robot Building Kit
The mBot Ultimate offers a truly immersive and diverse building experience with its ten robot forms. Whether a child or an adult, you can revel in the joy of constructing various robot configurations and appreciate each design's unique charm. From family bonding time to classroom activities and competitions, the mBot Ultimate is an interactive robot that can be extended into a coding learning tool.
Thanks to the mBlock coding platform, users can explore block-based and Python coding, making it an ideal platform for those eager to delve into programming languages. With mBlock, children can embark on a step-by-step coding journey, fostering their programming skills while having fun.
3. 10 App-Enabled Modes to Play
In addition to its impressive building capabilities, the mBot Ultimate introduces 10 different robot modes, allowing students to engage in hands-on building, remote control play, and programming learning. Through these 10 app-enabled remote control modes, users can transform their robots into a remote control car, a robotic arm tank, a robotic bartender, a catapult ram, a dynamic photographer, and more. The multitude of modes ensures that students have ample opportunities to explore and experiment, fostering their interest in robotics and programming.
4. Programming for All Experience Levels
The mBot Ultimate caters to users with varying levels of programming experience. It supports visual programming through Scratch block-based programming and the Arduino IDE. This versatility allows beginners to start easily with block-based coding, while advanced users can delve into more complex programming using the Arduino IDE. Additionally, Python programming combined with Raspberry Pi further expands the programming possibilities, enabling users to tackle advanced projects and acquire in-demand programming skills.
5. Advanced Robot Kit for STEAM Education
As a robotics kit designed for middle and high school-level robotics/engineering classrooms, the mBot Ultimate goes beyond teaching robotics concepts. It is a comprehensive educational tool, fostering learning in engineering, mathematics, programming, and general scientific principles such as sensors. Through hands-on experimentation and project-based activities, students gain a holistic understanding of STEAM (Science, Technology, Engineering, Arts, and Mathematics) disciplines, preparing them for future challenges.
6. mBlock – The Best Programming Software
mBlock, the dedicated coding platform for Makeblock products, is a key component of the mBot Ultimate. This free and open-source software seamlessly integrates block-based coding and Python programming, providing users with a versatile programming environment. With over 20 million teachers and children worldwide using mBlock, it has become the go-to programming app for Makeblock products. Compatible with Windows, Mac, Linux, iOS, and Android devices, mBlock empowers users to create a wide range of STEAM projects, utilizing advanced capabilities like Artificial Intelligence and the Internet of Things.
Buy your Makeblock mBot Ultimate from here
Prepare In-Demand Skills for the Future
By engaging with robotics and programming through the mBot Ultimate, users develop crucial 21st-century skills such as collaboration, creativity, problem-solving, and critical thinking. Building, programming, and customizing more advanced STEM/Arduino-based projects fosters creativity and hones engineering prowess. With access to relevant tutorials and curriculums, users can progress from beginners to masters, equipping themselves with the skills needed to excel in the rapidly evolving world of robotics. Moreover, the mBot Ultimate is an excellent preparation tool for participation in robotics competitions, such as the MakeX Robotics Competition, where students can showcase their knowledge and skills on a global stage.
Smart Accessories for Wireless Multi-Connections
To enhance the user experience, the mBot Ultimate offers smart accessories for wireless multi-connections. Users can choose between the Makeblock Bluetooth Controller and the Makeblock Bluetooth Dongle for seamless connectivity. The Bluetooth controller features 15 buttons and 2 thumbsticks, enabling effortless control and smooth maneuvers. Alternatively, users can transfer programs wirelessly to the mBot Ultimate using the Makeblock Bluetooth Dongle, providing a more intuitive and convenient programming experience.
Expand Your Coding Horizons with mBlock Extensions
To further extend the power of block-based coding, mBlock offers a range of extensions. These extensions unlock additional functionalities and capabilities, allowing users to explore and create even more exciting projects. Whether it's integrating advanced sensors, implementing sophisticated algorithms, or connecting with external devices, the extensions in mBlock offer endless possibilities for expanding the coding potential of the mBot Ultimate.
Buy your Makeblock mBot Ultimate from here
In conclusion, the mBot Ultimate is a comprehensive and versatile robot building kit suitable for individuals of all ages and skill levels. Its robust features, extensive compatibility, and emphasis on educational value make it an ideal tool for STEM learning, fostering creativity, problem-solving, and critical thinking. Whether you are a student, educator, or robotics enthusiast, the mBot Ultimate opens the door to endless possibilities, empowering you to embark on a transformative journey of exploration and innovation in robotics.