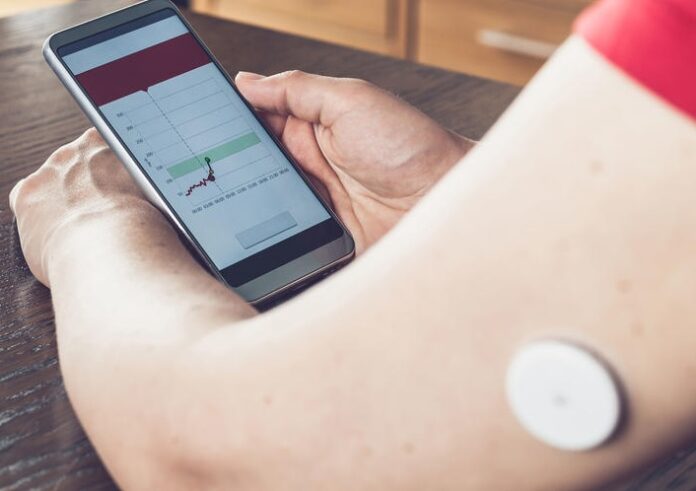 Internet of Things (IoT) has provided a much easier and cheaper solution for real-time remote patient monitoring (RPM) from hospitals as well as homes.
RPM is a subset of telehealth that facilitates continuous patient monitoring to assess the health status and timely transfer of patient-generated data, using technology and a host of wired or wireless peripheral measurement devices, forming a Wireless Body Sensor Network (WBSN).
With real-time clinical data acquired through various embedded systems, sensors, software, and devices like wearables, smartphones, implantable, biosensors, blood pressure cuffs, glucometers, and pulse oximetry, it effectively enables a better approach in screening the patient's well-being outside any traditional clinical settings. It improves the comfort and security of the patients while reducing or eliminating human resources, errors, etc. This creates optimum surroundings as per the requirement of the patient's health condition.
RPA continually monitors the patient's physiological parameters, such as blood pressure, glucose, weight, and temperature. The system also handles medication administration reminders or monitoring, diet, exercise tracking, falls monitoring, and tools that can help patients cope with their depression or anxiety.
A cloud-based remote patient monitoring empowers patients to manage their health better and participate in their health care. It allows patients to move around in the house, unlike older systems, where the patients are required to be stationed for monitoring their vitals. When used by clinicians, it can provide a more holistic view of a patient's health over time, increasing visibility into a patient's adherence to treatment, and timely intervention before a costly care episode. It can provide notification through email and SMS alert if any of the health parameters crosses the threshold value.
Besides, by using the data sent to them via RPM, clinicians can strengthen their relationships with the patients, develop a personalized care plan and engage in joint decision-making to foster better outcomes and improve their experience.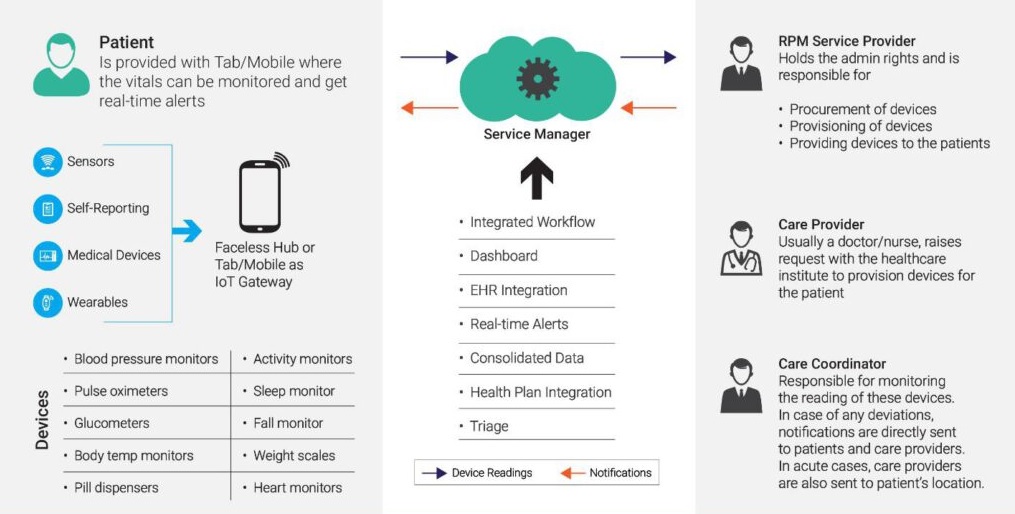 An advanced IoT based automated remote health monitoring and home control system may also include centralized control of appliances, ventilation, lightings, heating and air conditioning, resource management systems such as energy and security systems. Clinical services are not specifically included in remote patient monitoring. However, it certainly may lead to the provision of such services, either in a traditional health care setting or via telehealth.
According to studies, the number of remotely monitored patients grew by 51 percent to 4.9 million in 2015. Berg Insight estimated that the number of remotely monitored patients would grow at a compound annual growth rate (CAGR) of 48.9 percent to 36.1 million by 2020.
Advantages
Specific improvements in the management of disorders like hypertension, congestive heart failure, diabetes, etc.
Better adherence to medication.
Enhanced communication, better workflow (without paper), and augmented uniformity in medical diagnostics.
Reductions in outpatients visits, routine checkups, hospitalizations, readmissions and lengths of stay
Reduced cost of care for provider and patient alike
Better accuracy relying on biometric measures, activities, and conformance
Increased access to social insurance
Minimized individual and social insurance conveyance costs.
Notification through email and SMS alert if any of the health parameters crosses the threshold value.
Anytime access and investigation of ongoing information.
Avoiding intricacies and maintaining patient freedom.
Ensures patient engagement, care coordination, medical billing data, and more.
Disadvantages
Reliance on patient-initiated communication
Short follow-up time and low adherence
Higher attrition with the use of technologies after the care coordination or home health services end.
Using off-the-shelf devices, such as mobile/smartphone apps, gaming systems, social media, etc. to connect to providers
Management of health data, flowing from insecure devices.
Needs more training for health professions on patient monitoring devices, more reporting of adverse events, and regulation of patient monitoring devices.
Broadband connectivity is a challenge in rural and underserved population areas.
Devices can be problematic, causing batteries issues, wire entanglements, and even fire.
History of remote patient monitoring (RPM)
The Centers for Medicare & Medicaid Services (CMS), a federal agency within the United States Department of Health and Human Services (HHS) that administers the Medicare program, began to take essential steps to better utilize connected health technology in 2014. You can read a short history below:
2014 – American Medical Association (AMA) created a Telehealth Services Workgroup to recommend solutions for the reporting of non-telehealth services when provided remotely utilizing telehealth technology.
2015 – Medicare introduces the Chronic Care Management (CCM) program for non-face-to-face services over a calendar month.
2016 – AMA Digital Health Survey: physicians optimistic that digital medicine tools will improve medical practice and patient care.
12/2016 – Nearly 700,000 Medicare beneficiaries have received CCM services.
1/2017 – AMA creates the Digital Medicine Payment Advisory Group (DMPAG)
9/2017 – DMPAG proposes three new codes for Remote Patient Monitoring to the CPT Editorial Panel.
11/2017 – CMS introduces CPT code 99091, unbundled from the Chronic Care Management program, for Remote Patient Monitoring. CMS also promotes Remote Monitoring interventions as part of the Quality Payment Program's merit-based incentive payment system (MIPS), via Improvement Activity IA_BE_14.
1/2018 – 99091 becomes effective as standalone and reimbursable code for Remote Patient Monitoring.
7/2018 – CMS includes three new Remote Patient Monitoring codes from DMPAG in the 2019 Physician Fee Schedule Proposed Rule: 99453, 99455, and 99457.
1/2019 – 99454, 99455, 99457 become effective.