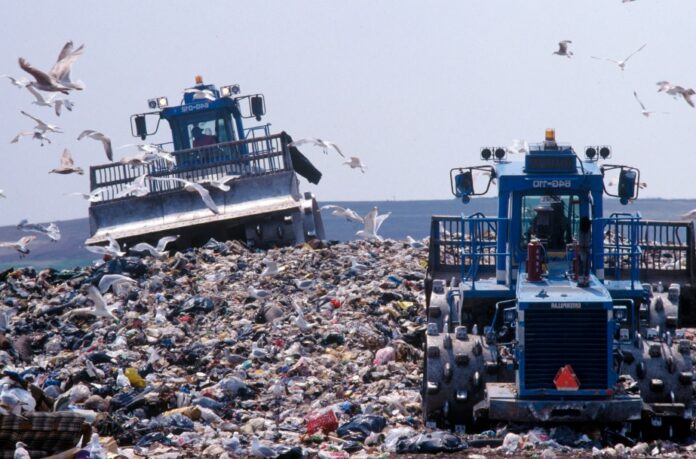 According to the US Environmental Protection Agency (EPA), the US waste management industry manages over 267.8 million tons of municipal solid waste annually. Waste management includes reducing production (source reduction), and reusing, landfilling, incinerating, composting, and recycling materials.
Of the 267.8 million tons of municipal solid waste produced in the US each year, 67 million tons (25.1%) are processed by recycling facilities. However, US recycling facilities currently cannot sort the volume of recyclable materials they receive fast enough, and to the degree of material separation, manufacturers require to recycle all the materials produced. When the recycling facilities cannot process the materials, they are landfilled or incinerated.
Improving the waste sorting process in recycling facilities will allow them to process more material and send less to landfills and incinerators. Automation of recycling processes can increase efficiency and throughput rates. Various waste sorting robots are currently in development or on the market, each with unique capabilities. These robotic solutions can increase human workers' safety and allow them to dedicate their efforts to other areas of waste management facilities.
Robots specializing in waste sorting started emerging in recent years. The first sorting robot in a US recycling facility was only installed in 2016. As of September 2019, at least 88 systems were either in-use or purchased for use across 39 recycling facilities in the US and Canada. As of late 2018, there were 633 materials recycling facilities in the US alone. Since less than 14% of these facilities use robotic systems, there is much room for increased use of robotics and the development of better systems. This post will explore top solutions in robotic waste management in the US.
1. AMP Robotics Cortex
AMP Robotics is one of the leaders in robotic recycling. Their Cortex system also uses a delta robot with a suction cup EOAT. Like its competitors, its vision system uses AI and deep learning to identify items properly. The machine vision system can identify objects through different methods, including looking at the brand of packaging and SKU (stock-keeping-unit) barcodes and analyzing the item's shape, color, size, and texture. As a result, the Cortex system can sort through several types of paper and plastic products.
2. ZenRobotics Fast-Picker
The ZenRobotics Fast-Picker is a Cartesian-style robot, produced by the same company as the Heavy Picker but for smaller items. Like many waste-sorting systems, it uses a vacuum gripper EOAT. A sensor bar 250mm wide in front of the robot is equipped with LED lamps, RGB cameras, and other sensors to scan the waste. While vacuum grippers are great for dry and rigid recyclables, they are not capable of picking up wet or flexible items like plastic bags.
3. TOMRA AUTOSORT
TOMRA offers a variety of waste sorting systems specific to certain materials through its AUTOSORT line, but they all have the same functionality. The machine is placed at the end of a conveyor belt, and a vision or sensor system detects which objects to reject. Objects that are rejected are shot with a blast of air at the end of the conveyor belt, sending them over a barrier separate from the accepted pieces. This type of separation technology has already been implemented at Casella facilities.
What differentiates Tomra is its vision and sensing system. Their FLYING BEAM technology is a near-infrared vision scanner that does not require an external light source. It uses a rotating polygon mirror to see the entire length of the belt. The material absorbs infrared light and reflects partial light. This technology can determine the color and type of plastic for a given item. Two of their other technologies can accomplish even more. For example, SHARP EYE uses a large lens of higher light intensity, allowing it to look at the chemical composition and distinguish between single-layer PET trays and PET bottles. Their DEEP LAISER technology can detect almost everything else, from black plastic to glass.